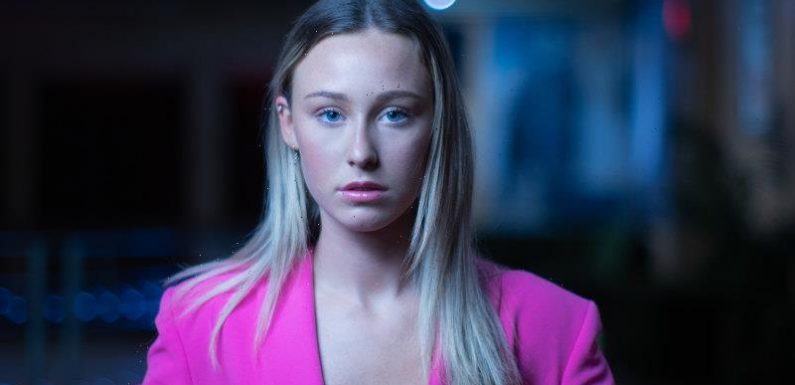 The family of trucking magnate Lindsay Fox is used to being in the news – sometimes for the wrong reasons. But Coco Fox, the 17-year-old daughter of Lindsay's second son, Peter Fox, is hoping to make headlines for herself as a fashion model.
Coco, who is in Year 11 at Methodist Ladies' College in Melbourne, will make her catwalk debut next month, and says her grandfather has given his blessing. She says it's a bit daunting forging her own career with the Fox name, but "my parents will support me, no matter what I do. It's a bit intimidating, but I have grown up with it my whole life."
Coco Fox, granddaughter of trucking magnate Lindsay Fox (inset), has her sights set on an international career in fashion. Photographed at The Astor Theatre, Melbourne.Credit:Simon Schluter
Although Lindsay, 85, hasn't had any direct business interests in fashion aside from logistics, Coco says he has imparted plenty of lessons about life and business to her two siblings and many first cousins.
"He's always taught us to be very hard-working and do what you love, to knuckle down and give your all," she says.
As far as other industry connections go, Coco's older sister, Hannah, studies fashion at RMIT and works at Australian brand Oroton. Coco was also inspired to follow in the footsteps of her friend, Melbourne model India Wollard.
Coco Fox, age 14, at the Australian Cheerleading Championships in 2015.Credit:Darrian Traynor
Away from the camera, Coco is a world champion cheerleader, representing Australia in the world championships when she was 14. On TikTok, Coco lip syncs and dances to hip-hop songs, between videos of her weekends jetting to Sydney on private planes and staying at Boomerang, the iconic property in Elizabeth Bay the family has owned since 2005.
If her modelling career takes off, Coco would join a long line of scions with careers in fashion including Kaia Gerber (daughter of Cindy Crawford), Lily-Rose Depp (daughter of Johnny Depp and Vanessa Paradis), and Ivanka Trump, before politics.
Ivan Bart, president of IMG Models & Fashion, once gave this advice to celebrity children in a feature in Racked magazine: "You were born into a very privileged situation, but now it's up to you to make that situation into something for yourself."
Ahead of her first paid job as a model at the Whitehouse Institute of Design graduate show on December 8, Coco has been taking runway lessons with her agent, Stephen Bucknall, of FRM Model Management.
Agent Stephen Bucknall (pictured with Coco Fox) has helped launch the career of several international models.Credit:Simon Schluter
Bucknall, who worked internationally as a model in the '80s and '90s, helped launch the careers of several African-Australian models in the early 2000s who went on to international fame, including Duckie Thot and Ajak Deng. He says there has been renewed interest in caucasian models, what he calls the "'80s' aspirational look", especially in markets such as the US and Asia.
Bucknall discovered Coco after a friend send him some early shots of her, but says they were "quite commercial". "I felt she had more of a fashion edge about her," he says.
He sent Coco to Sydney and New York for test shoots, and says the plan to launch her career at a smaller-scale event is intentional. "I thought we would step lightly, then branch out to the high-fashion labels."
At 173 centimetres, Coco is a touch shorter than most international runway models but Bucknall won't be deterred. In any case, he says a campaign with an international brand or the cover of a glossy magazine is the bigger goal.
Says Coco, whose favourite models are Bella and Gigi Hadid, and Kendall Jenner: "Getting started in Australia would be good, and then going international to LA, Miami, Asia – that would be amazing."
As for 2023, Coco says Year 12 comes first, modelling second. "I am going to knuckle down on [school] but I will take it as it comes."
Make the most of your health, relationships, fitness and nutrition with our Live Well newsletter. Get it in your inbox every Monday.
Most Viewed in Lifestyle
From our partners
Source: Read Full Article