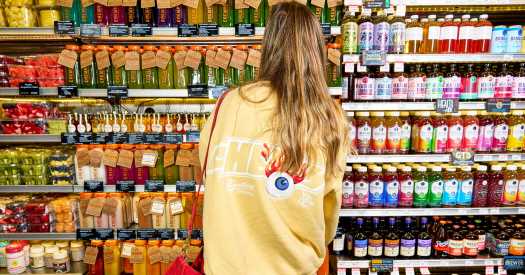 Angelenos have long known that health is wealth, and the healthiest and wealthiest among them shop at Erewhon, the upscale organic grocery store with six locations throughout Los Angeles County.
Last year, after the coronavirus pandemic forced bars and nightclubs across the city to shutter, supermarkets were among the few places where people could still see and be seen. Erewhon, with its outdoor dining areas, became the unofficial hangout for the young, beautiful and bored. Like a moth to a nontoxic flame, the store drew Instagram flâneurs in droves — but also plenty of grimaces and eye rolls from locals.
Erewhon is a recurring theme in the posts of Christina Najjar, who goes by @itsmetinx on social media, where she's known for satirizing the habits of a certain type of coastal elite. "Where you buy your kale chips says a lot about you," she said in a TikTok video from November that has been viewed more than 710,000 times. In it, she expounds on the taxonomy of local grocery stores; Erewhon, a place where you can "buy orange cauliflower that's more photogenic than you" or "juice that costs almost as much as a Tesla," tops her chart.
The store seems tailor-made for today's influencer culture. Its fastidiously curated assortment, where foods are lit like fashion editorials and are often some combination of organic, gluten-free, biodynamic, free-range and vegan, make it ripe for snarky quips.
It's been profiled in Vogue and tweeted about by Kanye West. ("Grocery story drip Erewhon drip laundry day drip airport drip," he wrote in a since-deleted tweet from 2018.) In the second season of Netflix's "You," an uncanny simulacrum called Anavrin plays a pivotal supporting role. (Anavrin is "nirvana" spelled backward; similarly, Erewhon is an anagram of "nowhere.") In December, maskless protesters stormed a location, seeing it as the very manifestation of liberal values.
"Erewhon has a slightly Moon Juice quality about it," said Farley Elliott, an editor at Eater LA, "where everything is so over-the-top, but in an earnest way that makes it feel only possible in Los Angeles."
"More specifically," he continued, "that the type of people that tend to be perceived as populating those Erewhons could only really happen in Los Angeles."
From Hippie to Haute
Part of the store's allure on social media is that it can seamlessly exist at the center of various overlapping content genres, like food hauls or "what I eat in a day" videos. There are jokes about its prices and how it's more difficult to penetrate than the United States Capitol. More earnest lifestyle influencers like Alyssa Lynch, Jordan Younger (The Balanced Blonde) and Nicole Cogan (No Bread) swoon over the assortment of salubrious goods.
At the West Hollywood location, it's not uncommon for the outdoor tables to be overflowing, filled with Kardashian-faced women in sweatpants and dad hats taking selfies with their picked-at meals. Along Beverly Boulevard, exotic sports cars idle at parking meters, blasting vibey hip-hop music. To scroll through Erewhon's tagged photos on Instagram is to behold a cornucopia of oozy, colorful açaí bowls, cross-section shots of vibrant lunch wraps and a staggering collection of hands holding juice-filled containers.
Once health food stores were the domain of Birkenstock-clad hippies shoveling granola from a bulk bin. Now Birkenstocks are chic, tie-dye is regularly seen on catwalks and health food stores, too, have experienced a comeuppance.
"It's a paradox for a health food store to be cool," said Jason Widener, a vice president at Erewhon. In the decade he's worked there, he has seen the store go from a single location to a mini-empire, including the recently opened outpost in Silver Lake. (Studio City and Beverly Hills locations are on the way.)
"I don't know if it's cool any more these days to have a Bud Light jumping off a cliff, you know?" Mr. Widener said. "It's cool to have a green juice in your hand and jump off a cliff."
In the early aughts, Hollywood stars partied all night and were photographed woozily leaving bars like Teddy's and Hyde Lounge for magazines like Us Weekly. Today, many young people eat organic stews, work out and meditate, posting their regimens to social media in hopes of going viral. Excess is out and moderation is in — at least outwardly so.
"Are there impostors out there who are eating healthy food because it's cool?" Mr. Widener asked in his Zenned-out, surfer-bro lilt. "Probably. But, guess what? I don't care. I love it. Fake it 'til you make it."
A Sign of the Times
Erewhon opened its doors in Boston in 1966. Its founders, Michio and Aveline Kushi, sought to make macrobiotic food more readily available. The name came from Samuel Butler's 1872 book "Erewhon," about a health-minded utopia. While that initial East Coast location did not ultimately survive, a second California store did. Another husband-and-wife team, Tony and Josephine Antoci, acquired the store in 2011 and have been behind the recent expansion.
The store is still small enough to feel like a mom-and-pop shop, with each location carefully planned to match its specific neighborhood. "We hire local talent for every store," said Yuval Chiprut, Erewhon's chief development officer. "If we don't feel authentic to each community, we're gonna fail." (Even the playlists are curated by a local D.J.) It's a world so immersive and considered that one could easily picture it becoming, say, a full-service restaurant, a spa or even a hotel, as Nobu and Equinox have.
Erewhon's interiors focus on natural, raw materials (a nod to the raw, natural selection) and exposed food prep kitchens that communicates honesty. "We've got nothing to hide," Mr. Chiprut said. He was inspired by four-star hotels and luxury clothing shops, and wanted extra-wide aisles to evoke an airy, open feeling. And of course, each location has an outdoor eating area, perfect for loitering with a smoothie, which has become a windfall of sorts during the pandemic.
Nick Santiago and Matthew Hwang were such devoted Erewhon shoppers that a few years back they made sweatsuits emblazoned with the store's name in block letters — meme as merch. Mr. Santiago and Mr. Hwang, who run the digital marketing agency Pizzaslime together, sold them for $300 a pop. Now released in limited quantities, which often sell out, the sweats have been seen on actors like Sophie Turner and Jonah Hill and young influencers like Kelsey Calemine and Zach Bia.
"It just stemmed from us going to Erewhon every day and being like, I wish they had merchandise," Mr. Hwang said. "So we made some and posted it and people were like, 'Yo, I need that.' So we made it for friends, and then their friends would be like, 'Damn, I need that.' It exponentially grew." Today Erewhon has its own merch line, albeit small (for now). The first drop featured a $160 hoodie, $150 sweatpants and a $30 face mask.
"It's the embodiment of what people think L.A. is," Ms. Najjar said. "I've always found L.A. to be rather self-aware and accepting of its absurdity." Her videos are both satirical and sincere, a sly meta-commentary on the consumerists matrix in which we are all entangled. "With millennials, my generation, we're always looking to tie ourselves to external validation and these markers of who we are as a person. Your coffee shop, your supermarket, the neighborhood you live in, they all become these badges: 'This is me, I'm a West Hollywood, Alfred coffee shop, Erewhon girl.'"
But there's another side to that lighthearted coin, one in which Erewhon represents only a privileged sliver of the city's diverse population. Its rise continues as the city struggles to contain the coronavirus and faces a housing crisis as gentrification pushes further into minority neighborhoods. The Silver Lake location was welcomed by the neighborhood's creative class but is also seen as a more complex sign of the times. As Los Angeles magazine recently asked: "Is Erewhon's Arrival in Silver Lake the Final Nail in the Gentrifying Neighborhood's Coffin?"
It's a good question, one without an easy answer. Technicolor smoothies may be boffo for likes and shares, but they represent the most visible part of a very large iceberg.
"We're a majority-Latino county with 10 million people," said Mr. Elliott. "The idea that Erewhon is a baseline for how the majority of Angelenos eat is not only absurd, it's beyond offensive." The city offers a wide range of cuisines, and nutritious foods can be found in minority neighborhoods that haven't been overtaken by influencers, at places like Simply Wholesome, a Black-owned restaurant and store in South Los Angeles.
Still, Mr. Elliott understands why Erewhon has gained such traction: It attracts a type of consumer, and that type of consumer helps build hype. "I think it's easy to make lighthearted fun of the people there," he said. "They do tend to fit a certain demographic. That gets back to the repetition of social media: You see the thing, you become the thing, and you show the thing and the cycle repeats."
Meanwhile, social media popularity may mean that Erewhon is poised for a bigger stage. In late 2019, it was announced that the store had accepted a minority-stake investment from Stripes, a growth equity firm based in New York, in hopes of expanding the store's footprint beyond Southern California. Naturally, fears of selling out, as Whole Foods did to Amazon, started to bubble up.
Did social media help fuel the deal? Can TikTokers influence Erewhon from local grocer to a national chain?"I think we leveraged the digital community," Mr. Widener said. "But the digital community leveraged Erewhon."
Source: Read Full Article