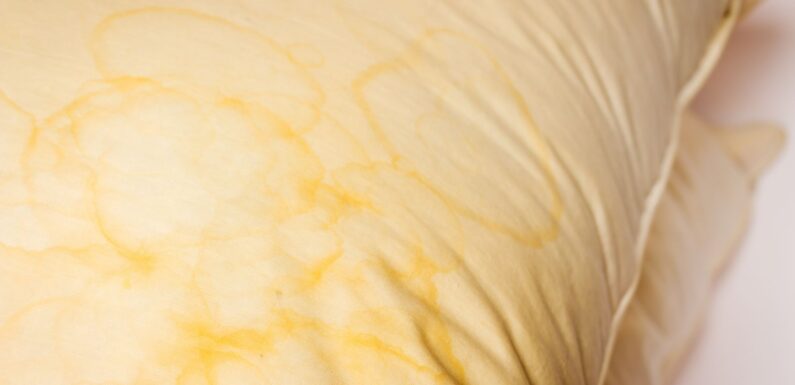 A CLEANING expert has revealed how to get rid of gross yellow stains on your pillows for just 65p.
The yellow stains come from sweat seeping through the pillowcase onto the pillow beneath.
Other potential culprits behind the stains include greasy or wet hair, makeup and drool.
Lifehacker's pro cleaner said: "Putting a waterproof pillow protector on before your pillowcase can help prevent a lot of discolouration."
But a cheap hack using a 65p kitchen cupboard ingredient can also help get rid of the stains.
The expert said: "You can start off by spot treating the stains with either a store-bought stain removal spray or cream or with a paste made out of a mixture of baking soda and water."
Read More Fabulous
Louis steals the show AGAIN as cheekiest royal plays up at Trooping the Colour
Andy 'refuses to leave home during works' in case he 'can't get back in'
If you have deep-set stains, you can add two household products to your laundry to lift them.
Add a half-cup of bleach and a half-cup of borax to your load of pillows, alongside your detergent.
Then, follow your usual method of washing and drying.
It's important to act quickly – as stains left to sit will be harder to remove.
Most read in Fabulous
Playful Prince Louis hugs William for sweet Father's Day snap with siblings
Netflix 'unlikely' to renew Harry & Meg's £81m deal after brutal Spotify axing
Body language expert reveals the secret signal Kate used to make her kids behave
Fans see hidden sign in George, Charlotte & Louis' Trooping the Colour outfits
Whether or not they have any stains, you should wash your pillows at least twice a year.
Lifehacker said: "The more someone sweats, the more that moisture seeps through the pillowcase and onto your pillow, causing the stains.
In addition to sweat, your hair may be the culprit: Specifically if it's particularly oily, or you often go to bed with wet or damp hair.
"Some types of makeup and skincare products can also be behind the yellow stains. It could also be drool."
It comes after a lingerie expert revealed how many times you can wear your bra without washing it – and it's less than you'd think.
Source: Read Full Article