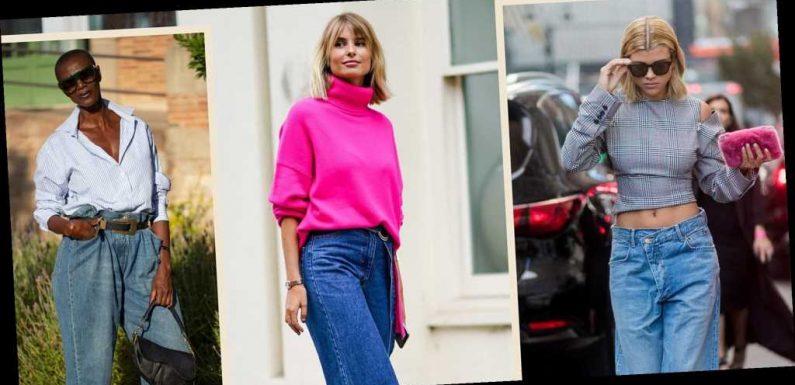 Last week, I, along with many millennials, found myself down a TikTok rabbit hole, getting schooled on what's 'cool' according to Gen Z. Long story short? Apparently, it's time to stop side-parting our hair, using the laugh-crying emoji, and wearing skinny jeans — unless you're OK with looking totally out of the loop.
Personally, I was surprised; the side-part is super flattering, and the laugh-crying emoji is still my go-to. However, when it comes to jeans, I have to agree. In my book, skinnies have been over for a while, and breaking up with this style was one of the best fashion choices I've made in a long time.
I can barely remember a time when people didn't wear skinny jeans, but I can tell you about one of my earliest pairs, which I bought right when the trend started to rise in the mid-2000s. They were dark blue from dELiA*s (my go-to store in high school, mostly for the cute graphic tees), and I'm pretty sure I sacrificed a full lifeguarding check to buy them. At the time, I prided myself in being one of the first people I knew to wear all the things, so when teen magazines and CW shows signaled that skinnies were the new "it" item, you can bet I rushed to add them to my wardrobe (alongside super high-waisted shorts and pointed-toe flats, since this was circa-2006).
Skinny jeans remained a staple of mine for a full decade, and they served their purpose when it came to outfits of that era. These were the pants that could easily be tucked into boots and booties, yet also paired perfectly with those random, extra-long tank tops that were popular around 2009. But, at some point, I grew tired of feeling that tight material around my legs. Shimmying and squeezing into skinny jeans made me feel uncomfortable each morning, so once boyfriend options and mom jeans became popular, I decided to swap them out.
Of course, I'm also a firm believer in doing what makes you feel your best, so if skinny jeans bring you joy, don't let the Internet trick you into giving them 'em up. (Admittedly, I'm still holding onto a single leopard pair that are just the right amount of stretchy and fun.) Now that I'm not in high school, I value personal style and preference over hopping on whatever is 'hot' for the moment — so, yes, I'll continue parting my hair on the side and laugh-crying when it feels appropriate.
However, if you, like me, are actually kind of over skinny jeans, I have plenty of ideas for making — and nailing — this simple transition.
Let Loose
Opt for styles that are looser, much like the celeb-loved wide-leg jeans, boyfriend jeans, mom jeans, or even flares. There are tons of options out there, and all of them are just as versatile as your old favorite.
Worried about wind escaping up your pant leg without the protection of something skin-tight? Look for jeans that are in the carrot-leg territory, meaning they're roomy up top but get thinner toward the bottom, providing a barrier on chilly days.
Keep 'Em Cropped
As a petite woman, some of my favorite jeans are actually cropped or have a kick-flare design. Even Sarah Jessica Parker is a fan of these styles, since they tend to have a leg-elongating effect.
Remember to Roll
The good news about non-skinny jeans is that they're easier to alter without the help of a tailor. If you have a boot-cut pair that seems a tad too long, or you want to show off your shoes a little more, roll or cuff your pants before heading out the door.
Start Wearing Socks
Another big trend that won't quit is showing off longer-length, chunky socks, which is easier to embrace with loose, cropped, or rolled jeans. Think of this look as the more modern but just-as-warm take on tucking your jeans into your boots (although, you can still pull that trick, too, by using bulkier boots styles such as Dr. Martens).
Find Versatile Footwear
At first, you may feel a bit stumped choosing shoes to wear with your wide-leg, boyfriend, mom, or kick-flare jeans. But, there's no need to over-complicate it. I've found that most denim styles look great with a simple white sneaker or white bootie, but you can even dress up your look with heels or go super preppy with loafers. It's all about experimenting, so leave some time to try on a few different pairs before heading out the door.
Source: Read Full Article