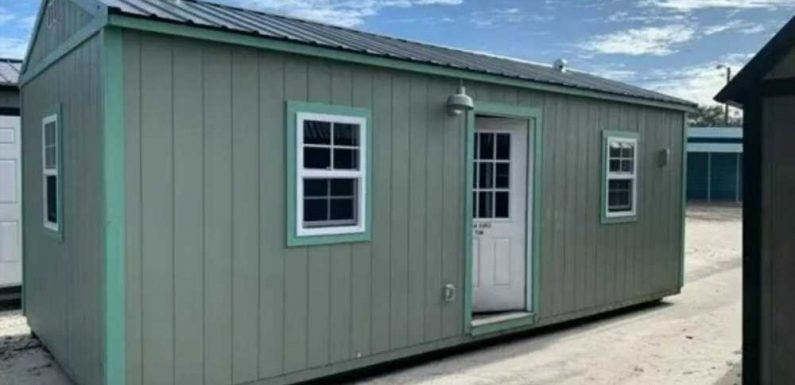 A SAVVY woman has revealed how she makes an impressive income by renting out the shed she converted into a tiny home.
The DIY guru, who posts under the handle @nurse_queen8, shared a video where she explains how she makes a whopping £862 a month by renting out the titchy home that's on land at the bottom of her garden.
In the clip shared to TikTok, she explains: "I bought a used shed and fixed the inside up.
Rented out £££."
She then shows a before snap of the interior of the shed, which features some very dated blue walls in desperate need of a modern update, along with a ripped up floor.
And social media users were left gobsmacked when the DIY whizz then revealed what the property looks like inside now, following the very impressive transformation.
READ MORE ON HOMES
I saved £50k in 4 years with 3 simple rules – now I have two homes & I'm only 27
Woman reveals how she converted an abandoned tool shed into a micro home
The blue walls have been swapped for a more neutral tone, while the newly laid modern grey flooring looks completely unrecognisable from before.
The tiny home now features everything needed to live comfortably – – including a fully functioning kitchen, bathroom, electricity, and water.
In a second clip, she goes on to explain how she achieved the impressive conversion.
FABULOUS BINGO: Get a £20 bonus & 30 free spins when you spend £10 today
"We found a used one which was about £8.2k and we went and paid it with cash," she says.
Most read in Fabulous
Louis 'WILL be at Charles' Coronation…but key royals missing from procession'
Full English should NOT contain popular item, experts say – do you agree?
Shoppers love Matalan's new Spring range – but they all have same complaint
I thought I'd got the perfect wedding guest dress but everyone said the same
"You've got to get it moved up to your property – we lived on one acre of land and so it was enough room -including our house here.
"Three people I had to get – handyman, electrician and a plumber.
"Total with the materials came up to about £6.6k-£8.2 give or take."
She continues: "You do have to get a permit, you do have to call the city and have them put markers out to show where the electricity lines are, the water lines are – all that stuff has to be done before you get started.
"It comes straight from my house so everything's included – electricity, cable, WiFi."
The video has since gone viral, racking up over 409k views on social media – with many commending the DIY fan on her handiwork.
"I love it!" enthused one.
A second praised: "Very beautiful."
A third commented: "Awesome!!"
Meanwhile, a fourth noted: "That's dope!"
Another penned: "Yessss cutee!"
Read More on The Sun
Woman shares hack to get last bit of ketchup out of the bottle – but be warned
Netflix fans say they 'can't sleep' after watching gory horror Alive
A further added: "Very smart."
And one more chimed in: "Nice job!"

Source: Read Full Article