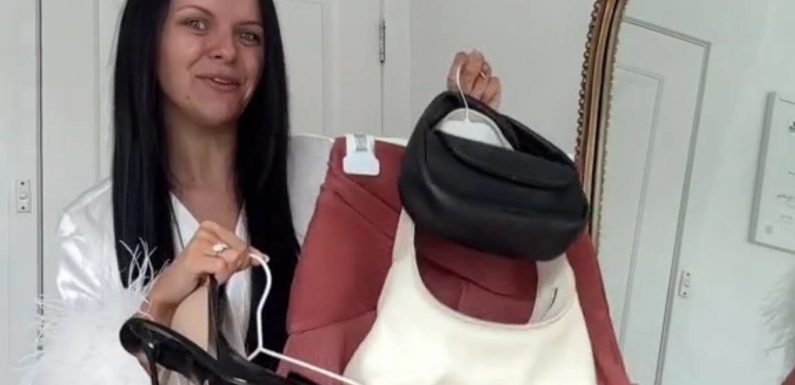 A WOMAN has been criticised for wearing a crop top to a friend's wedding, with many claiming the outfit was "inappropriate".
Olivia Burrows Sutherland, a popular bridal fashion influencer, sparked an online debate over the unspoken rules of attending a wedding when she asked her 73,000 followers for help choosing a top to go with a tiered maxi skirt.
In the clip, the 29-year-old co-founder of multimillion-dollar e-commerce brand My Glow 2, explained she'd had to ditch two long-sleeved dresses she'd planned on wearing because of scorching hot temperatures.
She then slipped on the £285 rust-coloured skirt from Zimmermann and showed what it looked like with a black, strapped crop top and a cream bandeau bra top – eventually landing on the lighter option.
Despite being in "love" with her outfit, many were quick to flood Olivia's comment section with unsolicited feedback, claiming the strapless top was "not wedding suitable".
"I didn't expect the outfit to be so controversial, but I do know when it comes to weddings and wedding guest attire, everyone has an opinion," Olivia told news.com.au of the backlash.
on Weddings
'I can't get over the bags' – Brides rush to buy hen do and wedding range in Quiz
I'm a budget bride & I've saved loads by shopping at Shein
"But I love the overall balance of the summer look.
"Cocktail attire permits skin to be showing and as the volume and length of the skirt is extremely modest.
"I believe pairing it with a plain crop top, with my hair styled down providing extra coverage, maintains the appropriate balance and silhouette suitable for a wedding that has a 'cocktail dress code' in 37 degree heat."
Olivia, who recently launched a new business called Olivia & Living where she captures "raw, behind-the-scenes content" for couples on their big day, said the bride and groom were happy with her outfit choice.
Most read in Fabulous
Mystery as Archie's Royal Family profile VANISHES from official site
I'm an interior designer – the 5 cheap & ugly things I would never do in my home
I spent day with UK's most off-grid parents who breastfeed kids until age of 6
Inside lavish lives of Fury kids – Versace baby clothes to Vegas themed parties
"I understand that this is not a traditional wedding guest look, however, fashion has evolved, and two-piece sets have become popular options for guests to wear to events," she said.
"I actually chose to wear this look as I thought the matching top was too much for a wedding guest and I would rather pare back the look than be too formal at somebody else's wedding.
"If there was a 'black tie' or 'formal' dress code, I would have of course worn a different top."
But her followers disagreed, sharing their thoughts in the comments.
"Skirt is gorgeous, don't think the tops appropriate for a wedding sorry," one wrote.
"Tops kinda look like under garments," another said.
"Skirt is stunning. Tops no. They were disappointing," one woman mused.
"Skirt is lovely, both tops look like you're going to the gym, underwhelming really," one particularly snarky comment read.
"The tops are a BIG NO," someone else added.
Others however commended Olivia's styling efforts, labelling the outfit "gorgeous" and "stunning".
"At the end of the day, I know the bride, groom and the guests and I knew this would be perfectly OK, that's all that matters," Olivia told news.com.au.
"There were many guests in fitted, strapless looks and cut-out dresses. The bride looked magnificent, nobody looked twice at the guests, she was a vision."
Olivia also noted that she only began to receive negative comments once her video was pushed onto TikTok's For You Page.
"Nobody I know has even mentioned it as being an issue," she said.
"It was interesting; all of my initial comments from my followers were extremely positive but then when the video was pushed out to a viral audience, that's when the controversial comments appeared.
"Two-piece sets are even worn by brides themselves these days. As long as you have good intentions and you feel comfortable within the environment you're in, that's all that matters."
Olivia later shared a follow-up video showing off the final outfit, captioning the clip of her at the wedding: "A controversial wedding guest look apparently."
"You look amazing," one said.
"You look stunning and I think it's perfect for a wedding!!!" another agreed.
Read More on The Sun
People are realizing WiFi signals are blocked by six common materials
Gogglebox star reveals she's quit her day job after having a baby
While one declared: "You would look fabulous even in a potato sack."
This article was originally published on News.com.au and has been republished here with permission.

Source: Read Full Article