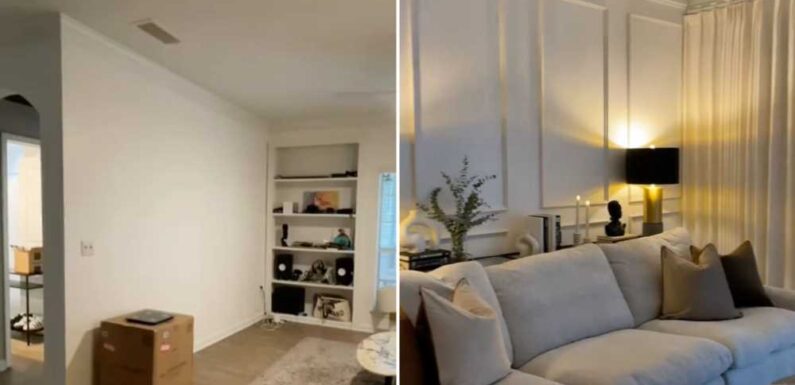 A DIY fan has revealed how she upscaled her new home and it's completely renter friendly. 
The creator said she was very excited to move into her new flat and decided to add her own personal touch with a little DIY.
Sandy, who goes by @myyglyapartmentonline shared how she installed wall moulding in a TikTok video. 
She said: "I use this peel and stick wall moulding to turn my boring walls into much more interesting, elegant, textured walls."
The DIY fan explained she did all the work herself. 
She said: "I started out by laying out all of the moulding before I put it onto the wall."
Sandy explained this step was very important as it allowed her to plan and organise all of the moulds she had bought. 
She said: "Some of the moulding were different sizes, so it's really important to lay it all out and know where everything is going to go and on which wall you want to put everything."
Sandy uses two different methods to make sure that her moulds were super straight before sticking them on. 
She said: "After that, I went in with a level to make sure that the pieces were straight, so I could Mark where they were going to be on the wall."
Most read in Fabulous
Even Pluto's mischief can't stop you seeing through an ambitious money plan
I'm 50-plus & wear swimwear in the day & love leather – when in doubt dress sexy
Catfish has no front teeth but looks like Mariah Carey with makeup on
Woman who is always skinny-shamed says strangers whisper about her appearance
"You also see the laser level here, but I actually didn't need the laser level, and I ended up just using the hand level."
The moulds were super easy to apply as all you need to is peel and stick them on.
FABULOUS FIVER: SPEND £5 AND GET A £25 WELCOME BONUS
Sandy said: "I marked all four corners with a pencil of each moulding piece of where it was going to go, and then I took the backing off and started sticking it to the wall."
The great thing about these is they can easily be removed if you're not yet a homeowner. 
Sandy said: "These are totally removable. Very renter friendly." 
She added: "And when I moved on to the big walls, I made sure I marked how far apart each moulding was going to be from one another before I put them onto the wall."
She said: "This is totally renter friendly. Loved it. And if you want to do this for your regular house, you could just caulk them. I chose not to because I am renting. But the transformation is undeniable. Like, this doesn't even look like an apartment anymore."
The DIY fan said she has even received compliments on her new interior.
She said: "A friend of mine came over and was like, it looks like you live in a condo. It looks like a home. Like, it's just gorgeous."
Sandy's video has already racked up over 640,000 views online. 
Read More on The Sun
I took my kid to the best indoor water park – but everyone says the same thing
Catfish has no front teeth but looks like Mariah Carey with makeup on
One user said: "This is awesome. Fantastic job."
Another said: "Simply stunning!"