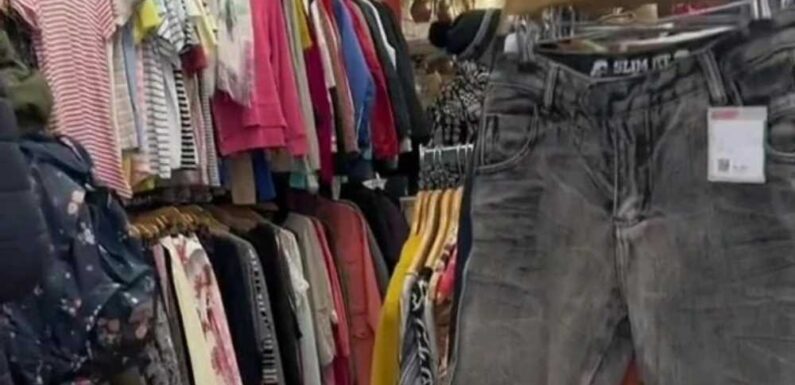 FASHION trends change all the time and while many of us try to keep up to date with the 'in' thing, it's not always easy when there's a cost of living crisis looming over our heads. 
But one woman has proven that you don't need to break the bank in order to get the outfit of your dreams. 
Ellie explained that she challenged herself to buy an exact outfit that she found online solely through charity shop buys. 
Displaying an image of the outfit, viewers saw a brunette woman with a white T-shirt paired with a mini jean skirt. 
She had paired this with an off-yellow jacket and matching knee-length boots. 
"I already have similar boots and a similar necklace," she explained. "So I'm just looking for the top, the jacket and the denim skirt." 
READ MORE FASHION STORIES
Style fan shares an easy hack which means you can wear your summer dress in two ways
Fashion fans in a frenzy over 'bargain' floral summer dress from Matalan
She then walked into the first store, the British Heart Foundation charity shop, which had rows of clothes hanging on racks. 
"I found this white T-shirt and I thought with some adjustment it could work," she continued.
Ellie then picked up some denim shorts, explaining that she thought it could look similar if she cut and stitched them back together. 
She said: "But I thought, no, I want to see if I can make this a little bit easier for myself and just find the exact items.
Most read in Fabulous
Fashion fans are going wild for the 'tummy control' bikini from M&S
'No doubt' Prince Harry will return to UK when he sees truth about Meghan
I'm a mum-of-ten and my kids sleep on the floor – we only have a three-bed home
I was excited to get my skinny lips pumped with filler – the results shocked me
"I found this denim skirt but I thought it was a little bit too dark. Then I came across this jacket, which was £7.50 or £6.50, I can't remember. And I thought that was a very similar vibe, so I ended up taking that home."
She also picked up a white vest top, leaving just the denim skirt to find. 
TikTok user @elll.rose confessed she had begun to feel "a little bit stressed" when she only had three more shops to visit.
"I thought this would've been the easiest thing to find," she went on, before finding the perfect skirt for £2.50 that was hiding behind another top.
Bringing it all back home, she then put the top on a mannequin she bought from Dunelm and adjusted to her exact size. 
Explaining that the top was originally from AllSaints, Ellie said she spent 10 minutes adjusting it to fit her.
"Anyone can do upcycling," she continued. "Honestly, it's so easy, it's not daunting at all."
Ellie then said she cut a bit of the skirt so it fit a bit better before showing off the final result of her efforts, revealing how similar it is to the inspiration. 
"The total of everything was £12.50," she added. 
"Do you think charity shopping works as an alternative to fast fashion?" she questioned in the caption. 
And it appears many do believe it works as one person commented: "I love this idea. It's so much more fun than just buying them on a website". 
Read More on The Sun
Outdoor swimming pool in UK with sea views said to be 'like the Caribbean'
I'm a vet and dog owners always make the same five mistakes with their pooch
Another said: "Please do more! Love this," followed by to heart emojis.
While a third, crying, wrote: "Anyone can do this *if you own a mannequin and a sewing machine*," but Ellie was quick to hit back as she replied: "You don't need a sewing machine or a mannequin to do this! Just makes it a bit easier if you do," followed by a heart emoji.
Source: Read Full Article