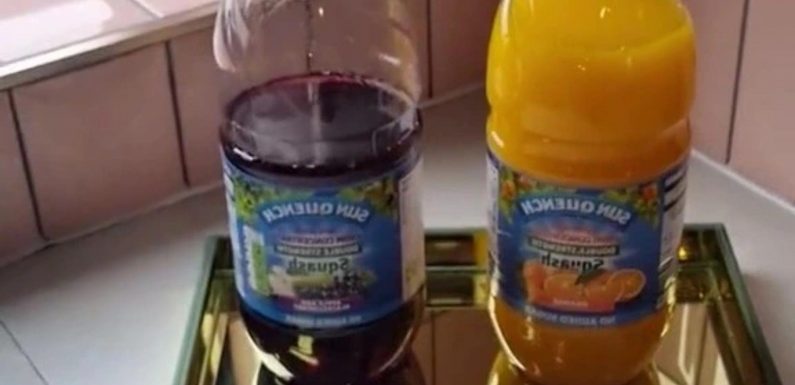 IF you're looking for a way to transform your kitchen and make it look instantly more expensive, the search is over.
And it's all thanks to social media user Sort Your Space, who has built up a big following thanks to their simple decor swaps and other home tips. 
The TikTok account, aka @sortyourspace, revealed that they'd managed to give their kitchen an upgrade using a simple bargain buy from TK Maxx.
In a video posted to their account, they showed how they previously stored their orange and blackcurrant squash in the plastic bottles they came in, but on a small gold tray.
However, @sortyourspace shared how they thought it was "not looking so great."
Therefore, they came up with "a vision" to make the kitchen look neater and more stylish in seconds. 
Read More in Home Makeover
I'm a DIY fan and I transformed my kitchen with a £10 paint from Wilko
I got the ugliest kids table & totally transformed it using old Wilko buys
After picking up two glass bottles, which feature a pretty dot design, in TK Maxx, they immediately found them a new home. 
They got rid of the plastic bottles and instead poured the liquid into the glass containers. 
And they were thrilled with the results of their "pretty" transformation, as they shared final footage of the two bottles standing next to two glasses.
They wrote in the caption: "So happy with the results."
Most read in Fabulous
Dad-of-22 Noel Radford breaks down in tears at emotional discoveries about past
Andrew complaining that he was left no money by the Queen when she died
Members of Prince Harry's family 'DID go to Princess Lilibet's christening'
Interior designer on the awful trends you need to ditch INCLUDING panelling
@sortyourspace then revealed to their followers more about their purchase, as they said she'd looked long and hard for something to elevate the corner of her kitchen.
When one of their social media followers quizzed them on where they'd bought the bottles, they quickly responded.
They answered: "They are from TK Maxx.
"I was lucky to come across them – I've searched everywhere online for something like this."
And others said they loved the idea and the finished look and might try it for themselves. 
One person wrote: "Love them!! Fab idea."
A second commented: "Oh my… I love this idea" followed by several heart eye emojis.
A third added: "I love these."
Read More on The Sun
I did weekly shop at M&S and found 14 items cheaper or same price as Aldi & Lidl
I transformed my council house kitchen with cheap buys from Wilko & B&M…it's so posh
Meanwhile, the post received over a 1000 likes and was also saved hundreds of times, as others wanted to save it for later inspiration. 
And plenty of others tagged their family or friends in the comment section to spread the word. 

Source: Read Full Article