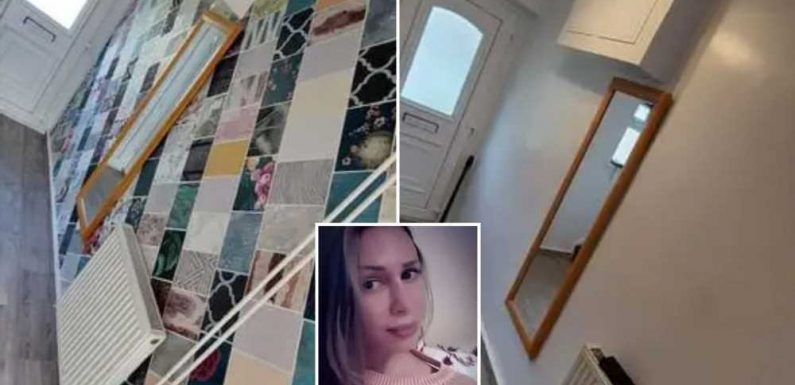 A WOMAN who was fed up of her bland and ordinary looking home found an easy way to add some colour for just £4.
Mădălina Rongo-Domnița, a 31 year old shop supervisor from Swansea, revealed how she created lots of feature walls in her home for just £4.
The woman, took inspiration from Facebook DIY groups and Pinterest when she decided to give her home a unique twist and save money.
After looking online for interior ideas, Mădălina settled on afeature wall in a 'honeycomb effect' using wallpaper samples to transform her home.
She revealed her tips and tricks to LatestDeals.UK: "I started out with the hallway, as the whole idea came from my desire to waste as little as possible from existing samples I had.
"I ordered some more samples, which were free, until I had enough to cover the wall. I made sure the suppliers offered free P&P as well, so I wouldn't need to pay anything at all.
READ MORE HOME TRANSFORMATION STORIES
I transformed my council kitchen on a titchy budget – here's what I used
Woman reveals how she transformed her council house with four cheap B&M buys
"I only paid £2 for shipping on one of the sample packs, as I was able to get 12 decently-sized samples from this supplier and I thought it was worth it.
"Most of the samples came in an A4 size, so I cut them into shapes and made an 'organised chaos!' I mixed vertical darker shapes with horizontal lighter ones."
After the hallway was a success, the DIYer moved on to her bedroom.
This time, the young woman decided to ask people on Facebook for leftover wallpaper instead of paying for samples and set about creating a honeycomb design.
Most read in Fabulous
Meg & Harry 'stunned' by King's 'cruel' Frogmore eviction 'punishment'
Harry and Meghan evicted from Frogmore Cottage by King Charles after Spare memoir
Shoppers are rushing to buy £23 beauty staple for just 99p at Home Bargains
My mum bought a £100 'purebred' French bulldog – but I was baffled when I saw it
She revealed: "I created the honeycomb shapes by Googling the shape, printing it out and then stencilling it onto a piece of cardboard. I then used this hexagonal cardboard to draw the shape on the wallpaper and cut it out.
"Besides the free samples, the other supplies I needed were wallpaper adhesive, which I bought as a powder for just £1.99. I had more than enough for two walls, and I still have plenty left.
"I also used a brush or roller for applying the paste and a craft knife to trim the pieces around the edges once they were already on the wall. I already had these tools, so I basically only paid £3.99 to decorate both of the walls.
"After cutting the samples to size, I prepared the wallpaper paste, applied it to the back of the samples and applied them to the wall by hand. I measured the space between the pieces by eye after trimming the pieces that needed it."
Looking back on her easy DIY project, the only thing Mădălina regrets is buying powdered wallpaper adhesive.
She revealed the mixture was clumpy and ended lifting on some of the wallpaper samples which she quickly fixed using some trusted superglue.
The money-saving whizz added: "Next time I'll definitely buy ready-made wallpaper paste. I'd never get a professional in – this cost under a fiver for two walls so it was well worth taking the time to mix up the adhesive like cake batter!"
Tom Church, Co-Founder of LatestDeals.co.uk, said: "These walls are truly impressive – they look professional and you'd never have guessed the job involved free samples and superglue! Maybe she can come and do my wall next – I've got my hand mixer at the ready!"

Source: Read Full Article