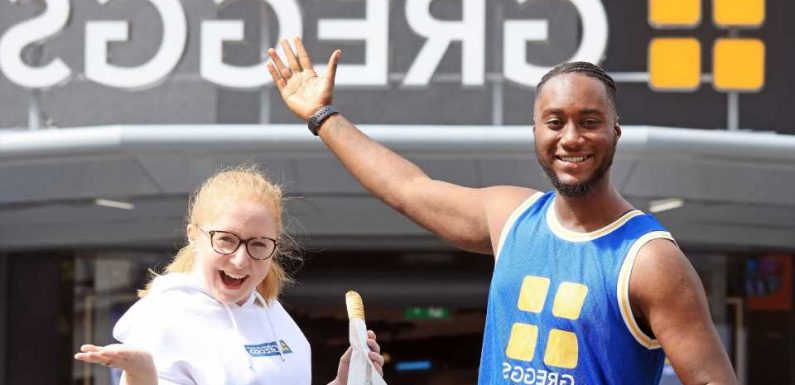 EVER been munching on a delicious steak bake and thought: 'I need this on a T-shirt'?
Well fear not, for Greggs' new clothing range at Primark is back – and coming to a store near you.
In a limited run earlier this year, it proved so popular that there were queues around the block and in just three days shelves were bare.
Ahead of the full launch on August 5, The Sun decided to see what the fuss was about and take the eye-catching merch to the masses.
We went out in the cropped white hoodie, black shorts, bum bag and crocs and the basketball shorts and jersey complete with sliders.
Parading through the streets of London, the outfits were a surprising hit. Punterscouldn't help but stop and stare at our garb, with some even excitedly whipping out their cameras.
The tie-up between high street giant Primark and pastry gurus Greggs features 21 pieces, including crocs and boxer shorts.
The price list of the new collection starts from £8, with the Varsity Jacket proving the steepest at £25.
Other items in the range include bucket hats, body suits, and socks.
Our destination was the mega-store in Leicester Square, where staff were bowled over by our outfits.
Stunned fans walked passed with one shouting "oh my god" and another simply "wow".
Most read in Fabulous
TAT'S NOT GOOD
I wanted a delicate, tropical leaftattoo but the artist ignored my ideas
My son, 10, invited his whole class to our home for a party – but didn't tell me
Prince Harry 'SICK with worry' about new war with Queen over bombshell book
I'm a size 16…I've found the best jeans for curvy girls & they're so flattering