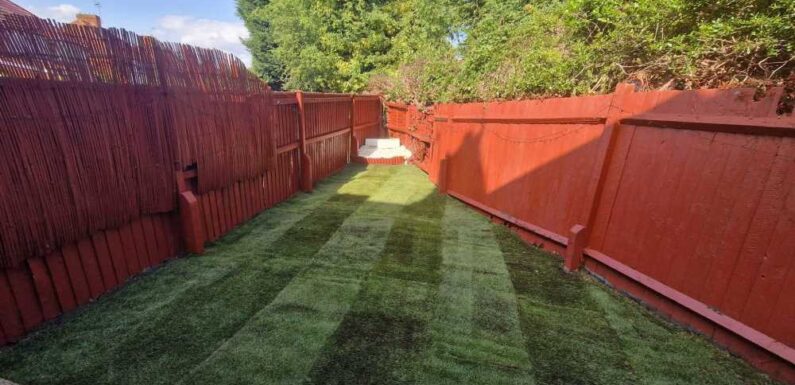 A SAVVY woman has revealed she managed to returf her garden all by herself after being quoted an extortionate amount. 
Taking to social media, she explained that after being told it would cost up to £3,000 to get it done professionally, she decided to give it a shot herself. 
"This is my first time ever posting on any group like this, but I am so proud of myself for doing this completely by myself…
"[I] was quoted between £2,500 & 3,000 to have my garden turfed so had a go myself and got it all done for less than £300". 
She got it all done for a fraction of the price and decided to post the before and after photos on the Facebook group DIY Gardening On A Budget Official. 
In the before snap, viewers could see the triangular-shaped garden was filled with stone alongside a small pathway. 
read more garden stories
Asda shoppers rush to buy garden essential scanning at £5 instead of £20
Woman reveals stunning garden transformation on budget – but there's a catch
After removing it all and painting the fence from blue to a reddish-brown tone, she got to work laying out the soil.
Following this, she placed her new grass down, going line by line down the garden. 
The after looked incredible, with the space looking much livelier and pleasant than before. 
And a photo showing the tiled space behind it showed a small furniture set with three chairs and a glass table alongside an outdoor fireplace to enjoy those summer nights. 
Most read in Fabulous
Real 'reason' Harry & Meg told no after 'asking Biden for ride on Air Force One'
Harry and Meghan 'asked Biden for a ride on Air Force One but were told NO'
A woman revealed she was boob-shamed for going bra-free to a restaurant
Meghan & Harry's pal denies claims they're 'taking time apart' amid rift rumours
With nearly 200 likes, people were quick to comment on her post as many were left impressed with the results of her hard work. 
"Amazing! How has this been done for so cheap? We did ours ourselves and not finished, it cost us £500!! We've had to stop cause we don't have enough money to finish! Lol".
The woman replied: "The turf and top soil was just a little over £200, then with the paint for fence and stones came to just £300… got the turf and soil online then the paint and stones b&m as was soooo much cheaper in there x". 
Another person said: "A great makeover…and how much more satisfying must it feel sitting there and being able to say ..I've done this". 
A third shared: "I know that feeling!! You've done great & sence of your own pride instead of paying a contractor.". 
While a fourth added: "You have done a wonderful job and saved all that money now enjoy your garden". 

Source: Read Full Article