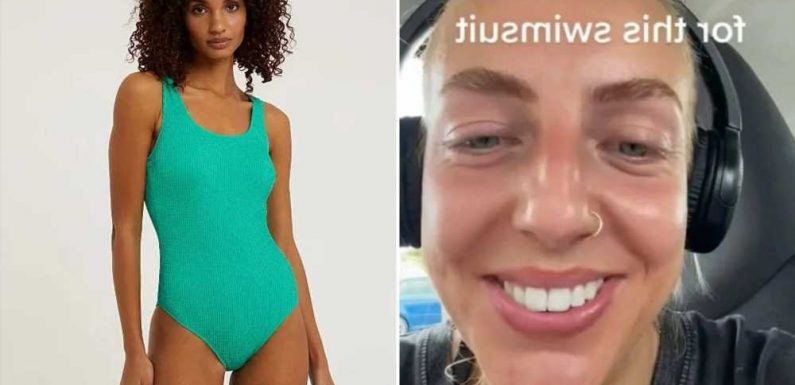 A FASHION fan has shared a bargain Hunza G swimsuit dupe from Asda and fans are rushing to buy it. 
Georgie shared her find in a TikTok video online. 
Georgie had originally gone into Asda to buy food but once she saw a certain swimsuit she knew she just had to get it. 
She said: "Still not buying food at the supermarket."
Georgie said: "I just went to Asda and bought something that you're all going to want to buy," she began.
"Yeah, it's February and yeah, it is a swimsuit, but it's so good.
Read more in fashion
I found a stunning designer dress for £14.50 in a charity shop… it's worth £8k
I wanted Skims dress but didn't want to pay for one so I made my own
"Who remembers the purple swimsuit from last year? It's that but in green."
"If you don't buy this now you won't be wearing it in the summer. I will be, you won't be. You have to get this."
Asda currently have the Green Textured Swimsuit on sale for £14.40 but the popular beach essential is selling out fast. 
The swimsuit has lightly padded cups with a square neckline. 
Most read in Fabulous
I've freebirthed four babies and want another but people always ask me the same
I've found a way to nab 33p loo roll – I'll never go back to supermarket ones
Mum-of-three went food shopping in M&S & only paid £17 for 16 items
I spent 25p on a charity shop buy and it turned out to be worth hundreds
Many fans believe the swimsuit is a dupe for the Hunza G seersucker swimsuit which is selling for a pricey £155. 
The fashion fan said she bought the swimsuit in a size too big just because she did not want to miss out.
FABULOUS BINGO: Get a £20 bonus & 30 free spins when you spend £10 today
She said: "It's the scrunch material, it's got the low scoop back, it's very Hunza G-esque – a dupe you might say."
"And it's just the cool, green colour. And I feel like this is almost as cool as the purple one I found last year.
"So if you want this, go to Asda."
It seems Georgie has her swimwear sorted as she later revealed she bought the swimsuit in black, blue, green and purple. 
The fashion fan's video gained over 223,000 views. 
One user said: "Omg I saw this today, love it."
Read More on The Sun
I found my husband's body in the wardrobe eight months after he went missing
Shoppers spot huge closing down sale at high street fashion chain
Another said: "Matalan do them too."
A third viewer said: "Pep & co have a purple one £8."

Source: Read Full Article