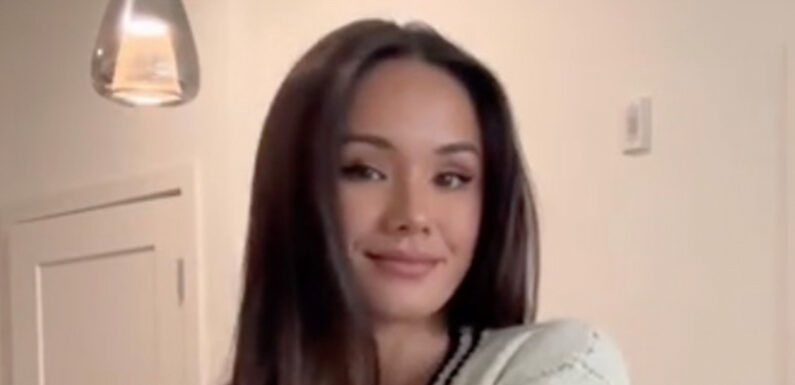 A PETITE fashion influencer has shared a flattering shirt she picked up from Amazon.
She said the garment fit her so well she didn't know how to express her joy.
Maya (@mayothings) shared the try-on haul with over 170,000 TikTok followers.
The 25-year-old 4'11" content creator lugged the pile of clothing to her living room area, changing into a black T-shirt, $24, that made her jaw drop.
Sending kisses into the air, she was reluctant even, to take it off.
Maya liked the shirt so much that she picked it up in multiple colors, trying it on in grey.
Read More on Clothing Recs
FROZEN IN TIME
Haunting pics inside once-grand mansions mysteriously abandoned by owners
"You ever put on a shirt that fits so good you just have to man scream, cuz same," she said.
For outerwear, she grabbed a cozy cream and black graphic cardigan, $39, which she paired with black booties, $170.
Another fall essential was a long black sweater that hit her at the ankles.
For lounging around the house, she picked up a brown shirt dress and matching loose pants set, $41.
Most read in Lifestyle
END OF STREET
Soap 'wildchild' leaves Coronation Street just months after landing role
baby joy
BBC star Victoria Coren Mitchell, 51, gives birth to 2nd child with David Mitchell
TRAGIC END
Sir Bobby Charlton's cause of death revealed after Man Utd legend died aged 86
SAD REPORT
Matthew Perry's initial autopsy results reveals details about his final moments
People took to the comments to share their thoughts on her autumn haul: "That brown set… I need deets!" demanded one commenter.
Other petite women thanked her for sharing: "Omg I'm 4'10 and currently 34 weeks pregnant and been wanting to upgrade my wardrobe for after," said another.
Many agreed that it was refreshing to see themselves represented: "You are literally the only 4'11 influencer I know, thank you so much," said one.
"We are height twins and I'm literally obsessed with everything you got!!" said another.

Source: Read Full Article