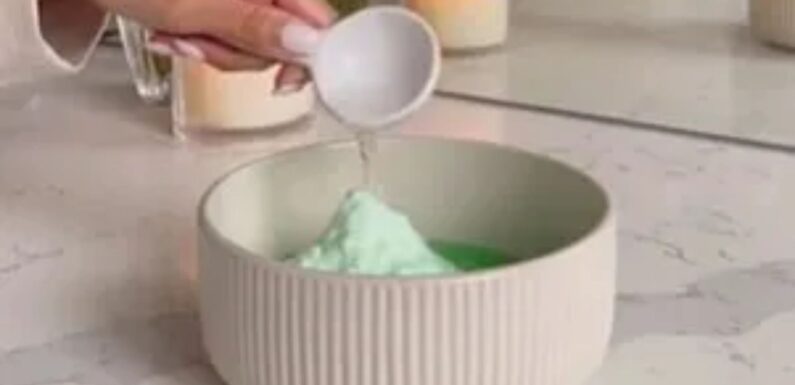 A CLEANING whizz has shared the seven hacks she uses to get her home looking sparkling and spotless. 
Chantel Mila often uses her social media account to share her top tips on styling, organising and cleaning. 
And in a recent video, she shared her secret hacks to removing kitchen grease and how to get rid of make-up stains from clothes easily. 
Citing her own book titled 'The Dream Clean', she said: "Seven of your favourite hacks from The Dream Clean."
Going straight into the nitty gritty details, she said the first hack is to mix one cup of baking soda with a third cup of dish soap and water to make a "power paste to clean tough grime".
She said this can be used to clean the oven, sink and shower and demonstrated the use of it on her own one. 
read more fabulous stories
Cleaning pro's lazy hack to make your shower sparkle in less than 5 minutes
I'm a cleaning expert – here's how often you should wash everyday items
Her second tip was to dust tall areas of the home with a slightly damp microfiber mop. 
Instead of climbing on a ladder or ignoring those hard to reach places, you can simply hold the handle of the mop to tackle them. 
Next, she claimed shaving cream is "amazing" at getting make-up stains out of clothes "instantly".
Applying some onto the top a white T-shirt, she scrubbed it in before removing it all to reveal it looking as good as new. 
Most read in Fabulous
MYSTIC MEG
Remember, love once came before pride, and it can again
DRESS DILEMMA
People think wedding guest's dress is either 'too bridal' or 'lingerie' like
FIGHTING FIT
Davina McCall's anti-ageing secrets from a £3 snack to £5 skincare product
NOT CLASSY
Mum spends benefits on designer school shoes for kid only for them to be banned
Using shaving cream, you can also make "hazy mirrors" look sparkling clean. 
Chantel then instructed viewers to "mix equal parts white vinegar and dish soap in a dish brush to clean your entire bathroom". 
She said this method makes the entire process incredibly easy. 
The sixth hack she had up her sleeves sifting baking powder onto half a lemon to clean and "deodorise" the sink. 
And finally, the seventh hack TikTok user @mama_mila_ had was to mix "equal parts white vinegar and lemon juice to cut through tough kitchen grime". 
People were quick to comment on the post as one person wrote: "Thank u for the video sis! Sending love and support from Jakarta xoxo".
Meanwhile, another pro has shared her four cleaning hacks that will make your life so much easier. 
And another revealed how often you should be washing your everyday items. 
Do you have any good tricks up your sleeve?

Source: Read Full Article