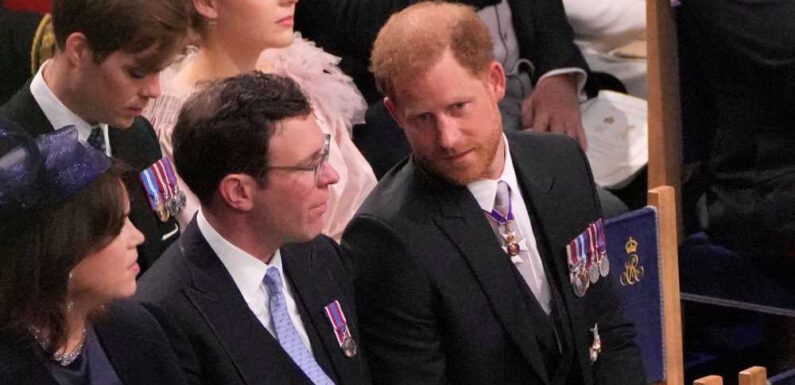 A LIP reader has revealed what Prince Harry said about his travel plans at he sat in the third row at the coronation ceremony.
Expert Jacquie Presser claimed that Harry spilled the beans to Princess Eugenie's husband Jack Brooksbank before the ceremony kicked off.
She told the Mail that Harry said the words "tomorrow", while another lip reader picked up the word "airport".
Harry headed straight to the airport this afternoon – racing home to LA as his family posed on Buckingham Palace to herald Charles as the nation's King.
The Duke of Sussex, 38, was spotted at Heathrow Airport – jetting back to Meghan Markle in the US just an hour after the pomp and ceremony saw his dad Charles crowned at Westminster Abbey.
She told the Mail that Harry said the words "tomorrow", while another lip reader picked up the word "airport".
Read More Coronation
Moment horse in procession crashes into barriers in front of shocked crowds
Moment Red Arrows fly over Palace as flypast is scaled back due to bad weather
He is in a rush back to California for his son Archie's fourth birthday – and is likely to land late tonight local time.
Harry wasted no time in leaving behind his newly-crowned father King Charles and other royals – leaving London's Westminster Abbey around 1.15pm.
Most read in The Sun
Harry drives to the airport after coronation – as his family beam on balcony
Janice Dickinson QUITS I'm A Celeb after shocking incident
Harry relegated to THIRD row at father's coronation alongside Andrew's kids
BBC's Zoe Ball splits with 'demanding' model partner after five years
He hopped into a blacked-out electric BMW and was whizzed 20 miles to Heathrow, arriving by police convoy around 2.05pm.
The duke was taken into the VIP Windsor Suite at Terminal 5.
And as his car was spotted in the busy London airport, his father led his family on to the balcony at Buckingham Palace for the first time as King.
Charles, 74, was cheered by thousands of royal fans to ring in his new reign as King.
The monarch was flanked by his family including Queen Camilla to celebrate a historic coronation ceremony.
It comes after Harry arrived separately from his brother William to see their father crowned King.
Harry was accompanied to the ceremony by Princess Beatrice's hubby Edo Mapelli Mozzi.
He then took a seat next to Princess Eugenie's husband Jack Brooksbank.
On his other side was Princess Alexandra, 86 — Queen Elizabeth's cousin.
Alongside was Prince Andrew's daughters Eugenie, 33, and sister Beatrice, 34, who is sitting next to Edo.
In front of Harry was his aunt Princess Anne alongside her husband Vice Admiral Sir Tim Laurence.
ROYAL RIFT
A source told The Sun: "There were discussions that the seating could be arranged on line of succession.
"But that would have put fifth-in-line Harry front and centre — and with William and Kate.
"Instead the decision was working royals only at the front and work back from there. Harry will be a long way from his father."
Prince Harry – wearing a dark morning suit and medals – attended without wife Meghan, 41, or children Archie, who turned four today, and Lilibet, one.
It was the first time he was seen publicly with his family since releasing his explosive biography Spare.
He did not appear to speak to his brother William or sister-in-law Kate Middleton at the ceremony – taking a backseat and sitting in the third row at the ceremony.
He was among thousands of guests at Westminster Abbey to see Charles declared king in the event filled with pomp and ceremony.
Charles and Camilla arrived at Westminster Abbey following a spectacular 1.42 mile journey in the air-conditioned Diamond Jubilee state coach, built in 2012.
They left Buckingham Palace accompanied by the Sovereign's Escort of the Household Cavalry, before passing a guard of honour of around 160 members of the three armed services.
The pair were flanked by over 1,000 members of the Armed Forces before passing a 100-strong guard from the Royal British Legion in Parliament Square.
The service ran for around two hours where ancient traditions – some dating back to 1065 – saw Charles anointed and crowned with the 1661 St Edward's crown.
The service ended at around 1pm before the royals set off on a 1.4 mile procession back to Buckingham Palace.
The King and Queen rode in the 260-year-old, four-tonne Georgian-era Gold State Coach.
The procession ended with a "three cheers" for the King and Queen by the members from the household regiments on Buckingham Palace's lawns.
HEIR FORCE
The Royal Family then made their way to the famous Buckingham Palace balcony where they were greeted to rapturous applause from the thousands of fans who had gathered on The Mall.
A mesmerising flypast by helicopters and chinooks and then a display from the Red Arrows followed.
But sadly poor weather meant no other planes could take part in the fly past, cutting a planned six minute spectacle to just two.
Charles is the first king to be crowned in Britain since his grandfather King George VI on May 12, 1937.
He is the 40th monarch to be crowned at Westminster Abbey, with the first thought to be Harold Godwinson in 1065.
Much like his beloved Mama, Charles has also broken with tradition.
Fuelled by a desire for a stripped-back monarchy, the King has shunned the extravagant trappings of wealth seen in his own mother's £1.57million ceremony.
Read More on The Sun
People are just realizing Prince George & North West are the same age
Princess Charlotte 'twins' with Kate Middleton in matching coronation outfits
The guest list was slashed to just 2,000, compared to the Queen's 8,250, and the length of the service has been drastically reduced.
Even the dress code is different, with the King opting to wear military uniform instead of the silk stockings and breeches seen in the past.
Source: Read Full Article