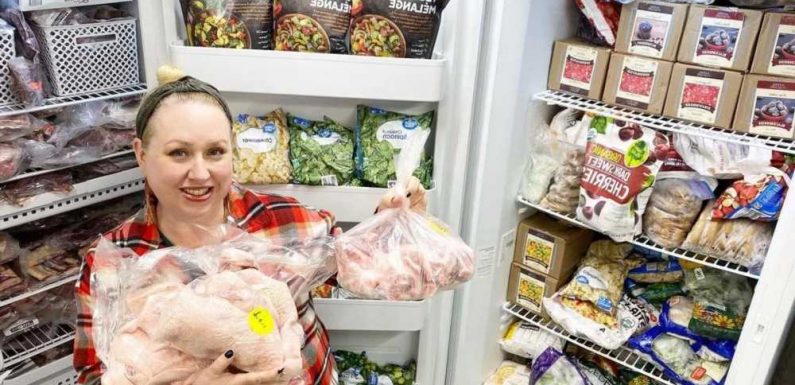 WHEN you have kids you need lots of storage space for food – so spare a thought for mum-of-nine Jamerrill Stewart. 
The busy US-based mum showed off how she has FIVE freezers for all their groceries and they are meticulously organised. 
Speaking in a YouTube video, Jamerrill said: "I have a total of four old refrigerators and five full freezers. 
"Let me give you a tour around and we'll see what's happening.
"There are definitely times when these refrigerators are full and these freezers are full and things are busting at the seams.
"I did not get five full freezers and four extra refrigerators overnight, I've been married almost 25 years, I had a lot of time to collect stuff.
More on parenting
Mum-of-five Stacey Solomon shares £4 Amazon buy to keep your oven spotless
Mum-of-22 Sue Radford shares clever way she teaches kids the value of money
"Of course as a mum-of-nine and a family-of-11, our family continues to grow and expand.
"And we work from home, school from home and run a business from home, so it's all the meals here, all the time for the most part."
Instead of cramming different foods into the freezers, each has its own theme. 
She explained on Instagram: "I have a full beef freezer, a full pork/chicken freezer, a full fruit/veggie freezer, a full freezer meal freezer, and a full freezer that currently holds several upcoming massive food preservation projects such as grapes for grape juice, apple peels for apple cider/apple juice, about 60 or so more pounds of tomatoes."
Most read in Fabulous
Prince Harry and King Charles agree on NEW titles for Archie & Lilibet
Meghan & Harry christen daughter 'Princess Lilibet Diana' at LA ceremony
Camilla suffers fresh heartache as much-loved family member dies
Dog trainer reveals three breeds he'd never advise for a first-time dog owner
In her video, Jamerrill declutters the freezers, cleans them out and loads them back up.
She also donates any unwanted food items to local single mums to "pass on the blessings."
When she is done with her handiwork, the freezers are pristine, with all boxes and packages neatly aligned. 
Jamerrill added: "I've needed to do these since these freezers were delivered this fall.
"I am proud of us."
Jamerrill regularly shares her meal prep and bulk freezer recipes online – as well as her monster shopping trips.
In a previous shopping haul, Jamerrill picked up 80 bags of snack-size cookies for $2 in total, and joked they would be "already gone" before too long.
She also bought eight huge bottles of Naked juices for $1.99, and said two of the bottles would be enough for her family to have a cup for breakfast for a few days. 
This was on top of eight large apple juices, and 45 bottles of Tropicana, which are $3.75 per 15 bottles. 
Read More on The Sun
I'm a fashion expert and these 5 styles of trainers make you look frumpy
Martin Roberts breaks down in tears as he announces death of father
Next she showed off her huge supply of cereal bars, and she stocked up on two big boxes of Nutri Grain bars, which each had 96 bars in. 
The third box was of 96 Quaker Oats bars, and said: "I know these will be gone quick too."

Source: Read Full Article