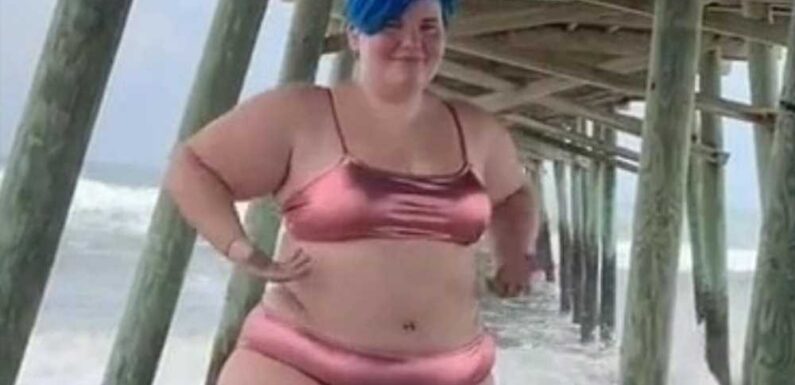 A WOMAN has hit back at fat-shaming trolls by showing off her curves in a bikini at the beach. 
Kenzie took to her social media to post the clip for her followers to see as she stood in front of a pink towel on the sand and flaunted her metallic pink two-piece. 
Showing off her figure, the blue-haired woman did the Vogue movements and used the hashtag 'body positivity' to indicate how she embraces herself. 
She's previously spoken out about the hurtful things trolls have said about her body, but admitted she simply doesn't care about their opinions.
Dancing in a pair of shorts and a bra in her room, she wrote: "Things People have done/said about my plus sized body…" 
She then listed out some of the awful comments she's received, including: "A stripper would be cheaper than this ox". 
read more fabulous stories
Plus size woman tries on lingerie from Rihanna's Savage x Fenty line
Size 28 style lover dubbed a 'whale' shares affordable plus size bikini haul
Turning around to twerk for the camera, she wrote another situation she found herself in, explaining: "Threw my taco out the window because I 'didn't need it'." 
She then said one person offered to pay her £16 for "every 20 pounds I lost… when I was NINE".
And another comment she's heard is: "I thought whales lived in the ocean." 
In the caption, she wrote: "The struggles I face as a big booty h**". 
Most read in Fabulous
I wear my Primark PJs as normal day outfits – they're too nice for sleep
Celebs making millions flipping homes – and Michelle & Mark are rolling in it
I met my fiancé at my WEDDING – but it wasn't the only twist in romance
I've found the UK's cheapest supermarket – and Aldi needs to watch out
And many could relate to her experience as one person commented: "My doctor asked me if I 'was bored at home' I said yeah.. Mistake, now she thinks I do nothing but eat. Cried on my way out of the office today." 
Kenzie, known as @nastylilpanini on TikTok, replied: "It's not always about our weight. I'm sorry babes." 
"The worst is when it's from your own family," another person said, to which she replied: "AND I SWEAR 90% of the time IT ISSSS. You're so beautiful though." 
A third shared: "If I had a dollar for every time ppl have told me I'd be so much prettier if I lost weight. We're hot asf babe don't let 'em tell ya different!" 
Others complimented her and loved how body positive she is as one said: "You are gorgeous," followed by a red heart emoji.
Another shared: "You are literally perfect the way you are, a whole goddess". 
While a shared the step they took to embracing their own body. They said: "I made a big step in self love yesterday and was able to wear a two piece to the beach, bikini tio and all got loads of compliments on my tattoos". 
Kenzie replied: "YASSSS. I BET YOU LOOKED H O T." with red heart emojis. 
Source: Read Full Article