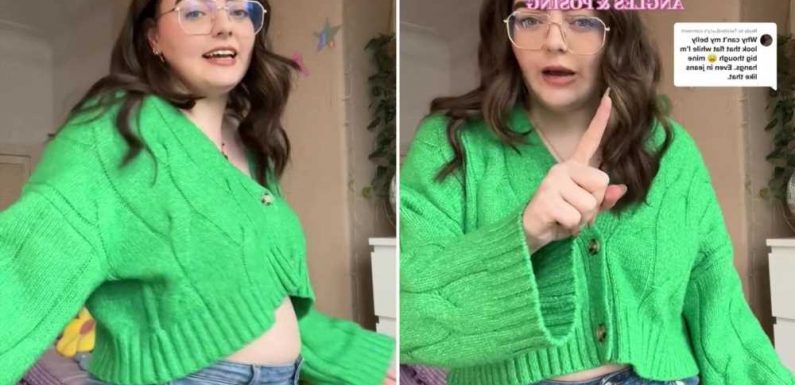 IT can be difficult to find the perfect pair of jeans and one size 16 woman has revealed how she manages to find a pair that flatter her every time. 
Shopping for jeans can be a nightmare, especially if you're plus sized. 
But when you finally find a great pair that fits you – there's nothing better. 
One woman has shared how she manages to always pick up such flattering jeans as a size 16. 
TikTok user @bethanylivingstonee was asked by followers if she had any tips after being complimented over her cute jeans. 
Read more fashion stories
Primark fans aren't happy with new gymwear and all have the same complaint
I did a huge winter wardrobe haul, people are stunned it was all from Tesco
She received a question which said: "Why can't my belly look that flat while I'm big though? Mine hangs, even in jeans like that."
But Bethany was keen to explain how she manages to look so good and wanted to give an empowering message to her followers. 
She admitted: "I've received a lot of these comments like this about jeans [from people saying] they can't wear jeans like this.
"Because their stomach looks like this and my body looks like this. Why don't they look like how I look in a video?
Most read in Fabulous
I decided to tint my eyebrows then fake tan – it was one of my biggest mistakes
I'm a piercer but will never do these four – they're just not worth the trouble
I'm a gypsy girl and these are the biggest misconceptions about my community
I was disgusted my chunky boots from ASOS came with two distressing extra items
"True story, I don't look like how I looked in the video."
Bethany explained how the angle she appeared from in the clip makes her jeans look even more flattering. 
She continued: "So when I'm standing here, this is a very flattering angle for me in these jeans, I look semi-flat, I'm face on.
"I just want to show you have fake social media is because I stand here to show you my outfit.
"But I don't show you all the different angles that I'm currently in from different points of view."
The fashion fan showed viewers the difference between her stomach sucked in and sucked out before turning to the side. 
She said: "If I stand from the side and push [my stomach] out? It's a very different situation, I look like this.
"But when I'm standing here, I look like this and I wear things that will flatter me," Bethany added as she faced the camera. 
FABULOUS BINGO: Get a £20 bonus & 30 free spins when you spend £10 today
The TikTok user finished off by giving viewers a very important reminder
"Honestly it's all angles, this pose is very flattering on my body type but I don't look like this all the time. 
"Bodies change, bodies fluctuate, it doesn't matter what angle you're at – you're beautiful," she concluded. 
She was flooded with supportive comments, thanking her for making such an honest video. 
One viewer penned: "Yesss I love this!!!"
Another shared: "Love u for this 🥰 nothing makes me happier then seeing my body type on this app."
Read More on The Sun
Shocking video reveals why you should never rub your eyes if you're tired
Shoppers rave about Primark coat that's 'perfect dupe' for £290 North Face version
"Your videos make me so happy 🥰 thank you for this," someone else weighed in. 
Bethany often posts fashion videos showing what she wears as a size 16, and has over 58,000 followers on the app. 
Source: Read Full Article