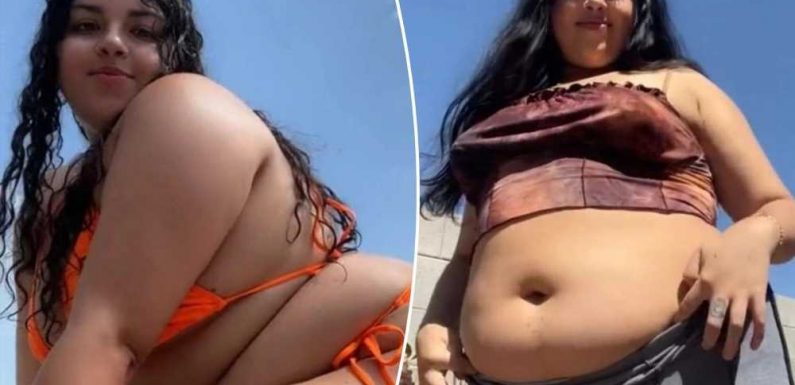 FAT is a word that many of us will refrain from using. 
Especially when describing others, it's seen as not a very nice word to use.
However, one woman doesn't hold back from using the term and instead describes herself as "fat" and "hot".
29-year-old Dulce, from Mexico, is known on TikTok as @dulcenalgass, where she regularly posts body positive and body acceptance videos.
In the process, Dule has amassed an impressive 42.7k followers and 297.6k likes.
Dulce isn't afraid to show off her body and doesn't care what the haters might think, as she loves her body.
Read more real life stories
Trolls call me a pig but I don't care – I won't stop showing off my rolls
I'm a size 18 with 36E boobs – trolls call me a fat & vile but I don't care
The plus-size beauty describes herself as "thick as hell" and in one clip, she said: "Daily reminder I'm fat AND hot.
"This is a public service announcement, I may be fat, but I'm hot as hell, so shut up."
Not only this, but Dulce explained that she is: "Fat, pretty and thriving.
"I looked GOOD."
Most read in Fabulous
People shocked as they unveil hidden use of packaging in a chocolate orange
Shoppers are rushing to buy Aldi's £4.99 Ugg dupe hailed 'best Specialbuy ever'
Prince Harry says 'I would like to get my father back' in tell-all interview
I'm a doctor and here's four things that will instantly cure your hangover
She also insisted: "Reminder, fat people are hot and sexy and beautiful and we don't need your approval for anything.
"Fat people aren't here for your approval." 
In another clip, Dulce revealed: "I'm not hiding my fupa any more." 
Fupa refers to the area below the belly button, and stands for "fat upper pelvic area".
In many videos, Dulce strips down to bikinis to show off her tummy, which she describes as "cute."
She continued: "It's giving well feed, it's giving she don't miss no meals, it's giving she can hold her weight, it's giving I'm warm, it's giving she never goes hungry, it's giving I'm a great cuddler.
"This is just a reminder that your tummy is so cute.
"All tummies are good tummies."
TikTok users appreciated Dulce's body positive messages and were eager to praise her and compliment her looks in the comments on her videos. 
One person said: "Beautiful and precious." 
Read More on The Sun
EastEnders fans 'work out' father of 12-year-old Lily Slater's baby
We're the 'cheapest' bar selling meals for £1 – here's why we're doing it
Another added: "Absolutely stunning." 
A third commented: "Wow wow very beautiful girl."
Source: Read Full Article