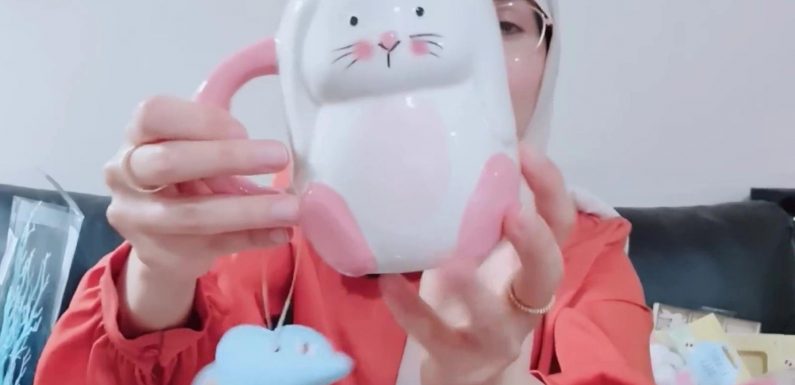 POUNDLAND's biggest super fan has been raving about the popular discount store's latest range.
And – fortunately for fellow bargain hunters – she's not gate keeping any of the newly released products, as she's pointed out exactly what you should be buying ahead of the Spring season. 
YouTuber Liyana, who once racked up a £346 bill in Poundland resulting in the longest receipt they've ever printed, took to her channel, Liyana Lifestyle, to show off the results of yet another huge shopping spree. 
"I have a really big haul, it's literally surrounded everywhere – next to my feet, left, right and centre," Liyana explained as she reached down to pick up the first item from her favourite store. 
She continued to tell her subscribers to "run" to get the bargains she'd bagged, as she said: "I've got lots of Poundland goodies, so let's get started." 
The savvy shopper then sang the praises of Poundland's Spring and Easter collection, as she said the home ware section was particularly impressive. 
Read More in Poundland
I went wild in Poundland and got adorable Easter bits and stunning clothes
Inside the Poundland that's set to become a tourist attraction
Her buys included a "cute" pale yellow chick egg holder, another with a bee printed on it, and one more in the shape of a rabbit.
Liyana admitted she'd have to squeeze the three items into her cupboard as it was already overflowing with other similar items she'd already got from the high street chain. 
Holding them up to the camera for a closer look, she went on to say: "I know that the prices have gone up, but for some things, I feel like it doesn't really matter.
"£1.50 is a fair price for some of these things.
Most read in Fabulous
Mum-of-three went food shopping in M&S & only paid £17 for 16 items
I spent 25p on a charity shop buy and it turned out to be worth hundreds
I'm an unapologetic fat girl – trolls tell me not to wear a bikini, I don't care
Trolls say my gut is 'gross' and I should 'go to the gym'
"I was in the store thinking, 'what one should I pick?' and then I thought, 'I'll just grab all of them!'"
Liyana had a similar attitude to when it came to a selection of Easter-themed mugs, bowls, and other crockery. 
She continued: "I want some for the kitchen and I also want some for my craft room. 
"I think these will be really nice – just some Spring and Easter handmade decor." 
Liyana, who has previously used seven baskets for just one Poundland shopping trip, also bought matching pastel blue and pink egg tealight holders, bunny ornaments, plants in Easter shapes pots, and a duo of rabbit and carrot shaped salt and pepper shakers. 
I have a really big haul, it's literally surrounded everywhere – next to my feet, left, right and centre
However, she admitted her shopping obsession got the best of her – as she doesn't actually use salt and pepper shakers. 
She confessed: "I don't even use salt and pepper shakers, I really don't, I just use it from the bottle – but I still had to grab them. They're really adorable.
"I think it might be my favourite Easter and Spring range yet."
This was a recurring theme when it came to Liyana's haul, as she repeatedly admitted that she usually wasn't a fan of something – only to go on to buy it.
She explained that she hadn't bought into the gonk trend, but couldn't resist the ones on Poundland's shelves, which were adorably dressed up for Spring.
And she didn't just take home one, but two, as Liyana explained she couldn't resist the opportunity.
Other items of note in her shopping bags included a carrot shaped whisk for baking, bunny and chick capes for dressing up, table runners, and napkin rings. 
Elsewhere in the video, Liyana explained how she's a keen crafter and has her own YouTube channel.
So it made sense that she picked up so many items that would be keeping her occupied for the next few months.
I think it might be my favourite Easter and Spring range yet
These ranged from an Easter egg hunt kit for kids to little rabbits and bees that can be stuck onto gifts she makes for Easter. 
But she wasn't just won over by the things that she would use, as many other items caught Liyana's eyes as she browsed the aisles. 
She continued: "Another thing I thought was great in Poundland was their products for children."
The YouTuber highlighted this by showing off what she'd bought, including a £1 Easter game for them to play that's like Twister, pin the tail on the rabbit and 
After she'd shown off all of her new buys, she summed up her haul and described her Poundland trip as very successful. 
Read More on The Sun
Gaz Beadle's wife hits back after she's mum-shamed over car seat
Nursery teacher reveals there are five types of mums when it comes to drop off
The keen shopper concluded: "I don't know how much I've spent but I do feel like I've been good – I haven't spent too much for quite a while…
"Let me know your favourites and which ones you'll be picking up."

Source: Read Full Article