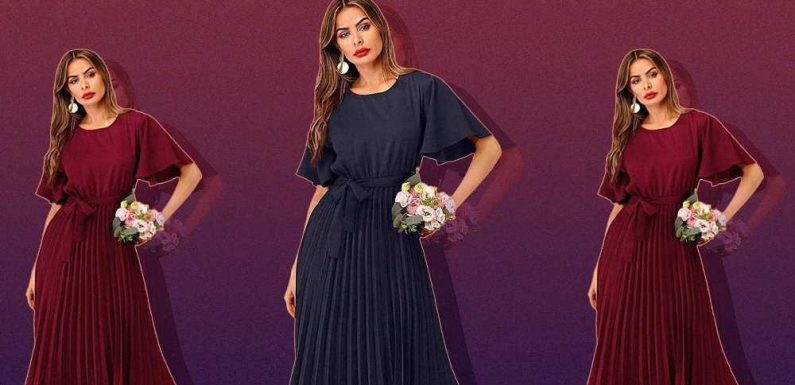 Fall is one of the most popular times of year for weddings, and after the delays and postponements of the last year-and-a-half,  it's safe to say this wedding season is busier than ever before. And if you have a celebration (or celebrations) on your calendar, you're likely in the middle of deciding what to wear. Rather than scouring the web for hours in search of dresses that check all the boxes, start with this under $50 find.
With a round neck, ruffle sleeves, and midi length, the Milumia Belted and Pleated Dress is perfect for all manner of weddings — after all, what's better than a dress that requires minimal additional styling?  The belt allows the dress to essentially style itself, especially because it highlights the pleats even more.
Shop now: $45, amazon.com
"If you're on the fence, jump," wrote one five-star reviewer. "This dress is so perfect! It's flattering, moves well, is so comfortable, and is such a classy look. My friend said it was reminiscent of a Kate Middleton look, which was perfect for the ceremony we attended. My husband told me I need to order it in other colors because it's so flattering. And for the price?! Seriously. Best deal ever!"
One of the key characteristics of the Milumia Belted and Pleated Dress is that it's made from 100 percent polyester. That means it's likely to keep its shape throughout the ceremony, dinner, and plenty of dancing during the reception, but it's unlikely to stretch while you wear it.
Shop now: $45, amazon.com
"Love this dress," added another reviewer. "I bought this dress for a winter wedding and got so many compliments. I usually wear a large bottom, and a medium top. I got the medium, and it fit great. It's very flattering and flowy. The material is thin, but [it's] thick enough that it's not see through."
The Milumia Belted and Pleated Dress hits all the right marks for any fall weddings you might be attending — and once those are over, you can wear it for the holidays, too. Shop the Milumia dress on Amazon before your calendar fills up until 2022.
Source: Read Full Article