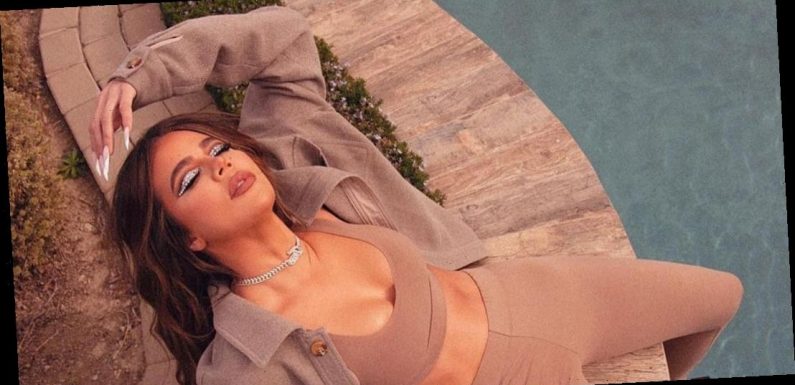 We're only a few days in, but 2021 is already shaping up to be yet another year for loungewear sets. Celebrities like Jennifer Lopez have sported color-coordinating loungewear looks left and right lately, and the trend's momentum shows no signs of slowing down. Khloé Kardashian is the latest to hop on the bandwagon, and her matching Good American sweatshirt and leggings are actually pretty affordable — you can score both for less than $150. 
The youngest Kardashian sister showed off her outfit in a recent Instagram post from her home gym. Assuming the classic influencer squat and shielding half her face with her phone, the reality star puts all eyes on her dark blue-green activewear.
The Orion Blue Boyfriend Sweatshirt and Emerald Shiny Rib Leggings are available exclusively on Good American's own site, and the latter is sold out in almost every size. Thankfully, they're both in stock in other equally stunning colors. For other matching looks, pair the heather gray crew neck with the silvery Sage leggings, or opt for timeless black for both top and bottom. Sizes for each piece range from XS, or a size 0 on the brand's chart, to 5XL, or a Good American size 8. 
Shop now: $85; goodamerican.com
Shop now: $29 at checkout (Originally $79); goodamerican.com
Hoping to get Kardashian's style at an even better price? You're in luck: Tons of similar sweatshirt-and-leggings combos are available on sites like Nordstrom. Top-rated styles like the Zella Live In High Waist Leggings and matching Coastal Side Split Crewneck go together like peanut butter and jelly.
Over at Amazon, plenty of other Kardashian-esque pieces are sold together exactly the way you'll wear them. Take the Prettygarden Long Sleeve and Leggings Set and Mizoci Long Sleeve Crop Pullover and Joggers Set, which are available for $32 and $35, respectively. 
Shop more Khloé Kardashian-inspired matching sets below.
Get the look:
Zella Coastal Side Split Crewneck Sweatshirt in Black
Shop now: $49; nordstrom.com
Zella Live In High Waist Leggings in Black
Shop now: $59; nordstrom.com
BP. Comfy Top
Shop now: $39; nordstrom.com
BP. Hacci Leggings
Shop now: $29; nordstrom.com
Nike Sportswear Crewneck Sweatshirt
Shop now: $60; nordstrom.com
Nike One Dri-Fit Leggings
Shop now: $55; nordstrom.com
Prettygarden Long Sleeve Off-Shoulder Top with Leggings
Shop now: $32; amazon.com
Olchee High-Waist Leggings and Long Sleeve Set
Shop now: $17–$31; amazon.com
Mizoci Long Sleeve Crop Pullover and Joggers Set
Shop Now: $35; amazon.com
Source: Read Full Article