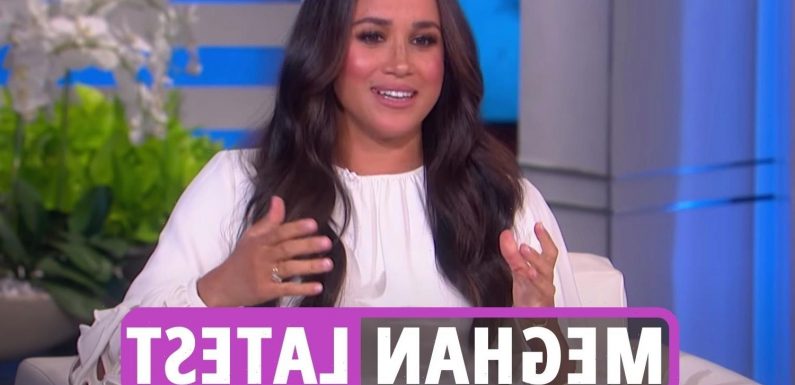 MEGHAN Markle's former friend has spoken out about the Duchess "ghosting" her – and how she has made Prince Harry "weak".
Former model Lizzie Cundy, 53, struck up a friendship with Suits actress Meghan – but was dropped once she started dating Harry and was not invited to their wedding.
And the The Prince's personal attacks against his father since Megxit have forced them apart and left Charles "deeply shocked and hurt", sources say.
Reacting to the story to The Sun at yesterday's TRIC Christmas Lunch, Lizzie said: "I'm not surprised Prince Charles is disappointed. Prince Harry was in a very privileged position. He was born to do what he was to do as a prince.
"He's let the family down. Saying there was this alleged racist within the Royal Family was just shocking. Prince William had to come out and say it wasn't true. Prince Harry's been very weak and it's not attractive.
"I just hope he's genuinely happy and if he is then fair enough. If they want to go away and be private then I wish them well, but then stop doing all the interviews."
Read our Meghan Markle live below for the latest news & updates….
Louis Allwood




Christmas lights switch on

The Duchess of Cornwall has switched on the Christmas tree lights as she visited Royal Trinity Hospice to celebrate its 130th anniversary.

Camilla met nurses, doctors, patients and their families as she toured the hospice in Clapham, south London.

Children from nearby St Mary's RC Primary School sang carols around the modern Christmas tree structure.

Camilla's switching on of the lights marked the launch of the centre's Christmas appeal, which aims to raise millions of pounds missed in fundraising due to the coronavirus pandemic.

The duchess told staff: "You are all marvellous. We owe you such gratitude for constantly going above and beyond.

"It is a very special place here and you are all wonderful."

Louis Allwood




Queen is all smiles

Her Majesty, 95, made her public first appearance in two weeks to hand Thomas Trotter, 64, the annual Queen's Medal for Music at Windsor Castle.

The Queen, who had a chair closeby, last received Bank of England governor Andrew Bailey on November 24.

In October, she spent a night in hospital for tests and then resumed only light duties.

She resumed "light duties" shortly after.

Prince Charles stood in for her at the COP conference in Glasgow and she missed Remembrance Sunday due to a sprained back.

Louis Allwood




Why will the concert be aired on ITV and not the BBC?

The service has been developed and delivered in partnership with the Abbey and BBC Studios Events Productions.

But it will be broadcast on ITV after a controversial documentary about Harry and William was aired.

BBC Two's The Princes And The Press, which was presented by Amol Rajan, was criticised by the royal households for giving credibility to "overblown and unfounded claims", and prompted the broadcast of the service to be moved from the BBC to ITV.

The two-part documentary included suggestions that negative stories about Harry and the Duchess of Sussex were leaked by courtiers and there was a competitiveness between households.
Louis Allwood




What did Kate say last night?

The Together At Christmas concert reflects on the challenges of the pandemic and will pay tribute to the people and organisations who have supported communities through the Covid-19 crisis.

In a moving message, the duchess told the programme the pandemic showed the "importance of simply being together" – as she described the "heart-wrenching isolation from those we hold most dear".

She said: "We have lost loved ones, seen our frontline workers placed under immeasurable pressure, and we have experienced heart-wrenching isolation from those we hold most dear.

"Alongside this, we have seen how communities have come together to support those most in need.

"And through our separation from others, we have been reminded just how powerful human connection is to us all.

"Just how much we need one another. And how loving and feeling a sense of belonging to one another can provide comfort in tough times.

"The importance of simply being together."

Louis Allwood




Round up of the Christmas carol concert

Kate Middleton stunned in a mid-length scarlet coat and earrings borrowed from the Queen for the pre-recording of the event, set to be broadcast on ITV on Christmas Eve at 7.30pm.

The show was switched from the BBC at the last minute following a row over the BBC Two documentary which examined William and Harry's relationship with the media.

Guests included inspiring leukaemia patient Mila Sneddon, six, who stole Kate's heart when she took part in her lockdown photo project.

Joseph Gamp




Royal Family news: The latest

In more Royal Family news, Kate Middleton puts 'duty before herself' & priorities the Queen over her own family at Christmas, expert claims.

And Meghan Markle and Prince Harry's wedding video reveals 'hidden message' fans are only just discovering.

Plus Princess Diana 'would return or give away some of William and Harry's Christmas gifts', says former bodyguard.

Joseph Gamp




The Queen's touching picture of great-grandchildren with Philip

SHE might be one of the world's most famous 95-year-olds – but in some ways, The Queen is just like any proud great-grandma.

Earlier this week, Her Majesty presented the Queen's Medal for Music to organist Thomas Trotter at Windsor Castle.

In The Queen's office, she has an assortment of family photos on display – including one that's never been seen before.

Taking pride-of-place on a side table, the portrait shows The Queen and her late husband Prince Philip sitting on a sofa in Windsor Castle's White Drawing Room.

The picture is believed to have been taken before 2018 as it shows a very young Princess Charlotte perching on her great-grandmother's knee.

Zara and Mike Tindall's adorable eldest daughter Mia is pictured sitting in the middle of The Queen and the Duke of Edinburgh.

Joseph Gamp




Labour leader uses Queen as example in fiery PMQs showdown

Yesterday Labour leader Keir Starmer criticised the Prime Minister for not abiding by the rules and used the Queen as an example of someone who did – even on one of the most difficult days of her life.

"Her Majesty the Queen sat alone when she marked the passing of the man she'd been married to for 73 years," he told the Commons.

"Leadership, sacrifice – that's what gives leaders the moral authority to lead.

"Does the Prime Minister think he has the moral authority to lead and to ask the British people to stick to the rules?"

Joseph Gamp




Queen's staff furious over No.10 party allegations

THE Queen's staff are reportedly angry over revelations of a Christmas party at No.10 after the monarch was forced to sit alone during Prince Philip's funeral.

Palace servants are said to have reacted with "utter dismay" at Downing Street's Christmas party scandal which came to light last week.

At the beginning of the pandemic, Her Majesty left Buckingham Palace formed a support bubble with her late husband Philip at Windsor Castle.

There, dedicated staff were forced to spend months away from their families in order to protect the 95-year-old Queen.

Royal staff told The Mirror that during the pandemic, "sacrifices were made from the very top all the way down" but have now been left "worthless" due to Downing Street's alleged illegal parties.

One staff member, who has more than ten years of service working for the Queen, said some colleagues became "visibly upset" when discussing how the monarch was forced to sit alone at Prince Philip's funeral.

Heartbreaking pictures from the late Duke's funeral in April show the Queen adhering to social distancing measures as she paid a final farewell to her husband.

"It would be a gross understatement to say people are angry," one servant told The Mirror.
Joseph Gamp




'There's no whinging and moaning'

Lizzie Cundy, who is the ex-wife of former Chelsea star Jason Cundy, revealed: "Meghan's done two major TV interviews and the book and everything else.

"You can't be a hypocrite and have your cake and eat it.

"Me and Piers were both ghosted by Meghan. We are always getting told that we're the bitter friends who never got the call back. No, not at all.

"There was no one more happy than me when they got together. The papers loved them, that's why I love Wills and Kate – there's no whinging and moaning."

Joseph Gamp




Charles' pal has his say

Charles' pal said Harry's reference to the Mahfouz payments was "more damaging than the swipe at Charles's parenting skills".

"This was a challenge to the way he conducts his business which is far more damaging to the future King," they said.

The friend added Charles and Harry have "barely spoken since the Duke of Edinburgh's funeral" eight months ago.

And they said: "These constant barbs about his father from America could be very damaging to his reign.

"Attempts have been made to clear the air but they have barely spoken since the Duke of Edinburgh's funeral."

Joseph Gamp




Where to get the new commemorative 50p coin?

The new design will join a collection of commemorative crown pieces from the Royal Mint over the years, which have celebrated the Queen's Silver, Gold and Diamond Jubilees.

Included in one of the largest collections made by the Royal Mint, the coin will be unveiled next year alongside a commemorative £5 crown.

Collectors of coins can register their interest to the Royal Mint to claim the commemorative 50p piece.

Joseph Gamp




Meghan pictured posing with sweet note made for her by co-star's daughter

AN ADORABLE unearthed photo shows Meghan Markle in her acting days posing with a sweet note made for her by a co-star's daughter.

The message lists all of Meghan's good qualities using each letter of her name.

Meghan, who was starring in hit legal drama Suits at the time, was given the heartwarming note by Oona, the daughter of co-star Sarah Rafferty, who plays Donna.

Little Oona listed Meghan as being "marvellous", "exciting", "great", "happy", "amazing", and "nice."

Sarah and Meghan become close friends after meeting on the set of Suits.

Meghan famously called her her "Suits sister wife" and used to post about her on social media before she deactivated her account.

Joseph Gamp




Royal Family news you may have missed

Prince George's favourite meal has been revealed & it's pretty posh for an eight-year-old.
And The Queen has banned the royal family from playing Monopoly as it 'gets too vicious'
Plus Princess Charlotte & Princes George & Louis are a fan of GONKS & play hide & seek with them, says nan Carole Middleton.

How is the Queen doing?

The Queen usually has her weekly audience with the PM, either by person or by phone, later on Wednesdays.

She has been resting on doctors' orders and only carrying out light duties such as audiences since spending a night in hospital for preliminary tests on October 20, and later spraining her back.

She is also preparing to film her Christmas Day message to the nation.

The Queen is likely to use her annual pre-recorded televised speech, which she writes herself, to reflect on the ongoing challenges facing the country, as well as touching on her own personal grief with the loss of Philip in April.

The royal family is set to gather to celebrate Christmas with the monarch at Sandringham after last year's festivities were curtailed due to the pandemic.

Louis Allwood




What would Diana do with Princes spare gifts?

The People's Princess was well known for breaking royal protocol and her former security, Ken Wharfe, has now told how determined she was to keep her boys down to earth.

He says that every festive season young William and Harry would be sent hoards of gifts from businesses, as well as members of the public.

But the Princess of Wales was so mindful that her children could be spoiled, that she would donate many to charity – or even return them.

Mr Wharfe told OK! : "Diana was very careful to ensure that they weren't flooded with gifts – gifts did appear from unknown sources, and they were often returned or given to charity because they didn't need them.

He said that "she was very conscious about what she bought" because she "knew the hallway at Sandringham would be full of presents."

Louis Allwood




Rare photo of Phillip and great-grandchildren

A similar family photo is situated next to this one – which the family released following Prince Philip's passing in April.

The adorable snap was taken by Kate Middleton at Balmoral Castle in 2018.

Cradled in the arms of the Queen is Prince Louis – a rare image of the monarch holding one of her great-grandchildren.

The full line-up of royal children includes William and Kate's children Prince George and Princess Charlotte either side of the Queen.

Louis Allwood




Queen gives glimpse of great-grandchildren

Earlier this week, Her Majesty presented the Queen's Medal for Music to organist Thomas Trotter at Windsor Castle.

In The Queen's office, she has an assortment of family photos on display – including one that's never been seen before.

Taking pride-of-place on a side table, the portrait shows The Queen and her late husband Prince Philip sitting on a sofa in Windsor Castle's White Drawing Room.

The picture is believed to have been taken before 2018 as it shows a very young Princess Charlotte perching on her great-grandmother's knee.

Zara and Mike Tindall's adorable eldest daughter Mia is pictured sitting in the middle of The Queen and the Duke of Edinburgh.

Meanwhile, Peter Phillips' daughters Isla and Savannah are seen standing on either side of the gold sofa.

Prince George – who would have been around four years old at the time – stands behind the sofa and between his great-grandparents.

Louis Allwood




The two people the Queen answers the phone to every time

She's one of the most famous women on the planet, but the Queen is said to only have two people that have instant access to her.

Her Majesty, 95, only answers her phone every time to these two chosen individuals – and they aren't who you would expect.

Speaking on the Royally US podcast Christina Garibaldi, royal commentator Jonathan Sacerdoti revealed: "Apparently the Queen has two people who she speaks to the most on her phones and she also apparently has a mobile phone which is said to be Samsung packed with anti-hacker encryption by MI6 so nobody can hack into her phone.

"But the two people she phones the most is said to be her daughter Princess Anne and her racing manager John Warren.

"He is the son-in-law of the Queen's friend, the late Earl of Carnarvon and his home was Highclere castle in Berkshire which viewers of TV may know better as Downtown Abbey.

"So this is apparently who can get through to the Queen from anywhere in the world if he calls she answers."

Louis Allwood




Was it the Queen who tipped Harry and Meghan over the edge?

In Brothers And Wives: Inside The Private Lives of William Kate, Harry and Meghan, a new book about the Royals, the author, Christopher Andersen, claims that it was in fact the Queen's actions that tipped them over the edge and finalised their decision to move to California.

Apparently in 2019, prior to recording her annual festive broadcast, which airs every year on Christmas day, she instructed an assistant to move a photo of Harry and Meghan out of shot.

Which exact photo it was is unknown, but it is claimed that only Meghan and Harry were in the image.

It is believed the photo was on a desk alongside other framed photos of Royals including William and Kate, Prince Charles and Camilla, the Queen's father George VI, and the Duke of Edinburgh, too.

Louis Allwood




What happened on The Princes & The Press

BBC Two's The Princes And The Press was ­criticised by the Royal Households in a statement for giving credibility to "overblown and unfounded claims".

The row prompted the broadcast of a carol ­service, led by the ­Duchess of Cambridge at Westminster Abbey, to be moved from BBC to ITV.

The documentary had claimed negative stories about the Duchess of Sussex had been leaked by courtiers.

Last Thursday, Rajan apologised on Twitter for any offence his 2012 article had caused.

Louis Allwood




Royal Family news you may have missed

Prince George's favourite meal has been revealed & it's pretty posh for an eight-year-old.
And The Queen has banned the royal family from playing Monopoly as it 'gets too vicious'
Plus Princess Charlotte & Princes George & Louis are a fan of GONKS & play hide & seek with them, says nan Carole Middleton.

Homemade chutney for the Queen

For her first Christmas at Sandringham in 2011, Kate Middleton reportedly gave The Queen a jar of homemade chutney.

Expert Duncan Larcombe told the publication: "A homemade chutney gift was absolutely spot on – down to earth, practical and frugal – everything Her Majesty loves.

"It also showed that Kate could relate to the Queen as a normal grandmother and not just the head of state. And it helped forge a bond built on mutual respect and admiration."

Charles' pal has his say

Charles' pal said Harry's reference to the Mahfouz payments was "more damaging than the swipe at Charles's parenting skills".

"This was a challenge to the way he conducts his business which is far more damaging to the future King," they said.

The friend added Charles and Harry have "barely spoken since the Duke of Edinburgh's funeral" eight months ago.

And they said: "These constant barbs about his father from America could be very damaging to his reign.

"Attempts have been made to clear the air but they have barely spoken since the Duke of Edinburgh's funeral."

Mindset of not being spoilt

The mindset of not being spoilt was passed on to Prince William from Diana, as he is careful to make sure his own children are the same.

Royal expert and author Duncan Larcombe told The Mirror: "I think we're looking at three Christmases rolled into one for William and Kate and their children.

"There will be Christmas on their own with their kids, the more formal celebrations at Sandringham with William's family and then time with Kate's family, the Middletons.

"But something we know for sure about William and Kate is that they want their children to feel normal and so they certainly won't be lavishing them with expensive gifts, that's for certain. They won't let them be spoiled."

Source: Read Full Article