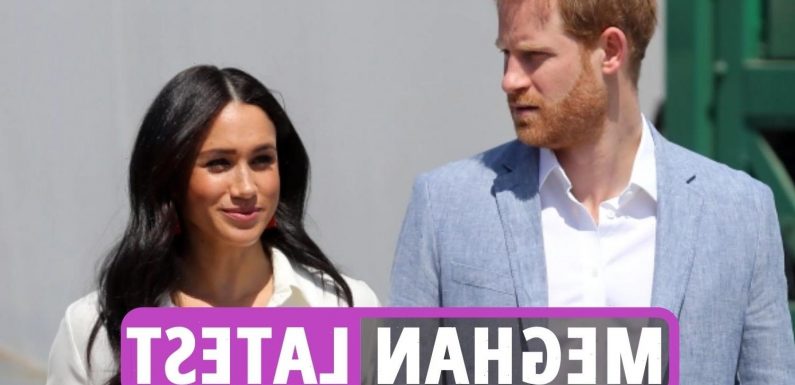 PRINCE Harry sought the guidance of Princess Diana's psychic who made a chillingly accurate prediction about Meghan Markle, it has been claimed.
Long before Harry met Meghan, Sally Morgan received a phone call from the Duke of Sussex while he was still in an on/off relationship with Cressida Bonas.
Harry asked the TV psychic about how his future wife would look and received a description matching Meghan, who he first met in 2016.
Sally told the Mirror: "One of the sweetest things he said to me was, 'What colour hair will my future wife have? Will she have blonde hair?'
"I said he would marry someone with dark hair."
Read our Meghan and Harry live blog below for the latest updates…
Milica Cosic




Busy day in Windsor yesterday

It was a busy day at Windsor Castle yesterday.

There were two Investiture ceremonies, where The Duke of Cambridge and The Princess Royal awarded honours to over 120 people.

Milica Cosic




The Queen's favourite takeaway revealed

Food prepared for the Queen's daily menu is incredibly healthy, consisting of salads, fresh fruit with meals prepared under royal rules including the ban of garlic which the Queen does not like.

However, the Queen also enjoys an occasional treat in the form of the staple takeaway of Britain every now and then.

A source said that the Queen has a soft spot for takeaway fish and chips: "She very occasionally treats herself to fish and chips when at Balmoral… A footman is dispatched to get it from the local town of Ballater."

Former royal chef Darren McGrady has pulled back the curtain on what it was like working for the Royal Family for 15 years on several occasions.

He said: "Everybody loved fish and chips… All the staff, 300 staff at Buckingham Palace, all of the chefs would have fish and chips for lunch. But, forget your tartar sauce and your ketchup, we loved it with salad cream."

Milica Cosic




Climate change 'a main theme' (Continued…)

Mr Fitzgerald said: "The first royal tour in almost two years will come at a significant moment in the UK's relationship with both countries.

"Their royal highnesses will first travel to Jordan, where they will celebrate both Jordan's own centenary and 100 years of the UK-Jordan bilateral relationship.

"Their royal highnesses' visit to Egypt comes as the UK holds the Cop presidency and Egypt has been nominated to assume the Cop27 presidency in 2022.

"In this decisive decade for climate action, the next 12 months is therefore expected to see a significant co-operation between the UK and Egypt. Indeed, both visits will have a major focus on addressing the climate crisis."
Milica Cosic




Climate change 'a main theme' of Charles' Jordan tour

Charles and Camilla have been asked by the Government to visit the Middle East country and will also tour Egypt over the next four days.

The overseas visit comes after an eventful period for the royal family, with senior members of the monarchy taking part in the recent Cop26 UN climate change conference and concerns being raised about the Queen's health after she suffered a back injury.

Chris Fitzgerald, deputy private secretary to the prince, has said climate change would be one of the main themes of the visit, and other issues would include inter-faith dialogue, female empowerment and efforts to preserve cultural heritage.

Milica Cosic




Celebrity psychic 'fears for the Queen'

Sally Morgan has revealed fears for the Queen after Her Majesty pulled out of the Remembrance Sunday service.

Celebrity psychic Sally, 70, commented on the speculation surrounding the Queen after she left royal fans surprised by missing the event.

Speaking exclusively to The Sun, Sally predicted: "She's not well and, like a lot of people, I am worried about her. She looks to me like she's lost a lot of weight but she is 94"

When asked about the future of the monarchy, Sally added: "Charles will take the throne in the not-too-distant future but there's no way the Queen will hand it over.

"She will never abdicate. But Charles can't wait to be King and he deserves it."

Milica Cosic




Prince Harry on 'tackling misinformation'

Harry has recently released a report on "tackling misinformation" in technology, media and social media.

It comes as last week he blasted sections of the media as "pirates with press cards".

He said he had warned the boss of Twitter of a potential "coup" the day before the attack on the US Capitol.

Milica Cosic




Doubts if Meghan and Harry would agree to another Oprah interview

Royal expert Neil Sean has expressed doubts as to whether another Oprah interview would go ahead, as he does not believe Meghan and Harry would agree to it.

An excerpt from the updated version of the couple's unauthorised biography, Finding Freedom, claimed that Harry and Meghan were nervous about sitting down with Oprah but decided they needed to speak up now, or never, according to the Daily Mail.

It reads: "There were so many things they were unable to say [before stepping back from their royal roles]."

Milica Cosic




Meghan & Harry 'may be approached for Oprah top-up interview'

Royal expert Neil Sean has claimed Oprah Winfrey's team might be keen to do a second interview.

This interview could see Meghan Markle and Prince Harry's open up to their responses in their first interview, and explore them more.

Speaking on his YouTube channel, royal expert Neil Sean said: "They're wondering whether they now need to do a top-up interview."

He continued to say: "But of course Oprah Winfrey is a very powerful mogul in television, and would no doubt like to get a top-up version; their side of the events as to what's happened over the last six to nine months.

"This has been discussed at great lengths over in the US with CBS TV and Harpo Productions."

Milica Cosic




Meghan could face 'end of her credibility' after lawsuit

A royal commentator has claimed Meghan Markle could see the "end of her credibility" after her lawsuit with Associated Newspapers over a letter she penned to her father begins to unravel.

Royal commentator, columnist and reporter Angela Mollard appeared on Sunrise Australia to share the latest events surrounding Meghan Markle's legal case against Associated Newspapers. 

Ms Mollard echoed concerns that Meghan's credibility had been destroyed by the lawsuit.

She told the programme: "Look, I think that there's a massive twist.

"I mean, some commentators are saying that this is really the end of Meghan's credibility."
Milica Cosic




Meghan & Harry urged to avoid UK this Xmas

Harry and Meghan have been told by fans on social media to stay away from the "grey island" this Christmas, with one Twitter user saying a UK trip would only make sense if "they opt for sadness".

Twitter fan account Meghan Daily opened up a debate for its nearly 4,000 followers, writing: "I don't see H & M with the kids going to the grey island for Christmas.

"Meghan and the kids are unsafe in that cesspool island."

Fellow fans quickly joined the conversation.

One said: "For me, it's even not an option! Meghan and her kids will never be safe and this for a while in shutter island!"

Another wrote: "Can't be anything worse than sitting next to your in-laws having Christmas dinner knowing they don't want you there.

"I would sooner stay home with a microwave meal than put myself through all that ****."

Milica Cosic




Meghan and Harry 'finding it quite hard on their own'

A royal expert has claimed that despite Prince Harry and Meghan's move to the US nears two years ago, the Sussexes have not "found their feet" in California yet.

Russell Myers has claimed on Pod Save the Queen: "They're so far from doing that at the moment.

"They just seem to be fighting so many battles on so many levels. 

"They're still trying to work out where they are. It's a tricky business."

Milica Cosic




'Significant questions need to be asked about Andrew's business dealings'

In 2018, the Rowlands had front-row seats at Princess Eugenie's wedding at Windsor Castle.

The businessman has also met the Queen and Prince Charles during a trip to Balmoral.

In return, Andrew reportedly used his pal's luxury private jet at least five times while on official royal business.

Ex-Home Office minister Norman Baker has now called for a full investigation.

He said: "The Rowlands are hard-headed businessmen.

"They won't have given Andrew that money out of the goodness of their hearts — they will want something in return.

"Significant questions need to be asked about Prince Andrew's business dealings and his association with some characters. Parliament should investigate this matter with some urgency."

Milica Cosic




Prince Andrew gifted £1.5million

PRINCE Andrew was gifted £1.5million by a controversial businessman to pay off a loan he had taken out from a private bank.

He was given the cash by property boss and financier David "Spotty" Rowland, whose clients have included dictators and despots.

Eleven days earlier, in 2017, Andrew had borrowed the same amount from Banque Havilland — which is controlled by multi-millionaire and former Tory Party treasurer Mr Rowland's family.

Banque Havilland denies any wrongdoing.

The payment sheds some light on the enduring mystery of Andrew's wealth.

Read more here.

Milica Cosic




Lilibet will not be christened 'in the UK'

In October a spokesman for Harry and Meghan said nothing had been finalised, despite speculation that they could return to the UK for it, introducing Lilibet to her family and the Queen for the first time.

Royal biographer and Editor of Majesty Magazine, Ingrid Seward, told The Sun last month she would be "surprised" if the couple opted for a Stateside christening. 

But a palace source told The Telegraph: "There will not be a christening in the UK. It is not happening."

Lilibet's brother Archie was christened in a private ceremony after his birth Credit: EPA

Milica Cosic




A royal baptismal

MEGHAN Markle's daughter Lilibet could be baptised with holy water Prince Charles collected from the River Jordan.

The Prince of Wales, 73, reportedly asked to bring back the holy liquid yesterday to use for future royal baptisms – and is said to be flying back "five or six bottles".

Royal babies are traditionally christened with the water but the act of Prince Charles bringing the water back himself is truly unique.

Asked about members of the Royal Family being baptised with the water, the Director General of the Baptism Site, Rustom Mkhjian, told the Daily Mail: "This time the Embassy people asked for a few dozens [bottles] of Holy water and we provided them with five dozen, six dozen, prior to this trip."

He said he was not aware exactly who they would be used for, explaining: "I didn't know, I didn't want to ask.

"But they said we wanted it for children to be baptised later on. Future baptisms, yes."

A senior royal aide confirmed that the water had been collected and would be flown back to the UK on the royal flight.
Milica Cosic




Queen's grief during pandemic (continued…)

In the message the earl read on his mother's behalf, the Queen, who has been under doctors' orders to rest for nearly a month, made reference to her late husband, saying "none of us can slow the passage of time".

"It is hard to believe that it is over 50 years since Prince Philip and I attended the very first meeting of the General Synod," her address said.

"None of us can slow the passage of time; and while we often focus on all that has changed in the intervening years, much remains unchanged, including the Gospel of Christ and his teachings."

Edward added on the Queen's behalf: "Of course, in our richly diverse modern society, the well-being of the nation depends on the contribution of people of all faiths, and of none.

"But for people of faith, the last few years have been particularly hard, with unprecedented restrictions in accessing the comfort and reassurance of public worship.

"For many, it has been a time of anxiety, of grief, and of weariness.

"Yet the Gospel has brought hope, as it has done throughout the ages; and the Church has adapted and continued its ministry, often in new ways, such as digital forms of worship."

Milica Cosic




The Queen tells of grief during pandemic in message read by Edward

The Queen has described the coronavirus pandemic as a period "of anxiety, of grief, and of weariness", in an address delivered to the Church of England's national assembly by the Earl of Wessex.

After missing the Remembrance Sunday service at the weekend, the Queen, whose husband the Duke of Edinburgh died seven months ago, was due to appear in person at the Synod, but her appearance was cancelled last week.

Edward, who read the 95-year-old head of state's speech to bishops and clergy at Church House, the Westminster headquarters of the Church of England, praised the institution for offering "hope" during the pandemic.

Before the speech, he said the Queen sends her "sincere and deep apologies that she cannot be here today".

Edward added: "I think you probably understand why, and she regrets that deeply."

Milica Cosic




Queen off for rest of year

The Queen's diary of public engagements has been largely scrubbed clear for the year while she rests at Windsor Castle.

While Her Majesty may not be seen at public engagements, she is expected to return to light duties later this week, including virtual audiences with diplomats.

The monarch missed the Remembrance Sunday service at the Cenotaph in London over the weekend because of a sprained back.

The Queen has no further outside engagements in the next few weeks, meaning it may be January or February before she is seen in public.

Normally she goes to Sandringham at Christmas and resumes public engagements in mid-February. However, she could remain at Windsor.

Milica Cosic




Kate and William 'like any other couple'

According to a royal instituter, Kate, Duchess of Cambridge and Prince William are reportedly "very happy" after 10 years of marriage.

Chris Floyd, a photographer who captured the couple for their 10th wedding anniversary, revealed the royal pair are "just like any married couple".

He said: "They were just like any married couple who seemed to just love being very happy in each other's company. It was that straightforward."

"I just said, 'Look, this is your 10th anniversary, just be the couple that you are with each other and forget that I'm here. Just forget about me'.

"It was their home and I was made to feel welcome in their home."

Milica Cosic




First time Queen has missed visit to the Synod

The Earl of Wessex read his mum's speech to bishops and clergy at Church House, the Westminster headquarters of the Church of England, in her absence after she sprained her back.

It is the first time the monarch, who is Supreme Governor of the church, has missed her five-yearly visit to the Synod in its 51-year history.

The General Synod is the national assembly of the Church of England which passes legislation.

The Queen was also forced to pull out of the Remembrance Sunday service at the weekend due to the back injury.

Her Majesty has missed the event just six times during her reign – either when pregnant or away on tour.

Milica Cosic




Meghan said Royal Family 'controlled every part of her life but one'

Her bombshell emails disclosed in court now reveal that Meghan Markle was insistent that she didn't have a stylist – and that it was the "only thing" she seemed to be able to control.

Royal aide Jason Knauf dramatically broke ranks to reveal bombshell texts and emails with the Duchess – in which she says she finds it "personally frustrating" that people claimed she had a stylist.

Text messages and emails between Meghan, 40, and her former communications secretary were made public for the first time last week.

Amid her claims that she had no control over her life while in the Firm, Meghan admits that she did have authority over her "personal styling."

In a Tweet, one person named Meghan's friends as her stylist – which the Duchess clearly took issue with.
Milica Cosic




Meghan 'wanted to keep the positions she and Harry lost'

In February, it was confirmed that Harry and Meghan would lose their prestigious patronages as the couple confirmed their departure from the Royal Family was permanent.

A source told the Daily Mail that Harry and Meghan had "absolutely, no question" wanted to keep the positions they had lost.

They added: "They [Harry and Meghan] do respect the decision but they always made clear they were committed to doing those roles."

Milica Cosic




Inside Adele and Meghan Markle's unlikely friendship

MEGHAN Markle walked so Adele could run … as the singer marks yet another celebrity that sits down with icon Oprah Winfrey for an intimate interview.

As the former member of the Royal Family spoke out about her experience within the walls of Buckingham Palace, Adele will now speak out about her singing career so far, her messy divorce, career hiatus, and comeback.

Here's a look at Meghan and Adele's unlikely friendship, which most likely inspired the singer to sit down with Oprah during Adele: One Night Only, just like Meghan did.

Neighbours
Pilates buddies
Bonding over charity

Read the article in full here.

Queen stopped Meghan & Harry from living as royals in a 'third way'

According to unearthed reports, the Queen put a stop to the idea that Meghan Markle and Prince Harry could keep their royal patronages, while pursuing lucrative commercial partnerships.

According to a source from The Daily Mail, the Sussexes' planned to have scaled back royal duties, enabling them to take on independent projects but also hang on to their formal roles with the military, arts, Commonwealth and sporting organisations.

Speaking to the newspaper, the source claimed: "The direction of travel has been clear for a while.

"The Queen has been very clear from the start that this 'half in, half out' model demanded by the Sussexes wouldn't work and hasn't deviated from that. Not once.

"Their original idea was to have a 'third way' of being a royal. And the Queen has said quite simply 'no, you can't'.'"

Harry & Meghan sing to Afghan refugee children

HARRY and Meghan meet refugee children — with a rendition of Head, Shoulders, Knees and Toes.

The Duke and Duchess of Sussex revealed the nursery rhyme is two-year-old son Archie's favourite.

More than 10,000 refugees escaping conflict in Taliban-controlled Afghanistan are being housed at Joint Base McGuire-Dix-Lakehurst in New Jersey.

The couple also thanked teachers for their efforts and later spoke with refugee women who recently arrived in the US.

Source: Read Full Article