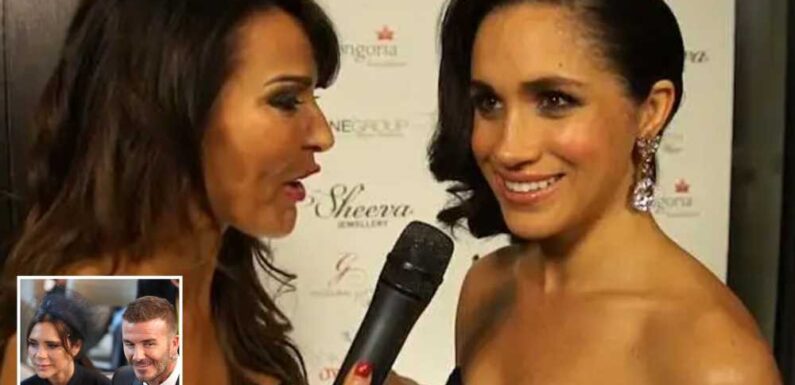 MEGHAN Markle "manipulated" Prince Harry into a feud with David and Victoria Beckham, a pal has claimed.
Earlier this week it was revealed the couples' friendship is over amid claims of royal story leaks.
The Sun on Sunday previously told how Harry confronted the ex-England skipper, suggesting he or wife Victoria were responsible for leaks about the royal couple.
Sources say David was left "absolutely bloody furious" after the accusations were made in a phone call.
And now TV presenter Lizzie Cundy claims the Duchess of Sussex "manipulated" Harry into thinking the Beckhams were behind the stories.
Lizzie said: "I think Victoria and David have slowly tiptoed away like the other friends.
"Many friends who went to the wedding have tiptoed away from Meghan.
"These are real big family people, there's no way Victoria would've leaked stories."
Cundy claims Meghan was starstruck by Posh Spice, 49, the first time they met back in 2013 – when Lizzie and the then TV-star attended an event together..
Speaking to the New York Post, she explained: "I've never seen anyone squeal quite like it. 
Most read in Fabulous
If you are with a partner, let yourself be cared for, for a change
Hubby bought me new £10k body & now we can't keep our hands off each other
Harry & Meg put on united front in cosy vid after claim they're taking time apart
Harry misses family 'more than ever' as LA novelty wears off, claims expert
"Meghan was so thrilled with excitement to see Victoria Beckham. She went 'Oh my God, that's Victoria Beckham!'"
"It was crazy. I thought 'You've got to calm down and be cool.'
"I was the one who knew Meghan before Harry, and I saw the reaction to Victoria. She was a proper big fan, she let that show – Victoria doesn't need to leak stories, she doesn't need to do that," 
Meghan went on to make friends with Victoria and David, 48, after she started dating Prince Harry in 2016.
It is thought the couples grew close as David's communications director Izzy May is pals with Markus Anderson, who helped to arrange Harry and Meghan's secret dates at London's Soho House.
David and Victoria were then guests at the Sussexes' wedding in 2018.
But Harry and Meghan were not present when the Beckhams' eldest son Brooklyn, 24, married last year.
Nor were they at David's star-studded football event this month — with Kim Kardashian and Serena Williams there for Lionel Messi's Inter Miami debut.
It comes after Harry was this week licking his wounds after a High Court judge highlighted his testimony's "lack of credibility".
The royal's reputation hit an all-time low as Mr Justice Fancourt blasted his "inconsistent factual case" and threw out his phone-hacking claim against The Sun.
As the humiliating judgement was published to the National Archives, sources said "all is not well" in US-based Harry's life after a lucrative deal collapsed.
Read More on The Sun
I'm a laundry expert – how to remove sun cream stains and why it's SO hard
Big Brother legend Lisa Appleton now working as an Amazon delivery driver
The Duke and Meghan were branded "f*****g grifters" by a Spotify executive last month as the company ditched their £15million podcast deal after one series.
And the couple, who live in California with their two kids, have been dogged by claims on US gossip sites of marriage problems — which were denied by their reps.
Source: Read Full Article