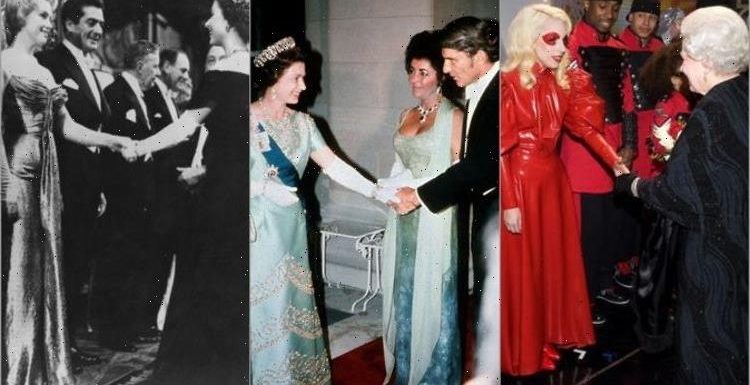 Kate Middleton And Prince William Meet One Direction At Royal Variety Show
We use your sign-up to provide content in ways you've consented to and to improve our understanding of you. This may include adverts from us and 3rd parties based on our understanding. You can unsubscribe at any time. More info
There is no official dress code when meeting Queen Elizabeth, however, it is an unspoken rule to be smart and respectfully dressed when meeting the Head of State. Many celebrities have met the Queen in her nearly 70-year reign, and the outfits range from latex to dazzling fuchsia suits to traditional ballroom gowns. This usually happens at the Royal Variety Show, or collecting an award, or being bestowed with an OBE at Buckingham Palace.
The following celebrities wore some of the most memorable outfits to meet Queen Elizabeth II across her 70-year-old reign:
Marilyn Monroe in 1956:
Marilyn wore a strapless gown with long gloves to meet Queen Elizabeth at the Empire Theatre in London in 1956.
The busty actress looked radiant meeting the Queen who stunned in a regal black gown.
The two women were both born in 1926, and both were considered fashion icons in the 1950s.
Elizabeth Taylor in 1976:
In 1976, Elizabeth Taylor wore a shimmering blue and green gown, along with dazzling sapphire jewellery.
She met the Queen at a gala dinner in Washington DC, and her revealing dress was considered scandalous at the time when meeting Her Majesty.
However, the actress looked magnificent as she matched the Queen in a similar turquoise colour.
Spice Girls in 1997:
In 1997, the Spice Girls wore floor-sweeping gowns to meet Queen Elizabeth at the Royal Variety Performance.
The five cheeky personalities did not hide when meeting the Queen, and Gerri Halliwell in particular wore a beautiful white sweetheart-style plunge dress.
The Queen was all smiles meeting the girl group and clearly enjoyed their company.
David Beckham in 2002:
In 2002, David Beckham caused outrage when he wore a white tracksuit to meet the Queen.
This was at Manchester stadium for the opening of the Commonwealth Games.
The tracksuit had a Union Jack on the back, which was glistening with glitzy jewels.
Michelle Obama in 2009:
In 2009, the then First Lady of the United States, Michelle Obama, wore a simple black skirt and matching cardigan to meet the Queen at Buckingham Palace.
Some royal commentators criticised the First Lady saying her outfit was too casual, however, the Queen loved Mrs Obama's company, even sharing a little pat-back between the two.
Lady Gaga in 2009:
Lady Gaga was always going to raise eyebrows no matter what she wore to meet the Queen after the Royal Variety Performance, and she definitely did not disappoint in 2009.
She wore a red Atsuko Kudo latex gown with massive puffy shoulders and extravagant red eye makeup to match.
Elton John in 2012:
In 2012, Elton John wore a bright pink suit to meet the Queen at the Diamond Jubilee Concert.
This shiny pink, fuchsia suit was definitely an eye-catcher, and certainly caught Her Majesty's attention as she was all smiles shaking the hand of the music legend.
Source: Read Full Article