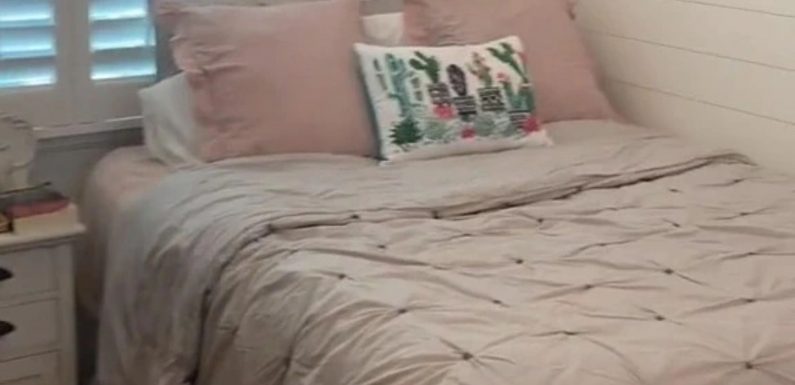 A WOMAN has revealed the stunning tiny home her parents built in their garden so that she'd save money on rent and never have to leave them.
Mckean Matson, who is now 23, explained how the economy is "too expensive" for people in their 20s to afford an average home which is why she lives in a tiny house.
"It's the only affordable option at the moment," she says.
In a clip shared to TikTok, she can be seen giving social media users a tour around the tiny yet super stylish space.
Opening the front door, she walks straight into her open plan living room-kitchen area, which is complete with cosy grey sofa and all of the amenities she'd ever need – including sink and fridge.
She then shows off her modern-looking bathroom which features a striking monochrome patterned floor and a grey marble basin.
READ MORE ON HOMES
I'm a home decor expert – three ways you can make your house less tacky
I turned a tiny shed into my home – I go to the loo in the kitchen but I love it
"Thank you to Pinterest for all the great ideas," she says.
Mckean then walks up the wooden stairs which leads to her bedroom.
FABULOUS BINGO: Get a £20 bonus & 30 free spins when you spend £10 today
It includes a double bed, a clothing rack for some of her clothes and shoes, along with some shelving below where she keeps more shoes.
She captioned the video: "Super proud of my house."
Most read in Fabulous
7 products you should buy at M&S, they cost 25% less than the 'real' deal
I'm a dog expert, why your pet's 'velcro behavior' doesn't mean they love you
M&S shoppers scramble to buy stylish £50 boots that scan for £9.99 at the till
People are only realising what the circular shaped glass in pub windows is for
In another clip, Mckean can be heard lip syncing to a voiceover which says: "Now I may now have the high rise apartment that's on the millionth floor with floor-to-ceiling windows, but one thing about my house…it's going to be a vibe."
The videos have since gone viral, racking up over 2million views and hundreds of comments from very impressed social media users.
"Smart girl, smart parents!" enthused one.
A second praised: "This is great…your generation has it so tough to even try to get out on your own…and the parents clearly want you around!"
A third commented: "I'm cracking up…I thought I was the only one with a 'prairie house' on their parents' land."
Meanwhile, a fourth wrote: "Priorities – smart parents!"
Another added: "That's the dream though."
A further chimed in: "That is awesome!"
And one more penned: "YESSS THIS IS SO ME WITH MY PARENTS! It's sooo cute too!"

Source: Read Full Article