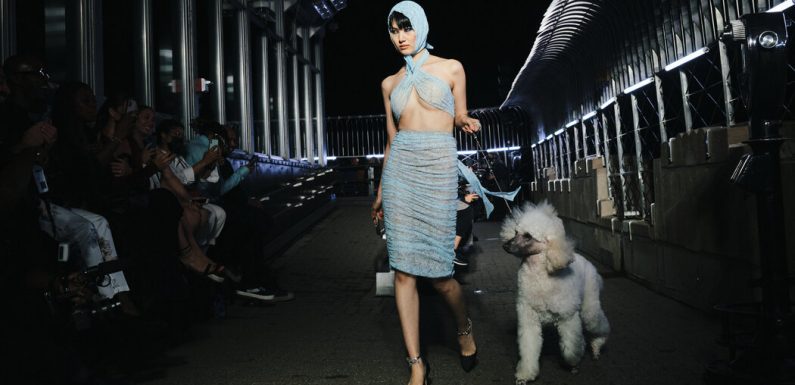 Fashion Week is back in full force, and there's a lot to see. Blink (or scroll too fast on Instagram) and you'll miss the details: tiny bags, tall shoes, feathered hats, leather capes and diamond dog collars. Every day we'll spotlight one thing we saw on the runways that delighted or mystified us.
Props are not unusual on the runway. Just Thursday afternoon, the Wonka-esque designer Jeremy Scott gave the model Gigi Hadid a baby bottle to carry down his Moschino runway, in a show that turned rainy Bryant Park into a demented nursery. Was the bottle really a clutch in disguise? Yes. But it did the essential trick of a prop: signaling the Rugrats theme to the audience and getting Ms. Hadid into her sexy-baby character.
Later in the evening, though, LaQuan Smith raised the prop ante when he staged a packed show at the Empire State Building, becoming the first designer to host a show at the New York City landmark. Mr. Smith's events always feel more like parties than traditional runway shows, with clubby soundtracks, complementary Champagne and fans that swarm his venues (arguably more so than any other show at New York Fashion Week), cheering on models as they serve in sensual tight dresses and catsuits with sheer panels.
But the luxurious Art Deco site that Mr. Smith booked for New York Fashion Week inspired him to go bigger, which is why his props included poofy full-size poodles, strutting alongside models on the 86th floor observation deck of the building.
Mr. Smith said he was inspired by the dog show mockumentary "Best in Show." He simply woke up one morning and said, "I need dogs," and his casting director, Evelien Joos, made it happen. It was about adding drama, he said — or in this case, drama wrapped in drama, piled on even more drama, all the way up to the sky.
Source: Read Full Article