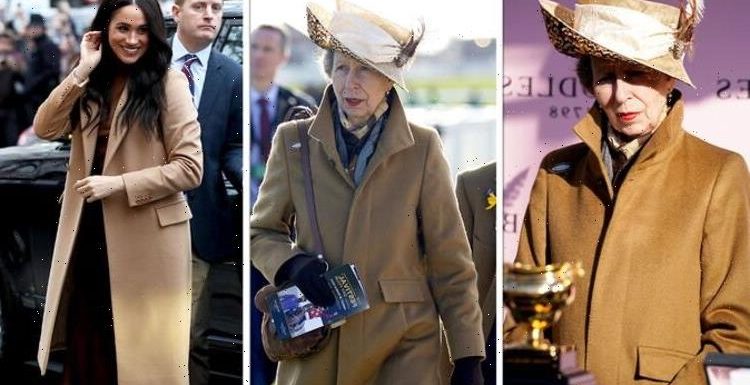 We use your sign-up to provide content in ways you've consented to and to improve our understanding of you. This may include adverts from us and 3rd parties based on our understanding. You can unsubscribe at any time. More info
Princess Anne presented the trophy to Rachael Blackmore, the first woman to ever ride the winner of the Cheltenham Gold Cup.
For the occasion, Princess Anne opted for a camel look.
The Princess Royal wore a long camel coat and matching hat with brown and red feathers on its side.
The royal combined the look with a brown patterned scarf and dark brown gloves.
A small brown handbag finished Princess Anne's stylish look.
Royals took to social media to comment on the royal's appearance during the last day of the Cheltenham Festival.
User @xpurzely said: "Princess Anne smiles after presenting the Gold Cup to Rachael Blackmore.
"How lovely."
Royal Watcher @princessannehrh said: "Princess Anne looks on with a smile after presenting the Cheltenham Gold.
"What a lovely photo!"
Lucy Deedes agreed: "Loving Princess Anne's happy smile."
The look Princess Anne chose is very similar to the chic ensemble Meghan Markle wore for her first engagement of 2020.
Meghan visited Canada House and donned a camel-coloured coat over a brown turtleneck shirt.
Meghan combined the top with a brown midi skirt and Jimmy Choo burgundy pumps.
During today's appearance, Princess Anne was seen with her daughter Zara Tindall.
Zara opted for a dark pink coat which she combined with burgundy boots and a matching handbag.
The royal finished the look with a black hat with red flowers on its side.
Princess Anne has been seen at Cheltenham for the last four days, with many fans loving the royal's colourful looks.
On the third day of the festival, Twitter user @toriaa_h wrote: "Boss vibes."
Another fan, @JayGats44039282 said: "Princess Anne is awesome to an extreme level.
"She dresses like she has unquestionable authority!"
Source: Read Full Article