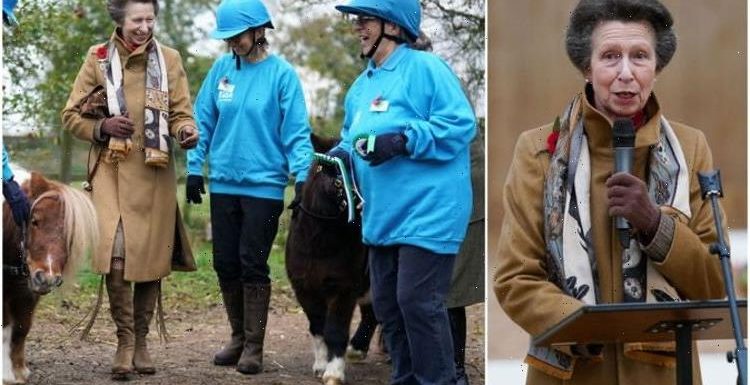 Prince Philip: Princess Anne recalls hilarious fishing swipe
We use your sign-up to provide content in ways you've consented to and to improve our understanding of you. This may include adverts from us and 3rd parties based on our understanding. You can unsubscribe at any time. More info
Princess Anne was at a Riding for the Disabled Association (RDA) event on Saturday, November 6, where she had an adorable exchange with a child rider. Princess Anne appeared to enjoy a sweet yet unexpected conversation when she met children as part of the event. The organisation shared a behind-the-scenes moment to social media at the weekend, sharing photos that showed the Princess Royal smiling and laughing following one particular exchange with a little boy who sat on a horse as they chatted.
Their accompanying tweet read: "'Are you the Queen?" asked Ryder.
"No, the Queen is my mother," replied The Princess.
"You're very beautiful…and very sexy!" said Ryder.
The tweet continued: "There's a beauty to working with children, they'll come out with anything! This was an exchange between #HRH and one of our riders."
The RDA's followers were quick to share their appreciation for the royal moment, with one writing: "Aw, he's too cute. What a story he'll have to tell for the rest of his life."
Others added: "What a wonderful exchange."
"The Princess Royal is having a good-natured laugh," said others.
They continued: "Out of the mouths of babies….!"
Jean Oliver wrote: "Princess Anne will get great mileage out of this exchange, an anecdote to share with the family over Christmas lunch!"
DON'T MISS:
@prince_scarf added: "Quite funny. Love that story."
Gina Gee agreed, saying: "Aw that's so typical of kids, no lies, just say it as it is, I bet HRH thought it was lovely."
Bronia Allen said: "Kids, you've gotta love 'em!"
Moira Thompson continued, saying: "Best story I have heard in ages.
"Well said Ryder, and great sense of humour Princess Anne… loved it."
The Princess was launching the Princess Royal Coaching Academy in Warwickshire on behalf of the Riding for the Disabled Association, and her fashion was on point.
The 71-year-old wore a gorgeous brown overcoat with a matching tweed skirt, boots and gloves.
She teamed the stylish outfit with an eye-catching scarf with a stunning sheaf of wheat design.
During her visit, the royal met volunteers for the charity, people who have benefitted from it, and of course, some of the horses and ponies at the academy.
Launched in 1969, the RDA helps provide therapy, fitness and skills development for disabled adults and children through activities like horse riding and carriage driving.
Anne has close links with the charity, having been the organisation's president since 1985 and a patron since 1971.
Princess Anne clearly found the exchange at the event hilarious by the look of her smiling face in the pictures.
Source: Read Full Article