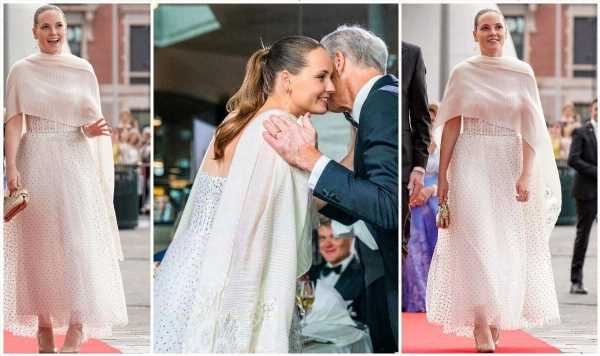 Princess Ingrid Alexandra of Norway attends state dinner
We use your sign-up to provide content in ways you've consented to and to improve our understanding of you. This may include adverts from us and 3rd parties based on our understanding. You can unsubscribe at any time. More info
Princess Ingrid Alexandra of Norway celebrated her 18th birthday earlier this year in January. However, her grandparents King Harald V and Queen Sonja are throwing a gala dinner for the 18-year-old royal tonight in Oslo. The Princess looks breathtaking in a white Monique Lhuillier gown.
The item is currently on sale for £1,345 from its original price of £2,243.
The embellished tulle sweetheart-style gown looks effortlessly regal on Ingrid.
The website's description says: "The strapless style is made with underwire cups, a cinched waist and a full, A-line skirt."
Ingrid has paired the sensational dress with her mother's Christian Louboutin pumps.
The nude coloured heels with red soles retail for £550.
The Princess also wore a white shawl with a glitzy clutch bag.
Ingrid finished her look by tying her brunette locks into a tight ponytail to show off her pretty face.
Royal fans took to social media to praise the 18-year-old's style.
One Twitter user @akersten5 said: "Young dress, but polished with the wrap/shawl.
"She looks good!"
Another royal watcher, @CoutureRoyals added: "Absolutely in love with this look."
The entire Norweigan Royal Family is in attendance tonight at Deichman Bjorvika in Oslo.
The guest list included future Queens Princess Catharina-Amalia of the Netherlands, 18, Princess Elisabeth of Belgium, 20, and Princess Estelle of Sweden, 10.
The Princess' godparents are also in attendance, King Felipe of Spain, Crown Prince Fredrik of Denmark, Crown Princess Victoria of Sweden, Princess Märtha Louise of Norway and Ms Marit Tjessem.
Crown Prince Frederik was joined by his wife Crown Princess Mary of Denmark.
Also, Crown Princess Victoria of Sweden's husband Prince Daniel and their young children, Princess Estelle and Prince Oscar attended tonight.
King Felipe's wife, Queen Letizia of Spain, was not on the guest list.
Princess Ingrid Alexandra celebrated her milestone 18th birthday earlier this year on January 21.
New portraits of the royal, who is second in line to the Norwegian throne after her father, were released at the time.
Along with the photos, the Royal House said that the Princess "will carry out an increasing number of official tasks for the Royal Family, but will be focusing on pursuing an education in the next few years".
Source: Read Full Article