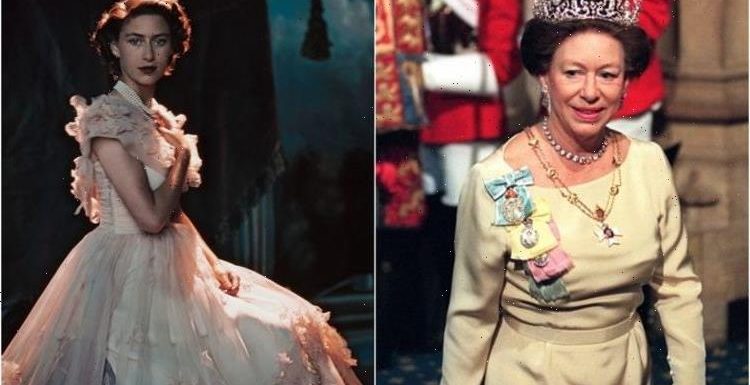 Princess Margaret rides in Rolls-Royce Phantom IV in 1957
We use your sign-up to provide content in ways you've consented to and to improve our understanding of you. This may include adverts from us and 3rd parties based on our understanding. You can unsubscribe at any time. More info
Princess Margaret's Art Deco bracelet, the Cartier bracelet, which was a very sentimental piece for Margaret, is now up for auction. She wore the bracelet for her official 19th birthday photograph, which was taken by Cecil Beaton in 1949.
Princess Margaret's jewellery collection was so special because a lot of it she actually bought and owned herself.
Many other senior members of the Royal Family tend to borrow pieces for certain events, and they are strictly on loan from the Queen, however, Margaret possessed an impressive collection of jewels herself.
For instance, she bought the Poltimore Tiara to wear on her wedding day, and she also owned the Lady Mount Stephen necklace, as well as the collet-set diamond necklace, which was given to her by her grandmother, Queen Mary.
Margaret wore this necklace at nearly every major state occasion.
However, her Art Deco bracelet is often overlooked in the Princess's extensive jewellery collection.
It features a double row of cultured pearls that border circular-cut diamonds.
The piece was created in 1925 and came in a stunning red leather Cartier case.
Royal fans are now delighted the rare bracelet is up for sale as part of Dix Noonan Webb's Jewellery, Watches and Objects of Vertu auction on 14 September in London's Mayfair.
It is expected to be sold for up to £40,000.
The portrait where Margaret can be seen wearing the bracelet was taken on 8th July 1949, by the renowned British photographer Cecil Beaton.
The breath-taking portrait was the first of six taken by Beaton of the Princess at Buckingham Palace, before her marriage in 1960.
It was captured against a painted backdrop and was published on 21 August to mark her 19th birthday.
The head of Dix Noonan Webb, Frances Noble, said: "We are delighted to be selling this exquisite Art Deco diamond and cultured pearl bracelet which was formerly the property of HRH Princess Margaret.
"This is a rare opportunity to purchase a very personal piece of Royal history with an impeccable provenance."
The London-based auction house recently sold 11 medals awarded to Princess Margaret's first love, Group Captain Peter Townsend, for £260,000.
Princess Margaret died in 2002, aged 71, in the same year which Queen Elizabeth also lost the Queen Mother.
Since Margaret's death, many pieces of her jewellery collection have been sold at auction, but a few sentimental pieces have been passed onto her children.
The Princess had two children, Lady Sarah Chatto and 2nd Earl of Snowdon David Armstrong-Jones, with her husband Antony Armstrong Jones.
The royal couple married in 1960 and later divorced in 1978, which was the first divorce in the Royal Family since Henry VIII.
Source: Read Full Article