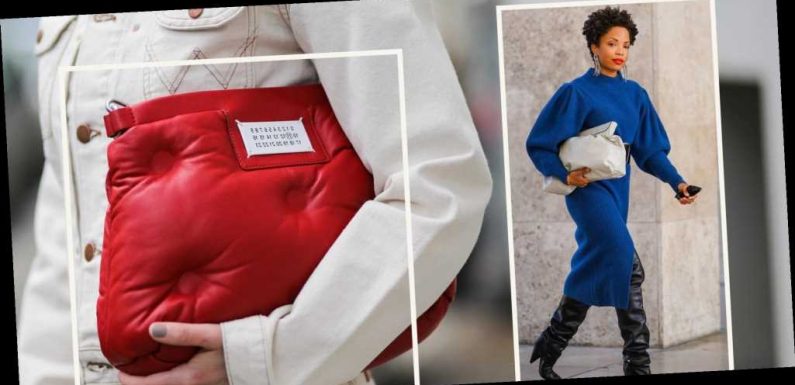 We won't lie and pretend that our purses haven't been in hibernation for the past year. For trips to the grocery store or that occasional date night dinner, we've definitely resorted to stuffing our pockets with the essentials: credit cards, ID, emergency lipstick that no one will ever see, etc.
But, with the weather warming up and all the progress being made on vaccination efforts, we suddenly feel re-energized. We're slowly welcoming full-on, elaborate, and playful fashion back into our lives, and as we trade our slides for kitten heels and convince ourselves to test out thong jeans, we also plan to break out big, bold totes and satchels — and are especially excited for the new generation of puffy pillow bags.
Although quilted styles are nothing new (we've been lusting after Bottega Veneta's selection for a bit), padded purses have been branching out, and there are so many on the market right now. They're often oversized and really do resemble a pillow, which is good news since we're still comfy, cozy homebodies at heart. Plus, we can't forget all the stuff we'll now be able to bring along wherever we're headed. A whole wallet! An extra sweater! Things we don't actually need, but will probably need the day we take them out of our bag!
Ahead, gather a bit of pillow bag outfit inspiration, then shop a brand new one ahead of summer 2021.
Pillow Bags Are Having a Moment
Whether you prefer a clutch, tote, satchel, or backpack, you might want to embrace padded styles, which add an element of fun to any outfit.
Shop Similar: Bottega Veneta The Pouch Clutch; $630
They're Often Oversized
Which is good news if you're guilty of overpacking. These babies can hold more than the essentials, including a light jacket or sweater for cool summer nights, and they're just the thing if you're worried about having separation anxiety from your couch cushions.
Shop Similar: Stand Studio Brynn Padded Bag; $459
There Are Smaller Versions, Too
If you're headed somewhere fancy, or are simply a fan of tiny purses, you can find a miniature — but still puffy! — version to go with your look.
Shop Similar: Humans Before Handles Edgy Girl Bag; $55
Pillow Bags Can Be Sleek
Choose a simple, solid-colored option, which will balance out loud prints and pair well with a variety of outfits.
Shop Similar: Glamorous Exclusive Oversized Slouchy Pillow Clutch Bag; $38
They're Playful
There's no doubt the whimsical nature of this accessory fits in with 2021's out-there trends, such as wearing dresses over pants.
Shop Similar: KASSL Editions Padded Tote Bag; $354
They Make a Statement
Be prepared to have your pillow bag pop against your look, especially when styled with classic items or basics. Even monochromatic outfits get a boost from this padded purse.
Shop Similar: Marc Jacobs Khaki Heaven by Marc Jacobs Nylon Bag; $150
Source: Read Full Article