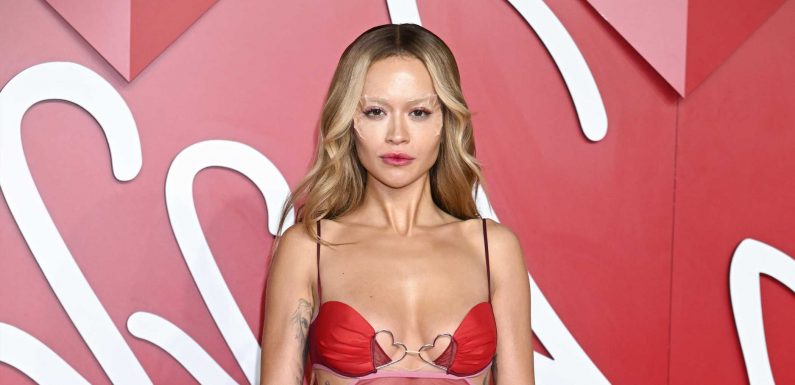 _
It's time to round up the worst looks of the year! As we close out 2022, Wonderwall.com is narrowing it down to the 22 biggest fashion disasters from the stars. First up…
Do you recognize this star? This look was so bizarre, we didn't even realize who was behind it at first, but it's none other than Rita Ora. The singer arrived at The Fashion Awards at Royal Albert Hall in London in December in this barely-there frock. The red Nensi Dojaka design consisted of spaghetti straps, a bra-style top, a thong and a sheer layer that felt like a last-minute attempt to turn a bikini into a dress. She also added red Aquazzura sandals and equally ridiculous makeup…
MORE: Fashion hits and misses from the 2022 award season
_
Rita Ora embraced the bleached eyebrow trend and added bizarre webbed makeup detailing around her eyes to boot. A rosy lip and otherwise subdued eye makeup rounded out this wild look.
MORE: See the best and worst dressed stars of 2022
_
Camila Cabello's absolutely wild all-denim Diesel ensemble certainly made a statement during her "Today" show performance in New York City in April… we're just not sure it was a positive one. The singer rocked a denim duster coat with a multi-hued denim top and high-waisted crossover baggy jeans and then finished things off with — you guessed it! — even more denim with her gloves and boots!
MORE: Best and worst celebrity street style of 2022
_
Turtlenecks and feathers… yikes! Nicole Kidman wore one of the most befuddling couture gowns of the year at the Los Angeles premiere of "The Northman" in April. Her long-sleeved column-style Prada frock included a bizarre black turtleneck detail, pink feathers at the shoulders and floral embellishments along the skirt — a pretty unfortunate combination.
_
Kylie Jenner didn't dress to impress at the Billboard Music Awards in May. The reality TV star and beauty mogul turned up in this truly bizarre long-sleeved Balmain illusion dress that featured a 3D design that turned her into a futuristic fashion victim.
_
Dove Cameron took a fashion risk at the Billboard Music Awards in May that didn't quite pay off. The actress arrived at the Las Vegas event in this wild Ashlyn gown with one of the strangest cutouts we've seen lately (and that's saying a lot!) — a plunging neckline that fell below her belly button. The bold red strapless gown also featured a sheer panel down the center, which we'll see closer next…
_
Dove Cameron's strapless gown included a funky neckline that cascaded down past her belly button and included a sheer overlay. The singer-actress opted to keep her hair simple after picking such a risky frock, parting her dark locks down the center.
_
Brad Pitt turned up at the Los Angeles premiere of his film "Bullet Train" in August in this strange custom Haans Nicholas Mott look — a bright green wrinkled linen suit paired with a collared teal shirt. If the haphazard, bright and messy getup wasn't bad enough, the shoes added insult to injury…
_
Brad Pitt added these clown-like bright yellow and red striped adidas x Gucci Gazelle sneakers that would make Ronald McDonald proud.
_
Billie Eilish's bizarre pick at the "In America: An Anthology of Fashion"-themed Met Gala in May easily makes the list. The music superstar opted for this corseted gown by Gucci complete with a bustle, sheer green lace sleeves and a massive floral embellishment at the neckline. The only plus? It was eco-friendly — Billie told Vogue it was made completely of "existing materials."
_
Justin Bieber's Grammy Awards getup in April was instantly meme-worthy… and not in a good way! He rocked this comically baggy Balenciaga ensemble anchored by a hot pink beanie and clown-like black-and-silver shoes — which goes down as one of the most comical looks of the year.
_
We think Bella Hadid got fashion inspiration from someone you'd never expect: Guy Fieri! The beauty stepped out in New York City in January in jeans, boots and a lime green long-sleeved shirt underneath a black sweater and topped it all off with a flame-covered beanie.
_
Sandra Bullock really let us down in March with this over-the-top Elie Saab selection she wore to the premiere of "The Lost City" in Los Angeles. The ruffled dress itself was great with its plunging neckline, thigh-high slit and ombre effect that flowed from pale pink to bright fuchsia, but the styling missed the mark: She topped it with a black blazer and thigh-high leather boots for a completely mismatched vibe.
_
Well, this look was certainly… a choice. Halsey showed up at the iHeartRadio Music Awards in Los Angeles in May in this bizarre Andrés Sardá creation that we're not quite sure we can call a jumpsuit thanks to the barely-there top half. The one-piece creation featured Swarovski crystal-covered and strategically placed bikini-inspired designs attached to bellbottom-style pants with slits up the front.
_
Alessandra Ambrosio arrived at the "Armageddon Time" premiere during the 75th Cannes Film Festival in May in one of the worst looks of the festival — this truly bizarre ballgown by Stephané Rolland. She then accessorized the massive frock — which featured floating silver panels for a bodice — with stark white opera gloves.
_
Joey King delivered a wild miss at the "Bullet Train" premiere in London in July. Her Marc Jacobs ensemble included a long-sleeved blue turtleneck paired with a bold checkered floor-length skirt. And just in case that wasn't weird enough, she topped things off with Paula Rowan leather opera gloves.
_
It was tough to narrow down the worst look from Kim Kardashian in 2022, but we think we found it. The reality star stepped out during Milan Fashion Week in Italy in February in this ill-fitting men's gold jumpsuit by Prada, leaving it unbuttoned to show off the tiny black Prada Re-Nylon top she was rocking underneath. Later in the year on an episode of "The Kardashians," she read a text that ex-husband Kanye West sent her about the look, which he hated: "The orange made me so mad. Would have went to jail before I went out in that."
_
It's giving… gumball machine couture? Aishwarya Rai Bachchan's look at the "Top Gun: Maverick" premiere during the Cannes Film Festival in May was a puzzling one. Her massive Dolce & Gabbana Alta Moda gown included the addition of loofah-looking floral embellishments in various colors and sizes along the shoulder and down half of the skirt, making for one of the most costume-like fashion misses that month.
_
What's happening here, Mary J. Blige? The singer walked the red carpet at the TIME100 Gala in New York City in June in this questionable Gaurav Gupta creation. The minidress included cutouts and off-the-shoulder sleeves the billowed into a dramatic cape-like floor-length element. Despite despising the dress, we did appreciate the way she matched her sandals to the pretty aqua shade.
_
It's unclear if Julia Fox forgot part of her outfit as she stepped out in Los Angeles in May, or if she meant to wear just a bra and underwear underneath a denim coat. She added knee-high matching denim boots too and appeared to be carrying another denim item (maybe a pair of jeans?) while strolling in her odd ensemble.
_
It's an optical illusion! Though it looks like Tessa Thompson was rocking dark denim as she arrived at the "Jimmy Kimmel Live" studios in Hollywood in June, her trousers were actually white with an image of dark jeans printed on top of them. She added an equally puzzling top that looked like a dark long-sleeved turtleneck with a thin-strapped tank top over it in a mustard yellow hue.
_
Natalie Portman, is that you? The beauty shocked us with her strange fashion choice at the "Thor: Love and Thunder" premiere in London in July. She stepped onto the red carpet in this extreme Dior minidress — a strapless red design with a sweetheart neckline. The tiny frock was an odd choice for the star, but the accessory she chose to rock atop her head was ever stranger… 
_
Natalie Portman topped her red Dior dress with this flower crown comprised of vibrant red blooms reminiscent of an early 2010s trend. The wild headpiece paired with an equally bold minidress made for a strange showing by the star known for her more subdued style.
_
Yikes! Chloe Grace Moretz is no stranger to a miss list, so her baffling look at a screening of her show "The Peripheral" in London in October was hardly surprising. The actress arrived in this bonkers Molly Goddard getup — a cropped three-quarter-sleeve hot pink tee paired with black-and-pink striped briefs worn over black tights all covered with a neon pink sheer tulle skirt.
_
Curious who's underneath that bonkers hot pink fuzzy bucket hat? Well, it's Addison Rae, who donned the questionable headwear with a black bralette, white shorts, striped socks and black slippers in Los Angeles in October.
_
Bubble couture? Christina Milian wore this very odd slinky bubble-emblazoned frock to the Sixth Annual Create and Cultivate 100 List Launch Party in Los Angeles in March.

Source: Read Full Article