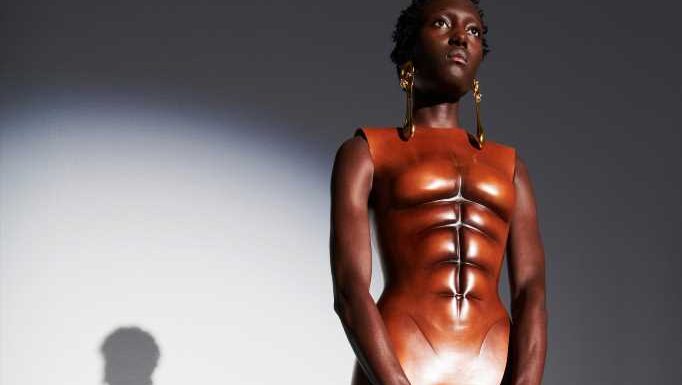 With physical fashion shows off-limits for the foreseeable future, celebrity appearances have become the new runway moments — and what better stage than the steps of the U.S. Capitol on Inauguration Day?
When Lady Gaga sang the national anthem last week dressed in Schiaparelli, it was a moment worth a thousand finale looks. "To have something like Gaga happen right now is so exciting, because it just brings a new energy to the conversations I'm going to be having," said creative director Daniel Roseberry.
"The VIP moments become these performative moments for everybody. For me, for the atelier, it's this way of showing off for the world, which is so fun, but it's all building up to the collection," he added.
Schiaparelli Couture Spring 2021
25 Photos
He had another major moment in the spotlight over the holidays, when Kim Kardashian West wore his molded leather six-pack corset and knotted silk skirt for a little Christmas soirée en famille.
It's not hard to understand why celebrities flock to Roseberry. Since arriving at Schiaparelli in 2019 he has emerged as one of the most flamboyant designers on the Paris scene, using bold volume and chunky hardware to challenge the traditional image of haute couture.
This season, he doubled down on his concept of hard chic. A black version of the Kardashian West bustier appeared on a black column evening gown with an oversize shocking pink ribbon tied around the hips, while a caramel leather mini dress twinned six-pack abs with curvy molded buttocks, and came with a matching tote bag.
Roseberry said he was inspired by founder Elsa Schiaparelli's unapologetic approach to ornamentation — to wit, the oversized embroideries on his stretch jackets and dresses looked as chunky as prehistoric fossils, while the earrings were so large, they came with a headband attached.
"I wanted to push the idea of oversized jewelry in these barbaric proportions, and really assuming that most of this was going to be seen digitally, create things that were intentionally meant to be seen digitally as well," he explained.
For the most part, he stuck to a monochrome palette — a reaction to the upheaval of the last year, and also a way to telegraph the house's growing focus on bridalwear. Inspired by the style of 1990s girl bands like TLC, Roseberry proposed an ivory bomber jacket with a drawstring hood that framed the face like a marriage veil.
"I always say, 'If you want to look like a dessert, go somewhere else,'" he said.
Source: Read Full Article