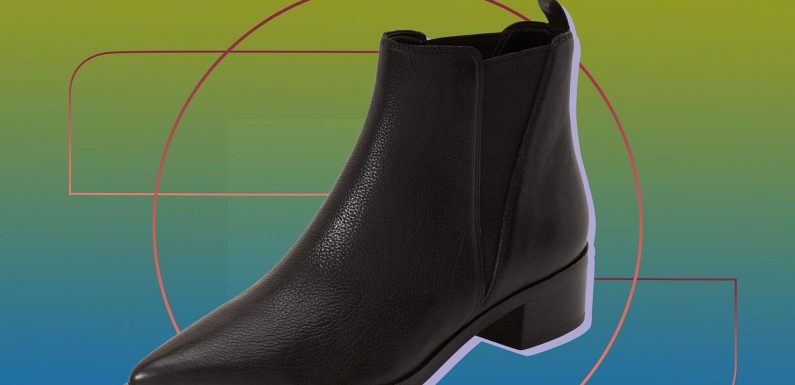 As any shoe lover will attest, a favorite pair is much more than just another part of your outfit. A good boot, for instance, can be a confidence booster, an ice-breaking talking point, and a staple for trekking around your hometown or a foreign location. And for me, there's one particular pair of boots that I'll always fondly think of — even decades from now.
If you're looking for an emotional support system in the form of boots, hear me out: Marc Fisher's Yale boot is it (cue the violin). They were in my suitcase when I first moved to New York and lasted through tens of thousands of steps, long days at the office, and quite a few crappy dates thanks to their blend of looks and fit.
Shop now: $179–$199, nordstrom.com
Style over comfort is typically an all-too-common "one or the other" situation, and fortunately, these leather booties are extremely comfortable but don't look it. I have wide feet, and though the sides rubbed ever-so-slightly during the first couple of wears, I had no issues after breaking them in. And while you could completely believe what I'm saying, I'm not the only fan of the shoes either. 
"I feel it is my civic duty to tell you this," began one reviewer. "These are the most comfortable shoes I have ever owned. They are like slippers you are allowed to wear in public. Very fashionable, socially-acceptable slippers."
They, and a handful of other reviewers also drew comparisons to a much more expensive boot, noting that these were a worthy swap. "I was on the fence about these, as I tend to steer away from dupes," wrote another shopper. "That said, these are proof that you don't have to pay more for quality. These are nearly 3x less than the Acne Jensen boots, but they are incredibly well made and well styled."
More impressive is how well they hold up to wearers who aren't quite the kindest to their shoes (me). I've trudged in these Marc Fisher boots on snowy sidewalks and they managed to come out alive after melting salts got all over them. They've held up in the rain, too. And while I probably should've shown them far more TLC, the pair held up for years while I wore them into the ground.
As previously mentioned, they're a fashionable emotional support system, too. These would be my pick after a frantic 30 minutes of trying on outfits and hating everything I had to wear. They also lifted me up during a handful of lame dates. After one guy told me my hair reminded him of Cruella de Vil (???) and discussed the quality of his spray tan for way too long, my boots kept my spirits high, took me out for a tasty pastry after, and kindly walked me home.
Shop now: $179–$199, nordstrom.com
Date outfit or not, they go with everything. Tapered work trousers, cropped denim, leather jackets — it works with all of it. And though I normally opt for taller heels, these still look refined and sophisticated thanks to the colors they're available in, the sleek leather, and the nice silhouette. 
Personally, I think the pointed toe makes up for the fact that the heel is so short. While I love a good high heel, I've yet to find a pair with height that I can wear for as long as these. They feel svelte, which is a nice contrast to the clunkier shoes in your early fall to spring lineup.
So, if you don't have that pair of shoes yet, I'm pleased to acquaint you with your fall-time version. Few things in life are constant, save for a good pair of shoes, especially sophisticated leather boots that will keep you trucking along through everything.
Source: Read Full Article