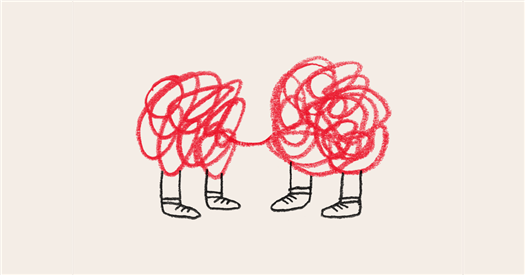 Listen and subscribe to Modern Love
Apple Podcasts | Spotify | Stitcher
Premiering Wednesday, May 12
The Modern Love podcast is returning with a whole new season of love stories. Each year, Daniel Jones and Miya Lee, podcast co-hosts and editors of the Modern Love column, comb through thousands of essay submissions to discover the most powerful, compelling stories. They've handpicked some of their favorite essays to feature in the podcast — from open marriages and online scams to Hindu horoscopes and the cutest meet-cute you'll ever hear about (hint: it takes place in a maternity ward). You'll also get to listen to conversations between authors of the essays and the people they wrote about as they explore, together, the story behind the story.
The season starts on May 12, with new episodes every Wednesday. We hope you'll join us.
A Few of Our Favorite Love Songs
Last season, Daniel (the founding editor of Modern Love) revealed that David Bowie's song "Modern Love" was his inspiration for naming the column in 2004.
As we kick off a new season, each member of the Modern Love team has selected their go-to love song — and the one line from it they cherish most. Take a listen.
DANIEL JONES, co-host: "And if you fall I'll pick you up, pick you up."
— from "Horses" by Rickie Lee Jones
MIYA LEE, co-host: "I feel like knowing him is knowing me / And knowing you is knowing someone that I hope to be."
— from "It's OK to Cry," Kofi Stone
JULIA BOTERO, producer: "All my life's been a long slow knife / I was born just to get to you."
— from "Out the Blue" by John Lennon
HANS BUETOW, producer: "I've learned to live for the sound of her laughter / Her sunny smile is my only light."
— from "She Is My Lady" by Donny Hathaway
WENDY DORR, editor: "I long to let our love run free / Yet here I am a victim of geography."
— from "The Only One" by Billy Bragg
DAN POWELL, composer: "Ah, but who is it climbs to your picture / With a garland of freshly cut tears?"
— from "Take This Waltz" by Leonard Cohen
MAHIMA CHABLANI, audio news assistant: "You're the light in my deepest, darkest hour / You're my savior when I fall."
— from "How Deep Is Your Love" by the Bee Gees
JULIA SIMON, director of audience and operations: "I'd take care of you if you'd ask me to."
— from "Take Care" by Beach House
NORA KELLER, program manager: "Where the blue of the sea meets the sky, and the big yellow sun leads me home / I'm everywhere now."
— from "The Water" by Johnny Flynn featuring Laura Marling
Hosted by: Daniel Jones and Miya Lee
Produced by: Julia Botero and Hans Buetow
Edited by: Wendy Dorr
Music by: Dan Powell
Special thanks: Nora Keller, Mahima Chablani, Julia Simon, Laura Kim, Bonnie Wertheim, Anya Strzemien, Joanna Nikas, Choire Sicha, Lisa Tobin and Sam Dolnick.
Want more from Modern Love? Read past stories. Watch the TV series and sign up for the newsletter. We also have swag at the NYT Store and two books, "Modern Love: True Stories of Love, Loss, and Redemption" and "Tiny Love Stories: True Tales of Love in 100 Words or Less."
Source: Read Full Article