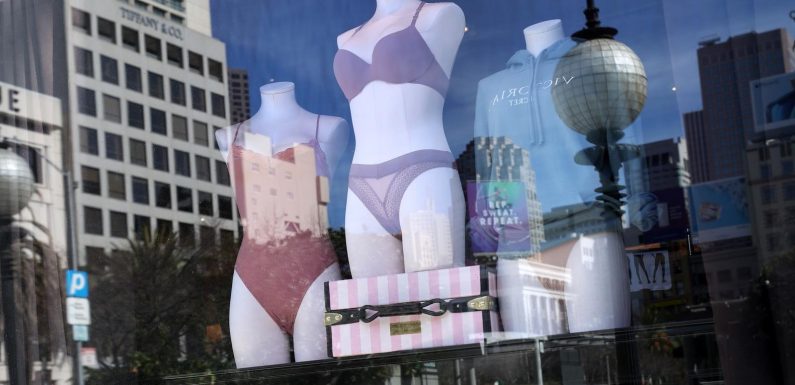 It is not necessarily uncommon for consumers shopping for the perfect bra to be of different cup sizes, varying on which store they're doing their shopping. However, it is uncommon for Victoria's Secret workers to size many of their customers with one or two bra sizes from what they walked in wearing, making many f their visitors question their true size. 
It is also no surprise that the lingerie company charges more for their larger size bras, according to Racked. The mega retailer has always charged $2 to $3 more per item, and people everywhere just aren't buying the rationale that it costs more to make larger sizes. 
As Styleite writer Ashley Hoffman notes, via Racked, "This is the message, 'You're less welcome here, you're kind of a hassle, so we'll take more money from you if you want to attempt to look as smoldering as our standard sizes.' They're a bunch of self-esteem pickpockets."
For years, people who were a D cup size or bigger were penalized for how their bodies were looked and ultimately caught on to the message that Victoria's Secret has supposedly attempted to send. Many have called the company out for the lack of inclusivity over the years, causing a bit of drama for the company, (via Insider). But for many bra buyers, it would be nice to know how exactly Victoria's Secret sizing actually works.
Is your Victoria Secret bra size correct?
The answer to an age-long question regarding whether Victoria's Secret's sizing is accurate, the short answer: no, (per Quora). However, most people who have shopped within their many locations could have answered that question for you. 
Countless people have complained about the fit of bras and the brand's inaccurate sizing, but the complaints have always fallen on deaf ears. The long-standing issue – that the company was willing to sell poorly fitted bras – has caused a major backlash, with customers often claiming that they are just trying to move the products they have in stock. 
Many people have felt that instead of empowering women, Victoria's Secret is just trying to sell a trend. But most women can't comfortably fit into a lace bandeau bra without some minor technical issues. Over the years, breasts have become hypersexualized mainly because, well…sex sells, and the lingerie giant has capitalized on that movement, according to BellyBelly.
Victoria's Secret's sizing is a bit outdated for today's consumer
For a Victoria's Secret associates, they are quickly trained on how to size up their consumer, (via Babe). Many shoppers will recall that they carry around a pink measuring tape and will always ask you if you would like to be fitted. The service is no charge, however many can find the pestering a bit annoying if you're simply browsing the selection. 
If you do choose to receive the free sizing, the associate will start by measuring your chest and will then figure out your band size in inches. The tape will then be wrapped around the widest part of your chest to determine your cup size, and your cup size is decided based on your band size. Not amazingly scientific, but it does the job. The company also does a lot of sister sizing, so there are more chances that your store has at least one product you are looking for. 
The idea for adding four inches to your band size didn't come from the lingerie giant, but rather it stemmed from the 1950s when brassieres' were made of silk or satin and didn't have much give. The extra inches allotted for some breathing room but probably isn't needed today, according to Curvy Kate.
Victoria's Secret is not worried about losing bra money for this reason
As many shoppers may know, Victoria's Secret does not sell above a size XL or above a DDD bra, as mentioned by Insider. If you've ever visited a location, you'll realize that it's difficult to find a even D-sized bra. 
In 2016, Healthline reported that the average woman is a size 14 and weighs around 170 pounds, so it stands to reason that a company would want to sell to the most consumers as possible. Sadly many women are left feeling like their money is good enough for the company but not their bodies.
Dana Drew, who created a petition to push the company to create bigger sizes, wrote, "My money and my credit are good enough for them, but the fact that I can only buy items like perfume, lotion, and body spray sends the message that my body is not. Every year I watch the Angel fashion show and would love to purchase the items I see on my screen but can't because Victoria's Secret doesn't sell plus sizes."
Your VS bra size is skewed to make you fit what they have in stock
The company has two brands to promote: Victoria's Secret and PINK. While the company claims that their sizes for both brands are the same, many would argue that their sizing is very limited. 
Hello Giggles spoke with Courtney Killpack, an award-winning bra specialist with Nordstrom's, who explained that Victoria's Secret bra sizes in particular, only range from a 30 to 40 band size and AA to DDD cup sizes. In the large scheme of boobs, this is not a wide range.
 Killpack revealed, "There's over 19 cup sizes, and VS only carries seven. And there's over 10 band sizes, and VS only carries six." Many consumers and Killpack feel the same way: VS pushes forward a bottom line message without investing in making too many sizing options.
Andrea Park, a writer who worked for Victoria's Secret in her teen years exposed what she believes to be the real deal with the sizing breakdown. "They give sizes that I believe have bands that are too wide and cups that are too small," the writer explained. "I think they do this because then they can basically sell bras within a certain range and not make too many different sizes." As Park recalled, she's been sized to be 28DD when it reality, she fluctuates between 32B and 34B.
Here's how to find your true bra size
Boobs come in all shapes and sizes, and the format for measuring them is pretty simple. You measure the ribcage and your bust and then convert those numbers into your bra size, which comes out in the form of a letter and a number, per The Lingerie Addict. 
It's not rocket science, but sadly, Victoria's Secret has chosen to confuse many people about their bodies even more rather than doing it the right way. In the end, it comes down to taking the time and trying on each bra. 
If you're looking for a more accurate bra size (and you don't feel confident in doing the work yourself), you can visit a lingerie store that's designed for larger busts. Stores like Lane Bryant take pride in giving their customers the most accurate size because their bra selection range from 34A to 50K, so there's no reason to skimp on your true measurement. 
Source: Read Full Article