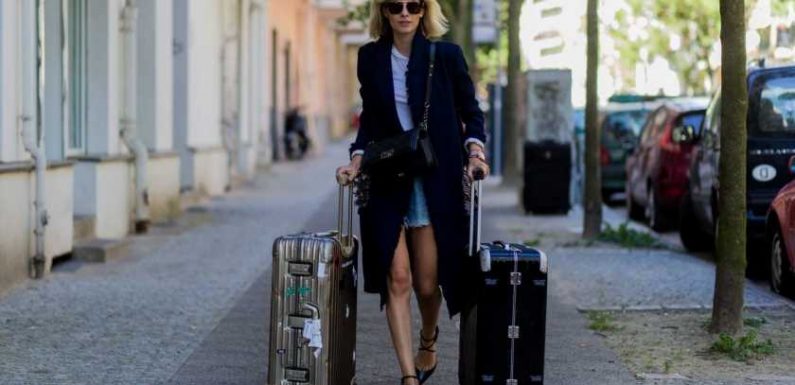 Written by Naomi May
All products on this page have been selected by the editorial team, however Stylist may make commission on some products purchased through affiliate links in this article
As we gear up for the final bank holiday of the summer, it's time to talk packing. But ditch those who preach about packing light; it's all about packing smart. 
Packing for a trip away is hardly a fashion-lover's dream. Handheld luggage restrictions and a lack of storage on most forms of transport means organising outfits/make-up/toiletries for a trip away induces more pain than pleasure.
The silver lining, however, of this year's pandemic-induced love-in with homespun staycations is that packing seems decidedly more attractive without the limitations of airborne activity. But that needn't mean forgetting the light-packing lessons you've learned the hard way through mistakes made over the years: packing for a holiday in the UK simply needs a very straightforward strategy to make it pain-free, but no less stylish.  
It's all about packing smart, not light
It's not about packing light, it's about packing smart, and these are five steps that will promise you the headache-free trip of dreams without a Joan Collins-inspired impractical suite of luggage. Call us your going-away fairy godmothers, here to serve you with all of the tips and tricks that promise to streamline your suitcase. 
Upgrade your luggage  
First things first – which form of luggage are you using to house your packing? If it's a raggedy old case from yesteryear which is falling apart at the seams, then you're in for a rude awakening. The first step of the packing smart holiday guide is finding a piece of luggage that does all of the heavy lifting for you. Look for sleek weekend cases (Away's are among the best in the luggage game), which have built-in compartments for underwear, socks and laundry, meaning packing and unpacking has never been more organised. 

While we're the first to profess the virtues of teeny-tiny handbags, there's only so much you can squeeze into a tote the size of a book, so it also may be time to invest in a more capacious carry-on, too; one with room for shoes, toiletries and other miscellaneous bits. Our go-to is Katie Loxton's newly reimagined vegan totes which channel the endless capacity of Mary Poppins' infamous bag.
Away The Bigger Carry-On

Away The Bigger Carry-On

Don't forgo upgrading your luggage: Away's cases have built-in USB ports and hidden compartments within that make for a seriously smart suitcase.

Shop Away The Bigger Carry-On, £235

BUY NOW

Katie Loxton weekend holdall duffle bag

Katie Loxton weekend holdall duffle bag

Katie Loxton's customisable totes are some of the roomiest bags in the game, meaning there's plenty of room in your holdall for squeezing in toiletries and miscellaneous bits and pieces.

Shop Katie Loxton weekend holdall duffle bag, £84.99

BUY NOW
Make an outfit plan 

Instead of just throwing clothes into a case and hoping they'll work, make a plan in the week leading up to your trip of the outfits you will want to wear on holiday, in accordance with the rough plan of the trip itself. Take a three-day city break, for example: consider what you'll be doing during the day (most probably walking and exploring, which will require sturdy shoes) and think about what you'll likely be doing during the evening, and whether that will require an elevated outfit choice. Depending on the trip, of course, a three-day trip should require no more than three outfits, with two different shoe choices for a smarter and more casual occasion.
The key to compiling a holiday capsule is simple: look to multi-tasking wares that can carry an outfit from noon to night with minimal effort. The stars of the style show in this instance are wide-legged trousers, which are perfect for daytime exploring and dinnertime drinks; ribbed tank tops, perfect for pairing with trainers during the day; and micro mules in the evening and oversized cotton shirts (layering is key to nailing a killer capsule).
Kitri Mariana Boyfriend shirt

Kitri Mariana Boyfriend shirt

Oversized, breezy and oh-so-versatile: what could be better than an XXL shirt, which can be thrown over all manner of outfits?

Shop Kitri Mariana Boyfriend shirt, £85

BUY NOW

Sleeping with Jacques velvet trousers

Sleeping with Jacques velvet trousers

Buzzy Australian brand Sleeping with Jacques' slinky velvet wide-leg trousers are the ultimate day-to-dusk pair. For a daytime dawdle, pair with trainers and a simple T-shirt and for a pre-dinner drink, slip into a pair of heels for an elevated ensemble.

Shop Sleeping with Jacques velvet trousers at FarFetch, £245

BUY NOW
Ditch the chunky shoes
To pack smart, the fashion ratio is one pair of shoes and one pair of heels to every three outfits. When travelling to your destination, wear your trainers (or chunkiest pair of shoes) to cut down on wasting unnecessary space in your case, and ensure that your evening or occasion shoes are taking up as little room as possible. 
Ideally, you'll choose to eschew vertiginously high heels in favour of a pair of micro mules or malleable ballet flats (great for a final finishing touch for an evening ensemble consisting of trousers). 
By Far Cynthia leather mules

By Far Cynthia leather mules

By Far ought to be your one-stop-shop for stylish and comfortable micro mules. This tiger-toned pair will slot into a handbag for a trot about a new city, and, when cocktail hour strikes, will provide a pop of pattern to a daytime look. All the style, none of the stress.

Shop By Far Cynthia leather mules at Printemps.com, £351

BUY NOW
Cecilie Bahnsen x Hereu Hyacinth ballet flats

Cecilie Bahnsen x Hereu Hyacinth ballet flats

As timeless as the ballet flat itself, these easy-to-wear pumps will take you effortlessly from day to dusk with minimal effort.

Shop Cecilie Bahnsen x Hereu Hyacinth ballet flats at Net-a-Porter, £108

BUY NOW
Streamline your skincare
Thanks to a clutch of buzzy beauty brands, skincare and make-up have never been so streamlined and minimal. From micro moisturisers to multi-tasking make-up, your toiletry bag will be will be at its most shrunken but super-powered once you make the switch to these travel-proof alternatives.
Take Bobbi Brown, whose innovative new no make-up make-up brand Jones Road has already become a household name across the pond and is now busy taking the UK by storm, thanks to its recent launch on British soil. The make-up artist has crafted a chunky crayon, deftly named the Face Pencil, which actually works to conceal and brighten, and a jojoba and Vitamin E-filled Miracle Balm which acts as a moisturiser-cum-highlighter-cum-dewy base. There's Supergoop!'s travel-sized SPFs, Living Proof's world-class micro dry shampoos, U Beauty's mini Super Smart Hydrator (one of the best moisturisers in the game), all of which can be housed in Space NK's innovative zip-up, clear and travel-friendly pouches. 
Space NK Travel Bag

Space NK Travel Bag

Thanks to customer demand, Space NK's bestselling Travel Bag is now available in a trio of sizes, and a bevy of metallic shades. Once flights are back on the menu again, the transparent casing also makes passing through security checks a dream.

Shop Space NK Travel Bag, from £14

BUY NOW

Supergoop! Glow Screen SPF 30

Supergoop! Glow Screen SPF 30

A minimum of SPF 30 is an essential everyday, including holidays. But take the headache out of applying it with a mini tube of glow-imparting, radiance-inducing Supergoop!'s Glow Screen, which is not only  a seamless SPF but also a wondrous base for make-up.

Shop Supergoop! Glow Screen SPF 30 at Cult Beauty, £15

BUY NOW

Jones Road The Face Pencil

Jones Road The Face Pencil

The new way to cover up is minimally, thanks to Bobbi Brown's innovative cruelty-free beauty line, Jones Road. Its Face Pencil, which is available in 25 shades, is a true game-changer in every sense of the word and will negate the need for a foundation, concealer and highlighter.

Shop Jones Road The Face Pencil, £23

BUY NOW
Embrace the do-it-all dress
Dresses are a summertime perennial, that much we know, but those of the throw-on-and-go variety really do make for the ultimate travel plus-one. The style equation for their appeal is simple: with your comfiest and no doubt most orthopedic-looking shoes, the dress is perfect for a daytime explore, and with your micro heels, the frock is elevated to a more sophisticated realm which is crying out for a cocktail. 
For a three-day trip, one dress will suffice and, in case you are conscious of not being able to run it to the dry-cleaners before double-wearing it, look to Steamery Stockholm's snazzy handheld steamers (which make getting crease-free a whole lot more fun and stylish) and innovative Danish export The Lab Co.'s Sports Mist, which uses essential oils to neutralise odours on clothes, leaving them fresher in between washes. Looking good and being practical has never been so simple.
Ganni yellow organic cotton knit dress

Ganni yellow organic cotton knit dress

The purveyor of all things sartorially simple, Ganni's dresses are among the most hard-working in the fashion sphere. Simply alternate your footwear, and let its fanciful frocks introduce you before you so much as have to say a word.

Shop Ganni yellow organic cotton knit dress, £275

BUY NOW

Ghost Palm dress

Ghost Palm dress

Slip dresses don't get better than homegrown brand Ghost's, but its new season midis are a serious contender for a spot in your staycation capsule. Wear with trainers and a shirt for a day of exploring; once the sun begins to set, slip the shirt off and watch the dress do all of the talking.

Shop Ghost Palm dress, £89

BUY NOW
Images: courtesy of Getty Images and brands.
Source: Read Full Article