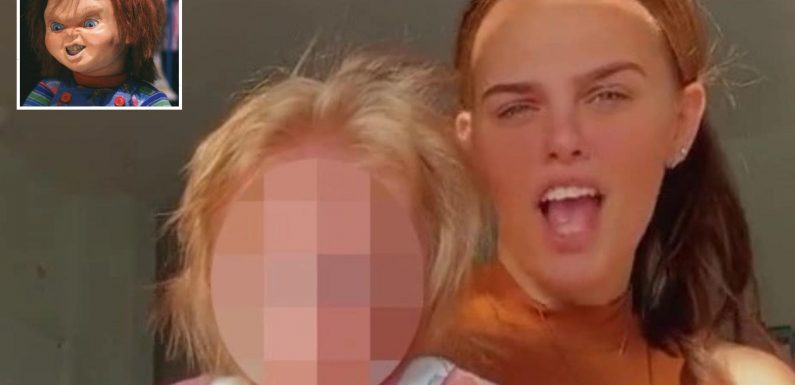 A MOTHER has revealed that she is often judged for being a young mum and claimed that people say her baby looks like Chucky. 
20-year-old Aliyah Lewis, from Barry Island, Wales, is a mum to her five-month-old baby Arla.
Her daughter was born with a unique hairstyle, with her hair growing outwards in every direction.
Aliyah regularly shares an insight into her life as a young mum-of-one on TikTok, where she posts under the username aliyahlewisxx and has amassed an impressive 236k followers and 10.5million likes.
She claimed that people say to her: "Your baby looks like Chucky."  
To this, Aliyah responded: "More like a dandelion but okay."
Read more real life stories
Doctors told me my 'kidney stone' was a 37-week-old baby – I couldn't believe it
I regret my baby's name…my man picked it but it's cringe & no-one says it right
Aliyah sang along to Rihanna's song Same Old Love, as she mimed: "Take away your things and go. 
"Can't take back what you said." 
Her video has clearly shocked many, as it has quickly racked up a whopping 427.6k views.
It has 27.1k likes, 1,202 comments and 225 shares.
Most read in Fabulous
Harry & Meghan seen together for first time since bombshell book was released
I'm Aldi obsessed Flowerbomb & Miss Dior dupes are hitting stores this week
I'm 5ft 2 and found the dream trousers in Tesco – they're so flattering
I transformed my council house kitchen using Wilko bargains & it cost £20
Many TikTok users took to the comments and explained that they thought her daughter had some resemblance of Chucky. 
One person said: "She is not Chucky she is adorable little baby." 
Another added: "She's pretty but in that particular video she had a slight remembrance with Chucky, but she is adorable." 
A third commented: "The cutest chucky baby though." 
Aliyah previously said that Arla's locks started growing out after her first bath and have continued to grow since.
Aliyah said the quirky hairstyle has led some people to question if she has uncontrollable hair syndrome or a cows protein allergy.
The stay-at-home mum explained that Arla's hair 'just doesn't stay down'.
She revealed: "It just doesn't stay down at all.
"I've tried brushing it and nothing happens.
"When it's wet it goes down and then 2 minutes after the bath it goes straight back up.
"She could be wearing a hat for 30 minutes, you take it off and within a couple of minutes it's back up again.
"I don't think it's uncontrollable hair syndrome as that usually tends to be white, almost silvery hair, and Arla's isn't like that."
"Some people on TikTok have said it can be a cows milk allergy, but she doesn't have any other symptoms of that allergy."
Arla's 'soft and fluffy' hair is not only appreciated by her parents, with friends and family as well as strangers all taking an interest.
She continued: "Random people have stopped me when I'm out and about, commenting on her hair.
"Everyone in the family thinks it's crazy."
Aliyah, and her partner Adam, 22, are secretly hoping that Arla's hair stays the way it is for years to come.
She said: "To be honest, I quite like it.
"It's almost like her own little personality.
Read More on The Sun
New C4 show will take on Big Brother by plunging Brits into Australian outback
You could be slapped with £300 fine for giving your mates a lift – here's how
"So I hope it stays that way."
Adam said: "I think it's really funny. Pretty nuts, isn't it?!"
Source: Read Full Article