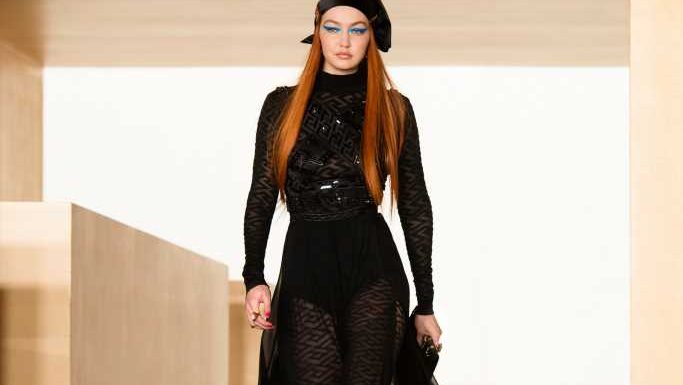 Galleries

Beauty
Collection
Leave it to Donatella Versace to persuade Gigi Hadid to return to the (virtual) runway.
She joined sister Bella in the Versace fall 2021 runway collection and film, which went all in on the house's Greca motif, which inspired everything from the maze-like set to one of the male model's buzz cuts.
"I have realized that this is the future, the new way of communicating collections," the designer said in her collection statement, seemingly throwing her full support behind the new digital show format. "Models are like actors, they bring the designs to life, just like when a performer portrays a character. During the filming of this show I saw how important it is to give the models time to 'feel' the clothes they wear on the runway," she added.
Maybe so, but this was more filmed runway show than narrative fashion storytelling. The models did show attitude with the dynamic clothes, and engage in a few playful moments — a tug-of-war over a handbag for one.
There has been a lot of graphicism, particularly in knitwear, for fall, and in that sense, Versace's theme was spot on. Rendered in camel and black, with "Versace" written discreetly between the lines, the Greca pattern made for a more subtle take on logo dressing, appearing as an allover motif on jacquard suits and vinyl raincoats; knit turtleneck vest and flared leggings sets, and the lining of a great-looking black patent leather sheepskin jacket.
While many designers have been playing with more oversized silhouettes this season, Versace turned down the volume on women's tailoring, showing round-shouldered tailored jackets, and A-line miniskirts over cropped pants, infusing the lineup with a zippy '60s spirit.
Greca-patterned harnesses added another graphic interest, worn over a beautifully tailored black pantsuit and a black minidress with patterned turtleneck, black opaque tights and platform shoes. The almighty Greca even showed up hidden in the mesh of slinky minidresses.
Men's suit jackets were also also pared down, in jacquards with contrasting pattern shirts and vests, and some with body-con trousers. Sporty bomber jackets, intarsia sweaters and Medusa smiley-face scarves added even more eye candy.
Versace RTW Fall 2021
59 Photos
Source: Read Full Article