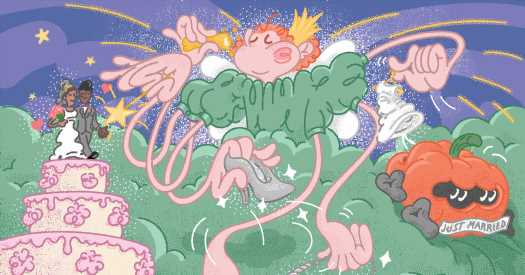 A dramatic multi-tier cake, Chanel pearls, $800 Christian Louboutins — maybe the financial hardship of the pandemic has made all of these big-day splurges seem a little less appealing than they once did. Or maybe (probably also because of the pandemic) you're having last-minute nuptials and simply don't have time to shop for these investments. Or maybe you'd just really like an extra bridesmaid to pitch in for the celebration. Whatever your wedding need, there's likely a rental service for it. And just like that, you can scratch the "something borrowed" off your list.
The Shoes
Rent Manolo Blahnik pumps for $25; ivory and black cross-strap Chanel heels for $27; Jimmy Choo black slingback heels for $25; or Dolce & Gabbana snakeskin slingbacks for $30 from Wardrobe, a clothing rental company founded in 2019. Rentals are shipped to every state, and you get to wear them for four days before you ship them back. You don't need to sign up for a membership, and everything is cleaned before and after your rental. Adarsh Alphons, who is the founder and chief executive of Wardrobe, says rentals here are three to five percent of the cost of the shoe. For example, you can rent a pair of $800 Christian Louboutin pumps for $25. That's because each item comes from an individual, rather than being owned by the company. The person renting you their shoes receives about 70 percent of the rental price, and the rest goes to Wardrobe.
The Veil
Let's face it, you wear the veil once, and have no need for it ever again. Veils typically cost from $150 to $1,500, depending on the level of detail, but you can rent one for four days for about 20 percent of the retail price at Happily Ever Borrowed, a company based in Portland, Ore., that's been renting bridal accessories for almost 10 years. Every veil is professionally cleaned before and after the rental. Not sure if your veil will match your gown? For $50, you can choose three pieces to try for two days. When you return those, you'll receive a $25 credit toward your wedding-day rental.
[Sign up for Love Letter and always get the latest in Modern Love, weddings, and relationships in the news by email.]
The Cake
Yes, it's possible to rent your cake. Kimberly Aya, of Bloomsburg, Penn., and Punta Gorda, Fla., never planned to open a cake rental business, but shortly after setting up her cake booth at a Michigan bridal show, she received a phone call letting her know the bakery space she was planning on renting fell through. "Since I was already set up at the bridal show, I had to attend," Ms. Aya said, explaining that she used display cakes from that moment onward. "At the show, 99 percent of the brides asked if they could rent my display cakes, and Fun Cakes was born in 2007." Her display cakes are $200 to $3,000, depending on the size, number of tiers and details, and your location. (The company ships worldwide). For context: The nationwide average cost of a fondant wedding cake is about $7 per slice, while Fun Cakes' average slice is about $2 (though couples who use Fun Cakes still need to purchase a sheet cake to feed their guests). The cakes are made out of Styrofoam covered with real fondant and handmade sugar flowers, and are customizable. All the cakes have an edible section on the bottom tier to be used when the couple cuts the first slice (they recommend filling it with three Twinkies), while the guests nosh on the sheet cake stored behind the scenes.
The Jewelry
Adriel Darvish, the chief executive of Los Angeles-based Switch, launched in 2017, said the inspiration for his jewelry rental company came from his mother, a jewelry designer. "Through her experience, we realized that the jewelry space was antiquated and ripe for disruption, and that it's the perfect product for rentals because it's so durable and usually too expensive for people to buy regularly," Mr. Darvish said. The jewelry offered has an average retail value of $700, and rental plans start at $40 per month for one piece at a time. They have Hermes bracelets, vintage ivory Chanel bracelets, Gucci rings and Tiffany & Company diamond necklaces. If the piece is lost, stolen or broken beyond repair, you're charged the member purchase price, which is less than the retail value, Mr. Darvish said.
The Bridesmaid
Not sure your friend is going to do a great job as a bridesmaid? Did a bridesmaid back out at the last minute because their city went into lockdown yet again? Depending on where you live, you might be able to try renting one. Kisha Balderamos-O'Leary founded her company, Paid To Bridesmaid, after some of her own bridesmaids were unable to attend her October 2020 wedding. If this happens to you — or if you simply want a backup bridesmaid — the Aubrey, Texas-based woman will show up in a dress, provide emotional support and help brides on their big day, starting at $750. She isn't the only one to execute such a concept. Jen Glantz, the founder of Bridesmaid for Hire, based in Brooklyn, has served as a professional bridesmaid in more than 150 weddings over the past 7 years. She started the company in 2014 because she was continually requested to be a bridesmaid — even by casual friends. "That sparked the idea that perhaps I could do this for strangers, and perhaps strangers needed this kind of role in the wedding industry," Ms. Glantz said. As a bridesmaid for hire, Ms. Glanz offers many services: vent sessions ($200 per hour); wedding day-of coordinator ($1,750- $2,957); and her most popular: the full-on bridesmaid role — meaning she will not only help you deal with wedding-day drama, but also be there in person at your bridal shower and bachelorette party, and be your sounding board and extra pair of hands through it all (starting at $2,500).
The Dress
You don't have to spend thousands (or even hundreds) on a dress that you'll wear once; you can rent one for a fraction of the cost. Even though Rent the Runway has branched out in all kinds of ways since it first launched in 2009, the company has a particularly robust selection of bridal gowns rentals, which range from $35-$125 — or if you already have a membership (starts at $89 per month), gowns are included. Since most bridal gowns need alterations, Rent the Runway features contemporary styles that are ready-to-wear off the rack (alterations aren't allowed, and cleaning fees are included). These aren't high-end gowns — most retail for about $300, but there are options in every style imaginable, from jumpsuits to strapless sequin dresses, and from brands like ML Monique Lhuillier and Victoria Victoria Beckham.
The Place Settings
Most venues or caterers will supply your place settings, but if you're having a backyard wedding or want something extra special, you can rent these at Social Studies. Launched in 2019 after event planner Jessica Latham and co-founder Amy Griffin were frustrated by the lack of easy, affordable, high-quality party rentals particularly for small-to-medium-size events, this company offers 40 looks ranging from $22 to $52 per place setting. They have options for everything from luxe 150-plus person weddings (which might include, say, white ceramic plates and gold flatware with a linen runner and silvery magnolia garland) to picnic basket place settings for more relaxed, alternative nuptials. The rentals are about 80 percent less expensive than retail, and couples use a preprinted return label to ship the boxes back after the wedding.
Source: Read Full Article