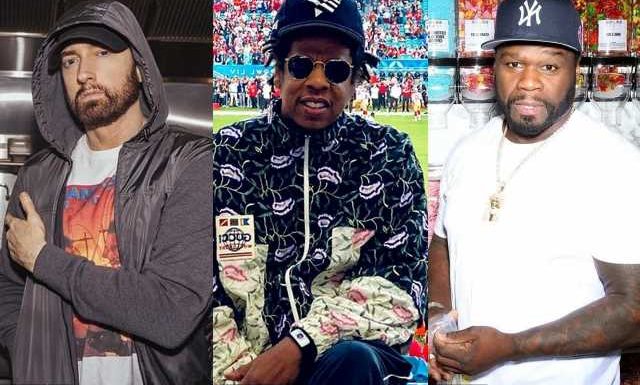 Making use of his social media account, the 'In Da Club' rapper also says that the husband of Beyonce 'is running around trying to look like a gay painter' following the latter's racist comment.
AceShowbiz –50 Cent has slammed Jay-Z over his racist comment. The "In Da Club" rapper took to his social media platform to tell Beyonce Knowles' husband that he'd better not call Eminem "the white guy."
Turning to his Instagram page on Sunday, April 17, the 46-year-old rapper, born Curtis James Jackson III, called out Jay-Z with a two-photo collage of the late painter Jean-Michel Basquiat and an image of Jay-Z dressed up like the famed painter for Halloween back in 2014. In the caption, he wrote, "Why did he say the white boy, why he didn't say the biggest rap artist in the world? Happy Easter! man enjoy the holidays," adding a laughing emoji.
Previously, 50 Cent shared a screenshot of a headline about N.O.R.E. revealing in the Saturday, April 16 episode of "Drink Champs" podcast with Snoop Dogg that Jay-Z told him Eminem wouldn't be performing at the Super Bowl LVI halftime show without 50 Cent. "Why would he have to say that should be the question?" Fif wrote. "NORE Your big homie is running around trying to look like a gay painter. LOL," he added along with a palette emoji and painter emoji.
The feud began after N.O.R.E. told Snoop in the podcast that Jay-Z told him Eminem requested 50 Cent to join the Super Bowl LVI halftime show lineup or else he's not performing. "I said to Jay-Z, I have to ask this straight up. 'Who is gonna perform at the NFL?' And [Jay-Z] said to me, and I'm sorry for everybody who don't understand, and [Jay-Z] said, 'The White guy called for 50 Cent,' " the "Oye Mi canto" rapper recalled.
"I said, 'Who is the White guy? Jimmy Iovine?' And he said, 'No, Eminem called directly for 50 and he said, I can't do it if I can't bring 50 with me,' " N.O.R.E. added, before concluding, "That's spiritual." In response, Snoop said, "Of course, that's his guy! And guess who's [Dr. Dre]'s guy? It's me!"
In the end, Dr. Dre brought out Snoop, Eminem, 50 Cent, Mary J. Blige and Kendrick Lamar for the phenomenal Super Bowl performance in Inglewood's SoFi stadium. At the time, Dr. Dre, Snoop, Eminem, Mary, Kendrick and Fif gathered on one stage in the field while Dr. Dre continued rhyming his 1999 hit. They were joined by hundreds of dancers who made a circle in the field.
Source: Read Full Article