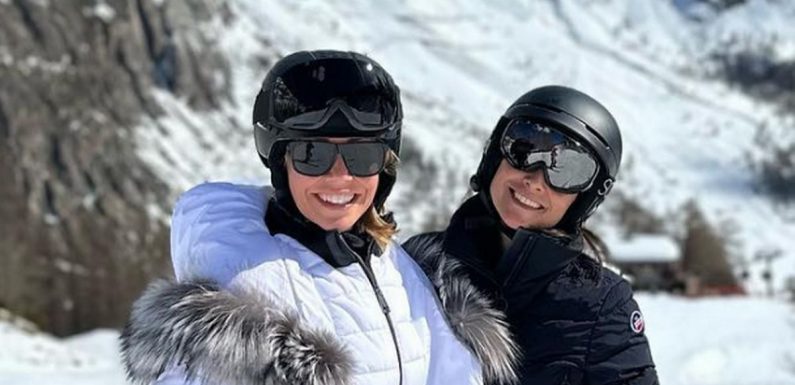 She rarely goes a week without updating her loyal legion of fans on her wild adventures across the world.
And Monday's post (March 20) was no different after Lucy Verasamy delighted fans with her lavish trip to the South of France alongside co-star Laura Hamilton.
The pair joined the rest of the cast and crew across the channel to film the upcoming series of A Place In The Sun, but between shoots the group managed to squeeze in some essential downtime.
READ MORE:A Place In The Sun's Laura Hamilton wows in plunging dress as filming is interrupted
This week, the team took a trip to the French Alps where they skied their troubles away on the snowy mountains.
The brunette beauty, 42, opted for a matching black padded snowsuit which showed off her hourglass frame as she posed up a storm in the scenic winter scape.
She finished the look with a heavy-duty ski helmet and protective goggles to prevent her from being blinded by the sun and the show.
The newlywed completed the look with matching black gloves and ski boots for the ultimate monochrome winter attire as she stood with her skis in hand ready to dominate the slopes.
Her colleague Laura opted for a bit of colour for her winter attire, instead going for a lilac padded coat, complete with a faux fur hood which she layered over a white gilet.
She finished the look with a pair of black ski pants and matching gloves and boots, as she added a reflective helmet and protective goggles to her ensemble.
And it appeared as though the team were having the time of their lives as they grabbed a group snap beside Val d'Lsere at the peak of the mountain before hopping on a ski lift back down the mountain.
Lucy captioned the memorable moment: "Stunning snowy weekend with these guys [sparkle emoji] We got so lucky with the bluebird skies!! [sun emoji, snowflake emoji].
"Quite literally away with the best crew. So may photos, so little time."
It didn't take long before her loyal legion of fans flooded to the comments to pass on their loving messages immediately after posting.
For more of the latest showbiz and TV news from the Daily Star, make sure you sign up to one of our newsletters here.
Co-star Laura penned: "[praise emoji, heart emoji] Until Next Time" as another added: "Lucky Lucy ! Next time you should plan a little stop in Paris."
A third recalled: "I remember Val d'Isrre well, I broke my wrist snowboarding on day 2 of a 7 day trip, fun times [two cry-laughing emojis] the bars are great haha."
READ NEXT:
Source: Read Full Article