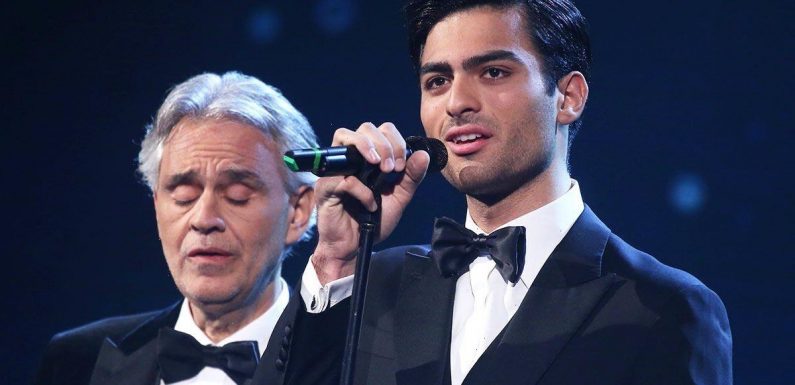 Strictly: Andrea and Matteo Bocelli perform Fall On Me
We use your sign-up to provide content in ways you've consented to and to improve our understanding of you. This may include adverts from us and 3rd parties based on our understanding. You can unsubscribe at any time. More info
Andrea's youngest son Matteo is fast becoming as famous as he is. At just 24 he is currently busy promoting his debut solo album, releasing a string of singles and videos online. His younger sister Virginia became a global sensation at the start of lockdown when she duetted with her father on Leonard Cohen's' Hallelujah on a live-streamed Christmas concert. Both she and Matteo now frequently join their father on stage. Their other brother, Amos, prefers to stay out of the limelight, although he too is a talented musician.
Amos has a Bachelor of Arts degree in the piano, but also studied spatial engineering – in which he has pursued a career. However, he also often plays on his father's albums and occasionally joins him on stage.
This time, though, he was working with Matteo on the new track and video for Tempo. Matteo paid public tribute to his big brother in a new Instagram post and included a touching picture of the pair of them.
Matteo wrote: "I would like to thank the whole team who did a great job! And especially my brother Amos Bocelli who is always there for me and keeps me smiling!"
The image shows the pair of them embracing and grinning happily. Amos is three years older than Matteo at 27.
They are both from Andrea's first marriage to Enrica Cenzatti, which ended in 2002 after twenty years. The world-famous tenor then started a new relationship with Veronica Berti the same year.
Their daughter Virginia was born in 2011 before they married in 2014.
The entire family is very close, all living and working in the same northern Italian region of Lucca.
Andrea's father Alessandro died in 2000 but his mother Edi and younger brother Alberto had continued living in the original family home outside Pisa in Tuscany.
https://www.youtube.com/embed/G0zduGGJrvw
Just this weekend, the family announced the loss of Edi Bocelli.
In a moving message on Andrea's Instagram, it said: "It is with great sorrow that our staff announces the passing of Mrs. Edi Aringhieri Bocelli, Andrea's mother. She will be dearly missed by her loved ones and all of us. She left her earthly home after a long, extraordinary life to join her beloved husband, Sandro, in Heaven. All our hearts are with Andrea and Veronica, Alberto and Cinzia, and the entire Bocelli family at this time."
DON'T MISS
Watch Andrea Bocelli and daughter Virginia sing at White House
Andrea Bocelli: Veronica explains how it works as his wife AND manager
Andrea Bocelli: Son Matteo sings in Rome's Colosseum at 19
The announcement added: "For those wishing to pay tribute to Edi's memory, any donations to the ABF or another charitable institution shall be a flower – not cut, but living – to help celebrate her memory, for which we are grateful."
Andrea is currently in the middle of a world tour and is next scheduled to perform in Tel Aviv, Israel on June 8.
ANDREA BOCELLI TOUR AND MORE INFO HERE
Source: Read Full Article