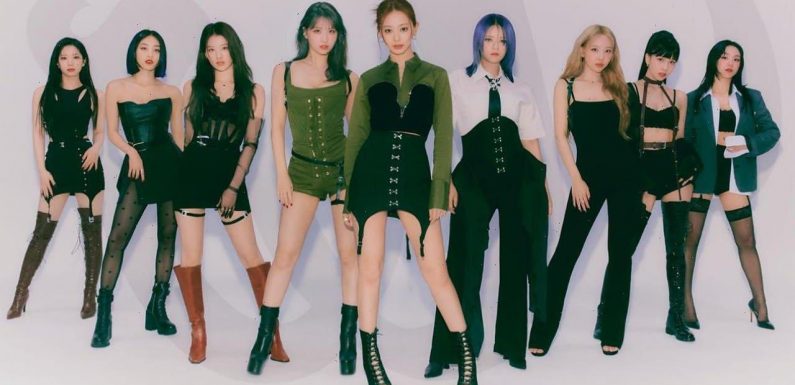 With their 11th mini album 'Between 1n2', which serves as the group's first Korean release in 2022, the South Korean girl band successfully tops various iTunes charts worldwide.
AceShowbiz –TWICE could become the next South Korean girl band to dominate the world's music scene. The group, formed by JYP Entertainment, successfully topped various iTunes charts globally after releasing their latest EP, "Between 1&2", on August 26.
The new record stole the No. 1 spot on iTunes' Top Album charts in a total of 15 countries, including the Philippines, Saudi Arabia, India, Indonesia, Malaysia, Singapore, Vietnam, Taiwan and others. It also debuted atop Billboard's Top Album Sales chart with 94,000 copies sold in the U.S. in the week ending September 1, according to Luminate.
Meanwhile on Billboard 200, "Between 1&2" landed at No. 3 as it sold over 100,000 equivalent album units. The project, which serves as TWICE's 11th mini-album, also peaked at No. 3 on the European iTunes song chart.
The extended play consists of seven tracks, including lead single "Talk That Talk", "Queen of Hearts", "Basics", "Trouble", "Brave", "Gone" and "When We Were Kids". The former becomes such a huge hit as it reached No. 1 on iTunes' Top Song chart in four regions as of August 27.
"Between 1&2" arrived one month after TWICE dropped its fourth Japanese studio album, "Celebrate". Speaking of the EP, Jeongyeon told GRAMMY.com, "There are total seven tracks in this album, and all tracks sound different from each other. We are exploring different genres such as pop, dance, ballad, and rock, so you can expect a variety of styles in this album."
"We have incorporated retro vibes into the album, since one of the concepts of the album is Y2K. The tracks that embody the retro concept the most are 'Talk that Talk' and 'Brave," she continued. "Even though the styles are different, the tracks are connected under the theme of 'the conversation between ONCE and TWICE,' like how the album title Between 1&2 implies."
Dahyun, in the meantime, revealed that she and her bandmates took part in creating the songs. "I enjoyed writing lyrics for the two tracks 'Gone' and 'When We Were Kids'. As our time as TWICE members grow, the members' participation in the album is increasing, which shows how we are growing as artists each year," she shared. "You can look out for Chaeyoung's lyrics in the song 'Basics' and Jihyo's music and lyrics in the song 'Trouble'."
Source: Read Full Article