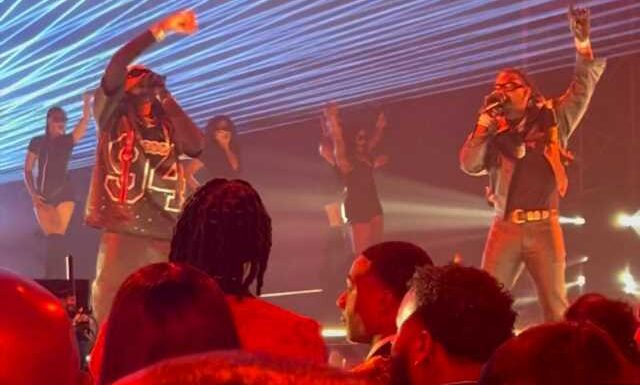 The surviving Migos members make a surprise appearance to pay tribute to their late groupmate by performing 'Bad and Boujee', making fans emotional and Offset's wife Cardi B 'proud.'
AceShowbiz –Offset and Quavo have put aside their differences to pay tribute to Takeoff. After apparently squashing their beef when attending their late groupmate's posthumous birthday celebration last week, the surviving Migos members reunited onstage for the first time in months at the 2023 BET Awards.
Offset and Quavo surprised the audience and viewers at home as they took the stage at the Microsoft Theatre in Los Angeles on Sunday, June 25 to pay tribute to Takeoff. They walked into a spotlight surrounded by smoke and lasers.
Takeoff's verse from "Hotel Lobby", a 2022 song from Quavo and Takeoff's 2022 spin-off project "Unc & Phew", played as the duo danced. "Do it for Take!" they shouted, pointing at the screen which morphed from the fiery rocket to a photo of the late rapper, before they launched into a performance of one of Migos' songs, "Bad and Boujee".
Wearing all-black outfits, the duo grooved to the song on a stage lit with fire while being surrounded by dancers. At the end of the track, they performed synchronized moves with the spotlight shining upon an empty space between them that seemed to represent Takeoff. Their hands gestured to the empty spot before they left the stage.
Fans were clearly overwhelmed with emotion after seeing Migos' reunion, with someone calling it "the best part of the whole night." Another viewers reacted, "QUAVO AND OFFSET PERFORMING TOGETHER IS ALREADY THE BEST MOMENT OF THE BET AWARD TO ME [black a heart emoji] FOR THE ROCKET."
Offset's wife Cardi B has also gushed over her husband and Quavo's performance. Taking to her Twitter page, she wrote, "I can't take it right now …proud of the boys," along with a meme of someone crying.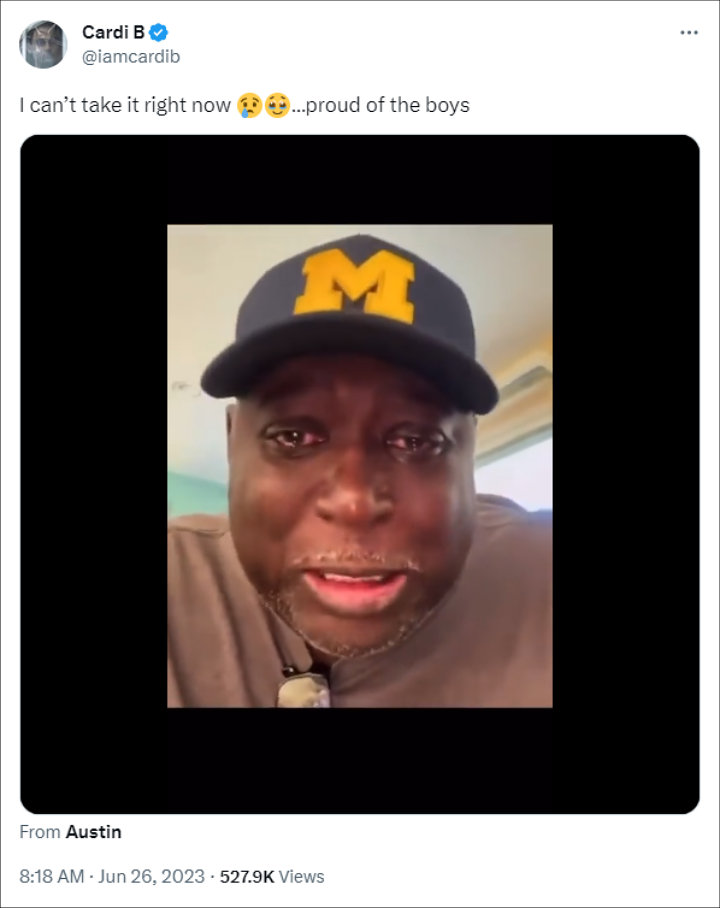 Cardi B reacted to Offset and Quavo's reunion at the 2023 BET Awards.
Offset and Quavo were rumored to have clashed since before Takeoff's death in November 2022. It culminated at the 2023 Grammy Awards, where they reportedly fought backstage during the on February 5 ceremony at the Crypto.com Arena in Los Angeles. Denying the fight rumors, Offset tweeted, "What tf look like fighting my brother [y'all] n***as is crazy."
You can share this post!
Source: Read Full Article