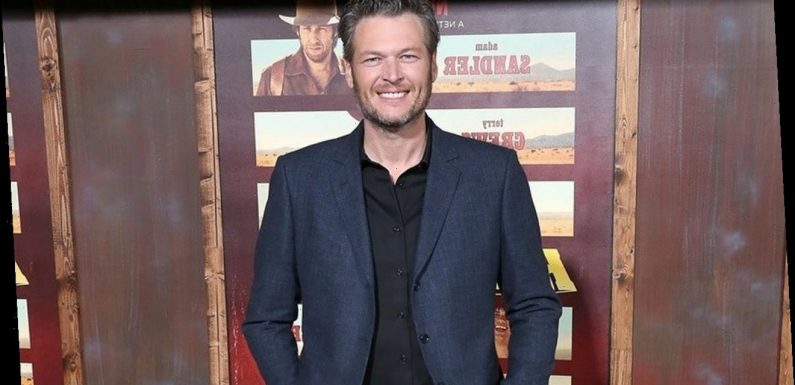 The 'Red River Blue' crooner jokingly says the former judge of 'The Voice' owes him a 'full-band performance' at his upcoming nuptials with fiancee Gwen Stefani.
AceShowbiz –Blake Shelton has joked Adam Levine "owes" him a "full-band performance with Maroon 5" at his wedding.
The country star has been in a joke rivalry with his former fellow "The Voice" judge since the show began in 2011, and has said he's keen to have Adam and his band perform at his upcoming wedding to Gwen Stefani because he "wants it to cost him."
Blake made the joke as he commented on a recent request made by Miley Cyrus on social media when she asked Gwen if she could perform at her wedding, where she even promised to be on her "best behavior."
Speaking about Miley, Blake told People magazine, "Miley is one of the most talented singers I have ever met. She drives me crazy because she's a lot like Kelly (Clarkson) in the way that they can burst out with this voice. If I'm going to sing, I have to think about it and go warm up. It's unfair."
See also…
Kelly Clarkson Pens 60 Songs as She Deals With Heartache After Brandon Blackstock Split
Justin Bieber Announces New Album 'Justice' Is Due in March
Bruno Mars and Anderson .Paak Announce Super Band Silk Sonic and First Album
Maren Morris and Chris Stapleton Top Nominations at 2021 ACM Awards
"Gwen was showing me that she even said, 'I promise to be on my best behaviour.' I've known Miley long enough (for her to have to say), 'By the way, I'll be nice when I get here.' So that was nice of her. I don't know what we're going to do, but I still say Adam owes me a full-band performance with Maroon 5, mostly because I want it to cost him. I would rather have Miley as a human being."
Blake and Gwen haven't decided on a musical act for their big day yet, but Miley is hoping they'll choose her.
The "Midnight Sky" hitmaker asked Gwen for the job on Twitter after the "Hollaback Girl" singer responded to a video Miley posted and called the musician "talented."
Miley then wrote, "When my hero's tweet me I get horny. (sic)"
Before she later added in a separate tweet, "ALSO @gwenstefani @blakeshelton I'll be your wedding singer! I promise to be on my best behaviour. Or worst. whatever you want! It's your special day! Cheers to loving you both almost as much as you love each other! (sic)"
Source: Read Full Article