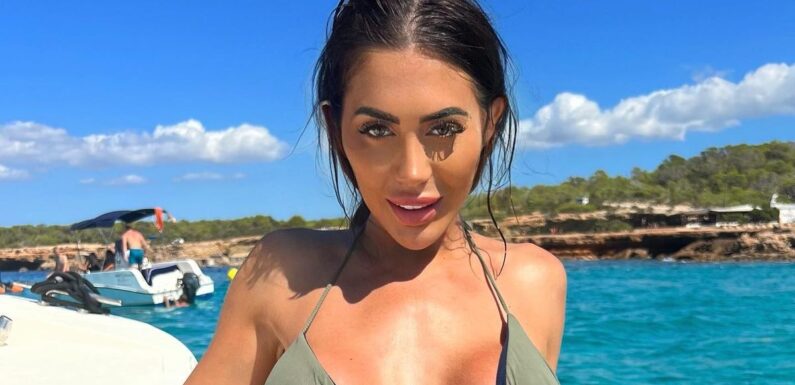 Chole Ferry had all eyes on her as she stripped down to a tiny khaki green bikini during her recent sun-soaked getaway.
The 28-year-old took to Instagram to showcase her stunning figure as she enjoyed time on the water with her friends in Spain.
In one of her snaps, Chloe put on a jaw-dropping display as she flaunted her curves while lying down on a yacht.
READ MORE: Geordie Shore's Chloe Ferry left looking like 'tin man' in holiday outfit blunder
Staring directly down the camera lens, the star posed up a storm as her breathtaking physique took centre stage.
Tying her back, Chloe's brunette locks cascaded down her back while she wore a pair of goggles on her head.
In another snap, the Geordie Shore star could be seen sitting on a paddle board with two of her friends who sat closely behind her.
Captioning her post, Chloe simply wrote: "Holiday blues."
But although Chloe's pictures made for a gorgeous display, social media users took the opportunity to question her on her physique and possible weight loss.
One follower wrote: "I love you, but I think you're getting too thin."
Another said: "These photos are not so good to look at."
A third penned: "Chloe everything is on show the sides of your lady garden your boobs wear a bikini that fits for a change."
However, others warned the body-shaming trolls to "be kind" and to leave Chloe alone.
Offering an opposing view, one fan said: "This world is full of horrible people! If you have nothing nice to say, why say it at all. It doesn't cost anything to be kind. @chloegshore1 keep doing you, girl."
Another echoed: "Totally agree people are being so nasty about her outfit choice and body leave her alone."
And a third added: "Wow some of the comments man what about women empowering each other. Doesn't matter what she does someone has something to say leave the girl alone. I'm pretty sure if she was a random person none of yous would be here to comment on her pics."
Earlier this week, Chloe was spotted with her ex Johnny Wilbo who also joined her on her holiday – as the on and off-again couple appears to be back together.
Johnny also joined Chloe and her pals on their water sports trip as they were seen packing on the PDA for the cameras.
For more of the latest showbiz news from Daily Star, make sure you sign up to one of our newsletters here.
Source: Read Full Article